Upcoming Events
June 12, 2020
12 p.m. (EDT)
Virtual Panel Discussion:
Chad Williams, the Samuel J. and Augusta Spector Chair in History and the Chair of the African and African American Studies department (Moderator)
Anita Hill, University Professor
Daniel Kryder, the Louis Stulberg Chair in Law and Politics
Leah Wright Rigueur, the Harry Truman Associate Professor of History
America is in the midst of reckoning with the legacies of racism, racial violence, and systemic injustice against black people. The current national uprising, sparked by the recent murders of George Floyd, Breonna Taylor, and Ahmaud Arbery, have exposed the complex intersections of history, politics, and the law in how race, white supremacy, and anti-blackness function in American society. Join us for a conversation with leading Brandeis faculty about these issues and how we can chart a new future for black lives.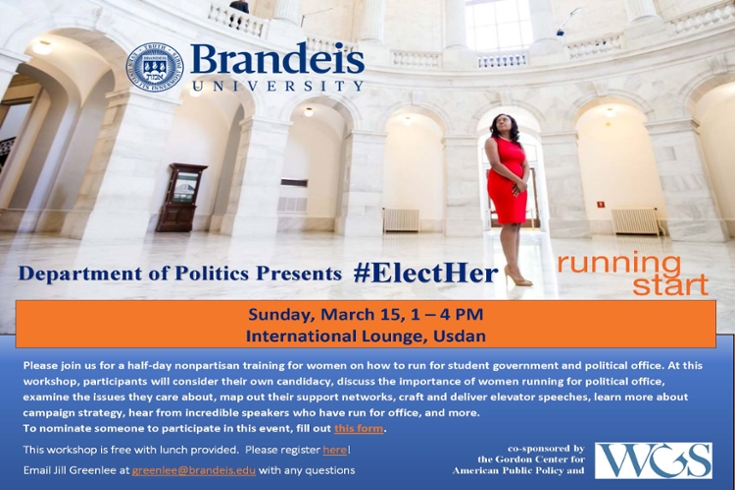 #ElectHer (EVENT POSTPONED)
March 15, 2020
1-4 PM
International Lounge, Usdan
Please join us for a half-day nonpartisan training for women on how to run for student government and political office. Participants will consider their own candidacy, discuss the importance of women running for political office, examine the issues they care about, map out their support networks, craft and deliver elevator speeches, learn more about campaign strategy, hear from incredible speakers who have run for office, and more.  To nominate someone to participate in this event, fill out this form.
This workshop is free with lunch provided.  Please register here!
co-sponsored by the Gordon Center for American Public Policy and WGS.


Past Events
Book talk – We Own the Future: Democratic Socialism – American Style
March 10, 2020
Professor Peter Dreier, E.P. Clapp Distinguished Professor of Politics at Occidental College, will be visiting Brandeis to speak about his newest book, We Own the Future: Democratic Socialism – American Style. Hosted by the Department of Politics and sponsored by Jules Bernstein '57. 
Hot Cakes and Hot Takes: Super Tuesday Edition
March 5, 2020
Come enjoy breakfast for lunch with your politics professors and discuss the results of Super Tuesday and the direction that the electoral politics are taking in the US.
January 30, 2020
It took 72 years for us to win the right to vote. Learn about the mobilization from 1848 at Seneca Falls to 1920, and passage of the 19th Amendment. Presenters: Professors Joyce Antler, Jill Greenlee with Theo Tyson, Anja Parish and others. Co-sponsored by Women's, Gender & Sexuality Studies, Department of Politics, Hadassah Brandeis Institute.
Greenberg Scholars Research Forum
April 15, 2019
Greenberg Scholars, Tamar Lieberman, Tal Richtman, and Julianna Scionti, will present their research projects. Support of their research was made possible by a generous donation from the Joshua Greenberg Memorial Fund. Joshua Greenberg (1970-1998) graduated from Brandeis, '92, with a major in Politics. The Joshua Greenberg Memorial Fund was established by Joshua's family and friends to honor his life and preserve his memory.
Countering & Preventing Violent Extremism: A Panel Discussion
February 27, 2019
Panelists:
Farah Pandith, Adjunct Senior Fellow, Council on Foreign Relations
Paul Turner, Director and Senior Advisor for CVE, Creative Associates
Saida Abdi, Director of Community Relations, Boston Children's Hospital Refugee Trauma and Relilience Center
Be the Change: An Advocacy Workshop with the ACLU and the Politics UDRs
February 14, 2019
Session 1: Featuring Olivia Santoro of the ACLU Massachusetts, who will describe their legislative priorities.
What to Expect From the Trump Presidency
January 25, 2017
Panelists:
Robert Art

Christian A. Herter Professor of International Relations

Shai Feldman, Judy and Sidney Swartz Director's Chair of the Crown Center for Middle East Studies and Professor of Politics

Lucy Goodhart, Lecturer in International & Global Studies and Politics

Jill Greenlee (Moderator), Associate Professor of Politics

Jeffrey Lenowitz, Assistant Professor of Politics
What Just Happened? Analyzing the 2016 Elections
November 29, 2016
Panelists:
Charles Stewart III, Distinguished Professor of Political Science at MIT

Kay Lehman Schlozman, J. Joseph Moakey Professor of Political Science at Boston College

David A. Hopkins, Assistant Professor of Political Science at Boston College
"Hamilton, the Panel: The Politics of Default, Bailouts, and the Power of the Purse in the Aftermath of the American Revolution"
September 29, 2016
Interdepartmental Forum: History, Politics and Economics
Panelists:
George J. Hall (presenting)

David Hackett Fischer

Steven L. Burg

Paul Jankowski
Guest Lecture: Akhil Amar, Sterling Professor of Law and Political Science
May 4, 2016
"2016: The Constitution at a Crossroads"
The Legacy of Justice Antonin Scalia and the Future of the Supreme Court

May 3, 2016
A Panel Discussion

Richard Blanco Poetry Reading and Book Signing
May 3, 2016
A Face in the Crowd
March 22, 2016
A special Primary Season screening of Elia Kazan's classic film, "A Face in the Crowd," with commentary by Prof. Bernie Yack
Defeating ISIL
February 2, 2016
A talk by Colin Kahl, National Security Advisor to Vice President Biden