Resources for Religious Exploration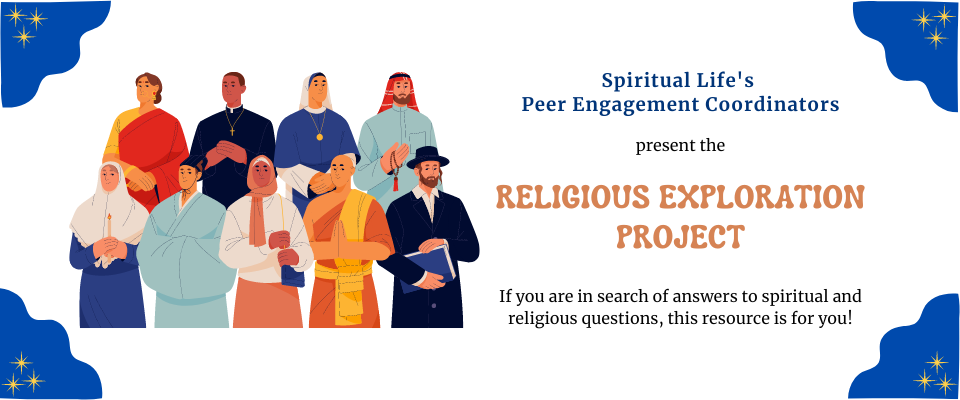 Expand All
Is this belief the right fit for me?
Is this meaningful to me and why?
Why do (or should) I care about this?
What is the purpose of life?
What do I really enjoy?
Do I believe in a God or gods?
Who/what is God to me?
How do I connect with God/gods?
Do I find personal benefit in prayer?
How will this affect my personal life and goals?
Am I in search of a community or individual practice? 
What is my motivation for exploring spiritual practices?
"Why?" questions further your personal introspection. No need to be afraid of the unknown and the new!
When talking about XYZ religion, what words do you think of first?
Can you tell me what your experience has been like?
What was an important moment for you in your spiritual development?
Do you have a spiritual role model?
Do you have a favorite holiday/practice in your religion? 
Is there something you struggle with in your religious/spiritual tradition?
What is something you've learned during your spiritual journey?
I am wondering how X works in Y religion. Is this something you'd be willing to talk about? 
Where can I learn more about your religion/spiritual tradition?
Open ended questions are great. They allow for personal experiences and explanation to be shared.
Avoid assumptions in your questions. Generalizations often carry harmful and incorrect prejudices.

If you know you're masking assumptions, acknowledge that it may not be true for all within the religion

Don't ask always/never (categorical) questions
Don't ask around the question; just ask it!
Be okay with some questions not having clear answers
Treat these questions like any personal question, so consider adding: "This might be a more personal question than I am intending, so feel free not to answer."
Be curious, but be kind. Don't be afraid to ask, but don't demand an answer.
Instead of email/text/DMs, come talk in person
Don't ask questions during prayer or other practices.