Zionism and Religion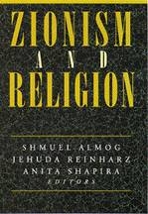 The relationship between nationalism and religion has often been characterized by antagonism and antipathy.
In this anthology, 20 scholars from Israel and the US examine from various perspectives — history, sociology, theology, law, political science — the complex nexus within Judaism of these two sources of repeated ideological and political dispute.
"The authors are without exception leading authorities in their respective fields. The subject is of great and growing importance… arguably the most important challenge facing Israel and Jews at the present time." — Walter Laqueur
About the Editors
Shmuel Almog is Professor of Modern Jewish History, Hebrew University of Jerusalem.
Jehuda Reinharz is President Emeritus and Richard Koret Professor of Modern Jewish History, and Director of the Tauber Institute. 
Anita Shapira is Professor of Modern Jewish History, Tel Aviv University.