The Pure Element of Time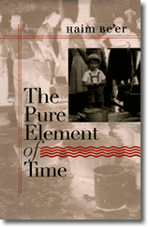 A rich autobiographical novel of the sentimental education of one of modern Israel's foremost literary talents.
Published in 1998 as "Havalim," "The Pure Element of Time" is a rich and evocative autobiographical novel about a writer's development. With his keen eye and opulent writing style, Haim Be'er turns the story of his childhood and maturity into a complex and gripping work of art.
Expand All
Haim Be'er was born in Jerusalem in 1945 to an Orthodox family. He began his literary career as a proofreader and was a newspaper columnist for many years. He presently works as an editor at Am Oved Publishers. A writer of prose and poetry, he has received several literary awards, including the Bernstein Prize, one of Israel's most prestigious literary prizes. He has published three novels, one book of poetry and a book of nonfiction.
Expand All
"I read Haim Be'er's new novel, 'Havalim' ('The Pure Element of Time'), with excitement and delight. It is a wonderful 'Portrait of the Artist as a Young Man' — a Jerusalem family saga in which Be'er's narrator portrays his parents, their two conflicting worlds, the fierce sadness of insecure refugees and of clenched-teeth Orthodox Jewish believers. The writing is subtle, skillful, humorous and vivacious. Haim Be'er created in this novel a superb blend of horror, ridicule, compassion, self-irony, as well as a remarkable picture of Jerusalem in the early years of Israel's statehood.

"I am convinced that this book will be read and cherished by many in America, Jews and non-Jews, would-be-poets and poets-in-their-dreams, anyone who finds life with parents hilarious and tragic, and life without them — always full of them." — Amos Oz, author of "A Perfect Peace" and "To Know a Woman"
Book Specifications
The Pure Element of Time
Haim Be'er
2002
304 pp.
1-58465-277-2