Rabbi Shneur Zalman of Liady: The Origins of Chabad Hasidism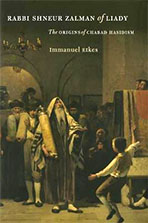 The only biography in English of the founder of the Chabad movement in Hasidism
Rabbi Shneur Zalman of Liady (1745-1812), in imperial Russia, was the founder and first rebbe of Chabad, a branch of Hasidic Judaism that flourishes to the present day. The Chabad-Lubavitch movement he founded in the region now known as Belarus played, and continues to play, an important part in the modernization processes and postwar revitalization of Orthodox Jewry. Drawing on historical source materials that include Shneur Zalman's own works and correspondence, as well as documents concerning his imprisonment and interrogation by the Russian authorities, Etkes focuses on Zalman's performance as a Hasidic leader, his unique personal qualities and achievements, and the role he played in the conflict between Hasidim and its opponents. In addition, Etkes draws a vivid picture of the entire generation that came under Rabbi Shneur Zalman's influence. This comprehensive biography will appeal to scholars and students of the history of Hasidism, East European Jewry and Jewish spirituality.
"The best book on Rabbi Shneur Zalman since Heilman's Beit Rabbi in 1902! Etkes has carefully painted the historical background out of which this religious genius emerged, as well as outlined his unique contributions. Given Chabad's great importance in today's Jewish world, this portrait of its founder should be widely read and appreciated. A major intellectual achievement by East European Jewry's greatest intellectual historian." —Art Green, Rector and Irving Brudnick Professor of Philosophy and Religion, Rabbinical School, Hebrew College
"This comprehensive biography is based, on the one hand, on a particularly sensitive reading of Shneur Zalman of Liady's Tanya—Chabad's foundational text—and on the other hand on a rich body of contemporary historical documents. Etkes carefully reconstructs and contextualizes the life of Chabad's founder, while also providing a lucid explanation of his Hasidic doctrine." —Ada Rapaport-Albert, professor of Hebrew and Jewish studies, University College London
About the Author
Immanuel Etkes is emeritus professor of history of the Jewish people at the Hebrew University of Jerusalem and the author of Rabbi Israel Salanter and the Mussar Movement (1993); The Gaon of Vilna: The Man and His Image (2002); and The Besht: Magician, Mystic, and Leader (2005).