Everyday Jewish Life in Imperial Russia: Select Documents, 1772-1914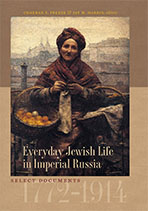 An astounding compilation of primary source documents dealing with all aspects of Jewish daily life in the Russian empire
This book makes accessible—for the first time in English—declassified archival documents from the former Soviet Union, rabbinic sources, as well as previously untranslated memoirs, illuminating everyday Jewish life as the site of interaction and negotiation among neighbors, society and the Russian state, from the beginning of the nineteenth century to World War I. Focusing on religion, family, health, sexuality, work and politics, these documents provide an intimate portrait of the rich diversity of Jewish life. By personalizing collective experience through individual life stories—reflecting not only the typical but also the extraordinary—these sources reveal the tensions and ruptures in a vanished society. An introductory survey of Russian Jewish history from the Polish partitions (1772–1795) to World War I, along with prefatory remarks, textual annotations and a bibliography of suggested readings, combine to provide a new perspective on the history of the Jews of Russia.
"This collection is an indispensable resource for scholars and university students of all levels in modern Jewish history and Russian history. The editors bring every facet of Jewish daily life in Imperial Russia alive through the sources, concise editorial notes, and insightful introductions. Women appear just as prominently as do men, and no gender issue is left untouched in this superb revelation of a society becoming modern." —Christine D. Worobec, Northern Illinois University
"Framed by a lucid and learned historical introduction, this collection of sources brings ordinary Jewish experience in Imperial Russia to life, in high-definition and fine-grained detail. A lasting contribution to the field." —Naomi Seidman, The Graduate Theological Union
About the Authors
ChaeRan Y. Freeze is associate professor in the Department of Near Eastern and Judaic Studies at Brandeis University. She is the author of Jewish Marriage and Divorce in Imperial Russia.

Jay M. Harris is Harry Austryn Wolfson Professor of Jewish Studies and dean of undergraduate education at Harvard University.