Yehuda Amichai: The Making of Israel's National Poet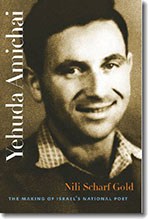 An astonishing revision of the prevailing critical analysis of the poetry of Yehuda Amichai, based on newly discovered materials
Yehuda Amichai is one of the twentieth century's (and Israel's) leading poets. In this remarkable book, Gold offers a profound reinterpretation of Amichai's early works, using two sets of untapped materials: notes and notebooks written by Amichai in Hebrew and German that are now preserved in the Beinecke archive at Yale, and a cache of 98 as-yet unpublished letters written by Amichai in 1947 and 1948 to a woman identified in the book as Ruth Z., which were recently discovered by Gold.
Gold found irrefutable evidence in the Yale archive and the letters to Ruth Z. that allows her to make two startling claims. First, she shows that in order to remake himself as an Israeli soldier-citizen and poet, Amichai suppressed ("camouflaged") his German past and German mother tongue both in reference to his biography and in his poetry. Yet, as her close readings of his published oeuvre as well as his unpublished German and Hebrew notes at the Beinecke show, these texts harbor the linguistic residue of his European origins. Gold, who knows both Hebrew and German, establishes that the poet's German past infused every area of his work, despite his attempts to conceal it in the process of adopting a completely Israeli identity.
Gold's second claim is that Amichai somewhat disguised the story of his own development as a poet. According to Amichai's own accounts, Israel's war of independence was the impetus for his creative writing. Long accepted as fact, Gold proves that this poetic biography is far from complete. By analyzing Amichai's letters and reconstructing his relationship with Ruth Z., Gold reveals what was really happening in the poet's life and verse at the end of the 1940s. These letters demonstrate that the chronological order in which Amichai's works were published does not reflect the order in which they were written; rather, it was a product of the poet's literary and national motivations.
"The integrity of Nili Gold's research shines out of every page of this book. She has spent many years trying to find new sources that would lead to a better understanding of the life and work of Yehuda Amichai—and she has found them, caches of marvelously revealing letters and manuscripts. But Yehuda Amichai is more than a monument of scrupulous research, it is filled with brilliant insights into Amichai's interior world and into his poetry. In this book, Nili Gold sheds new light not only on the life and work of this great poet but on the very nature of poetry itself." —Robert A. Caro, Pulitzer Prize-winning biographer and author of The Power Broker and The Years of Lyndon Johnson
"This brilliant and inspiring study of the formative years of the great Israeli poet, Yehuda Amichai, deepens and broadens the genre of literary monograph. Nili Gold offers an impassioned and insightful reading that seamlessly merges the story of one individual—a budding poet—with the story of a people during a decisive chapter in their national history. This book is a must for scholars of literature, for everyday lovers of poetry, and for anyone with an abiding interest in the State of Israel." —Yigal Schwartz, Professor of Hebrew Literature and director of Heksherim: The Research Institute for Jewish and Israeli Literature and Culture, Ben Gurion University, Israel
"Gold has accomplished one of the most innovative studies in many years of the poetry of Amichai by uncovering the European roots of this central, widely read and much translated Israeli author. In doing so, she opens the way for other similar studies of the European background of Israeli writing. Her book will be indispensable for all future studies of Amichai's poetry." —Arnold Band, Professor of Hebrew and Comparative Literature, University of California at Los Angeles
"With the help of a treasure trove of retrieved love letters, Nili Scharf Gold has changed the landscape for understanding the poetry of Yehuda Amichai. Gold demonstrates in exquisite detail the extent to which "Israel's National Poet" camouflaged the German childhood that continued to haunt him." —Stephen Fredman, author of A Menorah for Athena: Charles Reznikoff and the Jewish Dilemmas of Objectivist Poetry
"Nili Gold's exciting book offers a surprisingly fresh look into the creative laboratory of Israel's beloved poetic spokesman, Yehuda Amichai. Combining meticulous research of untapped sources with superb intuition, Gold's detective work uncovers the landscape of German childhood and mother tongue, both well hidden in plain sight—between and behind the Hebrew verses of Israel's 'national' poet. Using her startling findings to great effect, the author charts a unique roadmap of the life and verse of Amichai, raising, along the way, questions about other 'Minoan' layers similarly hiding in the literary corpus of every immigrant culture." —Yael S. Feldman, Katsh Professor of Hebrew Culture at NYU, author of No Room of Their Own
About the Author
Nili Scharf Gold is Associate Professor of Modern Hebrew Literature at the University of Pennsylvania. She is also the author of Not Like a Cypress (Hebrew) and Haifa: City of Steps.