Resplendent Synagogue: Architecture and Worship in an Eighteenth-Century Polish Community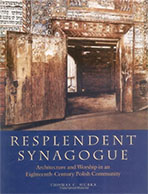 A provocative interpretation of the art and architecture of a pre-modern wooden synagogue illuminates the social, historical and religious context of an Eastern-European Jewish community
Thomas C. Hubka, an architectural historian known for his work on American vernacular architecture, immersed himself in medieval and early-modern Jewish history, religion and culture to prepare for this remarkable study of the 18th-century Polish synagogue in the town of Gwozdziec, now in present Ukraine. Hubka selected the Gwozdziec Synagogue — one of the finest examples of a small-town wooden synagogue from the former Polish-Lithuanian Commonwealth — because of the completeness of its photographic and historical records.
This truly resplendent synagogue exemplified a high point in Jewish architectural art and religious painting, a tradition that was later abandoned by Eastern-European Jewish communities in the 19th and 20th centuries. Because the Gwozdziec Synagogue, like so many others, was destroyed by the Nazis, this book revives a spiritual community lost to history.
Graced with nearly 200 historical photographs, architectural drawings, maps, diagrams and color illustrations, "Resplendent Synagogue" vividly recreates the spiritual heart of a once-vibrant Jewish community. Hubka "reads" the synagogue both as a historical document and as a cultural artifact. His interpretation of its art and architecture — and its liturgy — enables him to recreate a pre-modern Jewish community seen in relation to both its internal traditions of worship and its external relations with Gentile neighbors.
Hubka demonstrates that while the architectural exterior of the synagogue was largely the product of non-Jewish, regional influences, the interior design and elaborate wall-paintings signified a distinctly Jewish art form. The collaboration of Jewish and Gentile builders, craftsmen and artists in the creation of this magnificent wooden structure attests to an eighteenth century period of relative prosperity and community well-being for the Jews of Gwozdziec. This unique exploration of a lost religious and cultural artifact breathes new life into a forgotten but fascinating aspect of 18th-century Polish Jewry and is certain to incite discussion and debate among modern readers.