Landscapes of Jewish Experience: Paintings by Samuel Bak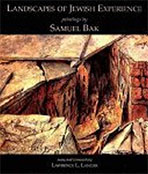 An unforgetable visual and written testimony to the catastrophe of the Holocaust.
"Samuel Bak is arguably one of the two or three most important artists dealing with the Holocaust as an integral part of his work. On any list of five his name would appear. Lawrence Langer is one of the two or three most significant critics of the Holocaust. On any list of five, his name would also appear. When Langer takes his pen to Bak's canvas, the results are significant… When master engages master and both engage an event so central to their beings and more powerful than both, the results are important." —Michael Berenbaum
About the Author 
Lawrence L. Langer, a renowned Holocaust scholar, is Professor Emeritus at Simmons College. His books include Admitting the Holocaust (1995), Art from the Ashes (1995), and Holocaust Testimonies (1991).