Generation Exodus: The Fate of Young Jewish Refugees from Nazi Germany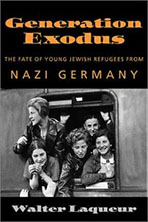 Some half a million Jews lived in Germany when Hitler came to power in 1933. Over the next decade, thousands would flee.
Among these refugees, teens and young adults formed a remarkable generation. Born between 1914 and 1928 (approximately), they were old enough to appreciate the loss of their homeland and the experience of flight, but often young and flexible enough to survive and even flourish in new environments. Many would go on to make great contributions to their new countries and to the world.
The young Jews who fled the Nazis escaped to Palestine and the United States, to the Soviet Union and England, to South America and Shanghai and Australia. Some even remained in Germany, in hiding throughout the war. From a variety of backgrounds — some secular, some observant; some Zionists, some German patriots; some poor, some well-to-do — they are united by the experience of flight from Nazi persecution during their formative years.
This generation has produced such disparate figures as Henry Kissinger and Dr. Ruth Westheimer; noted academics and political leaders of both Israel and East Germany; even a Benedictine abbot, a Hindu guru, and a West African chieftain. Using interviews, published and unpublished memoirs and his own experiences, Walter Laqueur skillfully combines numerous individual stories and experience to paint a vivid collective portrait.
"In 'Generation Exodus,' Laqueur has undertaken the daunting task of writing the collective biography of a generation unique in history: the children of the German-Jewish families who fled Germany in the 1930s. His focus is on how they adapted and as a group went on to lead unusually productive lives, in spite of having suffered trauma, dislocation and loss, as well as the realization that pure luck alone had saved them. As someone who shared this experience, I can testify that Laqueur has succeeded admirably." — Dr. Henry A. Kissinger
About the Author
Walter Laqueur, himself a distinguished member of this group of refugees, chairs the Research Council of the Center for Strategic and International Studies in Washington, D.C. His numerous books on European and Jewish history include "Weimar: A Cultural HistoryA History of Zionism" (1972). He is also editor in chief of the "Yale Encyclopedia of the Holocaust "(2000).