Jews Welcome Coffee: Tradition and Innovation in Early Modern Germany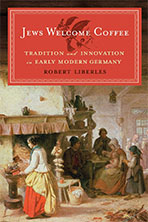 A lively look at how coffee affected Jewish life in early modern Germany
Tracing the introduction of coffee into Europe, Liberles challenges long-held assumptions about early modern Jewish history and shows how the Jews harnessed an innovation that enriched their personal, religious, social and economic lives. Focusing on Jewish society in Germany in the 17th and 18th centuries, and using coffee as a key to understanding social change, Liberles analyzes German rabbinic rulings on coffee, Jewish consumption patterns, the commercial importance of coffee for various social strata, differences based on gender and German authorities' efforts to restrict Jewish trade in coffee as well as their integration into society.
"Liberles has uncovered a fascinating new chapter in the social, cultural, and economic history of Jews in early modern Western Europe. Based on a rich array of archival sources and written in a most engaging style, Jews Welcome Coffee will be welcomed by scholars and lay readers alike." —Elisheva Carlebach, Salo Baron Professor of Jewish History, Culture, and Society, Columbia University
"This book, the first of its kind on the topic of Jews and coffee, uses the introduction and gradual acceptance of coffee to analyze changes in Jewish society. In a lively and highly readable manner, Liberles has uncovered hitherto unused archival data to show how very traditional Jewish cultures made room for the new product to serve their purposes. Amusing and interesting, he highlights rabbinic and legal struggles around coffee — prohibitions against coffee as well as addictions to it." —Marion Kaplan, Skirball Professor of Modern Jewish History, New York University
"Robert Liberles here shows the initially skeptical reader that so mundane a subject as coffee can cast significant light on broad trends and bitter conflicts within. modern Jewish history. Utilizing a neglected cache of archival materials, he demonstrates how the introduction of an unfamiliar and attractive beverage was able to affect the political, economic, and especially the private lives of 18th-century European Jews. This is an appropriately stimulating volume, not to be missed by any reader interested in new approaches to Jewish history."—Michael A. Meyer, Hebrew Union College
About the Author
Robert Liberles holds the David Berg and Family Chair in European History at Ben Gurion University in Beersheva.