Jewish Dimensions in Modern Visual Culture: Antisemitism, Assimilation, Affirmation
A Sarnat Library Book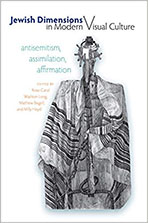 A fascinating look at key aspects of visual culture in modern Jewish history
In modern western history, the cultural and social developments of modernism have long been associated with Jews. Usually this has been a negative association: the perceived breakdown of traditional norms was blamed on Jewish influence in politics, society and the arts. Throughout Europe, Jews were viewed as carriers of industrialized and cosmopolitan developments that threatened to undermine a cherished way of life.
This anthology speaks to this issue through the lens of modernist visual production including paintings, posters, sculpture and architecture. Essays by scholars from the U.S. and Israel confront the contradictory impulses that modernism's interaction with Jewish culture provoked. Discussing how religion, class, race and political alignments were used to provide attacks on modern art, the scholars also comment on visual responses to antisemitism and the mainstream success of artists in the U.S. and Israel since World War II.
"This book explores in depth three extremely valuable perspectives on the Jewish encounter with modernity: its initial reception, its coded meanings and its more recent affirmation. Aspects of our cultural formation we might otherwise take for granted are insightfully interpreted by the contributors to this volume. From the perspective of the 21st century, it is especially valuable to understand both the early attraction of modernism for Jewish artists and intellectuals and to be reminded of the virulent attacks on those Jews who embraced modernism. These essays, written with passion and erudition, reveal a pattern of discriminatory attitudes that it would be wise not to forget." —Ruth Weisberg, Dean, Roski School of Fine Arts, University of Southern California
About the Authors
Rose-Carol Washton Long is professor of art history, The Graduate Center, CUNY.
Matthew Baigell is emeritus professor of art history, Rutgers University.
Milly Heyd is Nicolas Landau Professor of Modern Art in the Department of the History of Art at Hebrew University, Jerusalem.