Sabbatian Heresy: Writings on Mysticism, Messianism, and the Origins of Jewish Modernity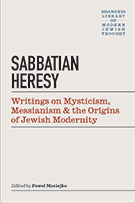 Key writings on Sabbatianism and its legacy and afterlife in Jewish culture, memory, and religion
The pronouncements of Sabbatai Tsevi (1626–76) gave rise to Sabbatianism, a key messianic movement in Judaism that spread across Jewish communities in Europe, Asia and North Africa. The movement, which featured a set of theological doctrines in which Jewish Kabbalistic tradition merged with Muslim and later Christian elements, suffered a setback with Tsevi's conversion to Islam in 1666. Nonetheless, for another 150 years, Sabbatianism continued to exist as a heretical underground movement. It provoked intense opposition from rabbinic authorities for another century and had a significant impact on central developments of later Judaism, such as the Haskalah, the Reform movement, Hasidism and the secularization of Jewish society.
This volume provides a selection of the most original and influential texts composed by Sabbatai Tsevi and his followers, complemented by fragments of the works of their rabbinic opponents and contemporary observers and some literary works inspired by Sabbatianism. An introduction and annotations by Pawel Maciejko provide historical, political and social context for the documents.
Listen to an interview with editor Pawel Maciejko
View transcript
"The best collection in English of this extraordinary messianic movement… Maciejko's introduction is the most original contribution to the history of this movement since Gershom Scholem's 1936 essay 'Redemption Through Sin' and will set the agenda for all future research." —David Biale, University of California, Davis
"This volume will help enrich and complicate our understandings of Jewish theologies in the early modern period." —Jonathan Boyarin, Cornell University
"In a masterful introduction, Paweł Maciejko offers a strikingly original interpretation of Sabbatianism… An invaluable resource for teachers, students, and scholars alike." —Hillel J. Kieval, Washington University in St. Louis
"In his brilliant introductory essay, which constitutes a critique of all the regnant interpretations of Sabbatianism to date, the editor offers his own take on the heretical core of this heterodox messianic movement by presenting it as the expression of genuine Jewish engagement with both Christianity and Islam, driven by the earnest desire to transcend the boundaries of all established religions, in pursuit of a universal, yet highly personal, God of Israel." —Ada Rapoport-Albert, University College London
"All students of modern Jewish history and thought are familiar with Shabbatai Zvi and the international, 17th-century pseudo-messianic movement connected with his name. Less known is the second pseudo-messianic movement, spawned a century later in Poland by Jacob Frank...Now this gap has been competently filled by the present anthology... All in all, a valuable volume." —S. T. Katz, Boston University, Choice, February 2018
About the Author
Pawel Maciejko is a senior lecturer in Jewish thought at the Hebrew University of Jerusalem. His first book, The Mixed Multitude: Jacob Frank and the Frankist Movement, 1755–1816, was awarded the Salo Baron Prize by the American Academy of Jewish Research and the Jordan Schnitzer Book Award by the Association for Jewish Studies. He also published a critical edition of Jonathan Eibeschütz's tract And I Came This Day unto the Fountain.