Painting a People: Maurycy Gottlieb and Jewish Art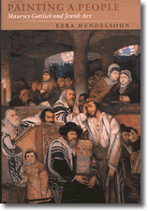 Maurycy Gottlieb was born in 1856 in a small city known in Polish as Drohobycz, then attached to the province of Galicia in the Austro-Hungarian Empire. In the course of his very short life, Gottlieb painted dozens of extraordinary works that have since found homes in museums in Eastern Europe where he has long been honored as a Polish artist, and in Israel where, following a major Tel Aviv exhibition in 1991, he achieved the status of a founding father of Jewish art.
His paintings range from self-portraits and portraits of family and friends to "orientalist" subjects, historical and literary themes, and biblical scenes, including two important representations of Jesus.
Ezra Mendelsohn situates Gottlieb's impressive body of work in the context of contemporary European painting and uses it to illuminate the sociopolitical and cultural complexity of the Austro-Hungarian Empire prior to World War I. Interpreting the painting and their reception, in Gottlieb's day and beyond, Mendelsohn addresses several key issues in modern Jewish history, among them identity, assimilation, acculturation, nationalism, the relationship between Jewry and European culture, and relations between Jews and non-Jews, particularly Poles.
As the author notes, Gottlieb is "an ideal subject for a historian of modern Jewish Eastern Europe with an interest in the visual dimension of Jewish culture." Since the artist's early death in 1879 at the age of 23, Polish nationalists, and finally the Israeli Jewish establishment have laid claim to his art. Yet Mendelsohn shows that the subjects Gottlieb chose to paint — particularly the historical subjects — demonstrate that he was first and foremost an artist of Jewish universalize.
About the Author
Ezra Mendelsohn teaches in the departments of Russian and East European Studies and Contemporary Jewry at the Hebrew University of Jerusalem. He is the author of four books on modern Jewish history, editor or coeditor of twelve additional books, and coeditor of "Studies in Contemporary Jewry."