The Faith of Fallen Jews: Yosef Hayim Yerushalmi and the Writing of Jewish History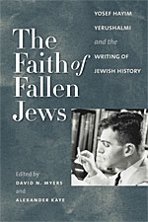 Brings together key writings by one of the most distinguished and renowned Jewish historians of our time
From his first book, "From Spanish Court to Italian Ghetto," to his well-known volume on Jewish memory, Zakhor, to his treatment of Sigmund Freud in "Freud's Moses," Yosef Hayim Yerushalmi (1932–2009) earned recognition as perhaps the greatest Jewish historian of his day, whose scholarship blended vast erudition, unfettered creativity and lyrical beauty. This volume charts his intellectual trajectory by bringing together a mix of classic and lesser-known essays from the whole of his career. The essays in this collection, representative of the range of his writing, acquaint the reader with his research on early modern Spanish Jewry and the experience of crypto-Jews, varied reflections on Jewish history and memory, and Yerushalmi's enduring interest in the political history of the Jews. Also included are a number of little-known autobiographical recollections, as well as his only published work of fiction.
Listen to an interview with David Myers on The Tel Aviv Review.
"A challenging, moving, provocative collection of essays, lectures, and reviews (as well as an unexpected short story) by the author of Zakhor. A multifaceted, fragmented, half-involuntary self-portrait of a major twentieth-century historian." —Carlo Ginzburg, UCLA
"A deeply charismatic and cultivated man, Yerushalmi was the greatest humanist that Jewish studies produced. The essays in this essential volume attest abundantly to the variety and the profundity of his work. They confirm that Yerushalmi was not only one of the giants of Jewish historiography; he was also its conscience." —Leon Wieseltier
About the Authors
David N. Myers is professor of Jewish history and chair of the History Department at UCLA. He is the author or editor of nine books.

Alexander Kaye received his PhD in Jewish history at Columbia University and is currently a Tikvah Post-Doctoral Fellow in Jewish Thought at Princeton University.