Reading Jewish Women: Marginality and Modernization in Nineteenth-century Eastern European Jewish Society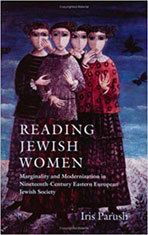 A fascinating look at how the marginal status of Jewish women enabled them to become agents of modernization in 19th-century Eastern European Jewish society.
In this extraordinary volume, Iris Parush opens up the hitherto unexamined world of literate Jewish women, their reading habits and their role in the cultural modernization of Eastern European Jewish society in the 19th century. Parush makes a paradoxical claim: she argues that because Jewish women were marginalized and neglected by rabbinical authorities who regarded men as the bearers of religious learning, they were free to read secular literature in German, Yiddish, Polish and Russian. As a result of their exposure to a wealth of literature, these reading women became significant conduits for haskalah (Enlightenment) ideas and ideals within the Jewish community.
This deceptively simple thesis dramatically challenges and revamps both scholarly and popular notions of Jewish life and learning in 19th-century Eastern Europe. While scholars of European women's history have been transforming and complicating ideas about the historical roles of middle-class women for some time, Parush is among the first scholars to work exclusively in Jewish territory. The book will be a very welcome introduction to many facets of modern Jewish cultural history — particularly the role of women— which have too long been ignored.
"Parush's book is a serious step towards recovering a remarkable picture of Eastern European Jewish life at a turbulent point in history. It is a pioneering work that serves to integrate Jewish women's experience into the socio-cultural discussion of Jewish communities' encounter with modernity." —Haaretz
About the Author
Iris Parush teaches Hebrew literature at Ben Gurion University of the Negev. Her current scholarly writing explores the cultural, social and ideological resonances of Haskalah literature and the impact of national ideology on the formation of the modern Hebrew literary canon. The Hebrew edition of "Reading Jewish Women" won the prestigious Zalman Shazar Prize for Jewish History.