Prisoner of Hope: Moshe Prywes as Told to Haim Chertok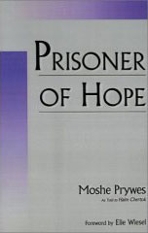 Beginning with a vivid evocation of the milieu of prewar Warsaw, where his upper-class family was both privileged among Jews and despised by Poles, Moshe Prywes deftly interweaves vignettes of his autobiography with keen observations about a world tumbling into war and madness. Mobilized into the Polish Army as a medical officer in 1939, he escaped the Nazi invasion but was captured by the Soviet Army and shipped off to a Siberian labor camp. He spent six years there, at one time serving as physician to 28,000 prisoners. After liberation his path led to Ukraine, Sweden, Paris, and in 1951, to the new Hebrew University - Hadassah Medical School in Jerusalem. Later he would serve as founding dean at Ben-Gurion University of the Negev, where his "Beer Sheva Experiment" remains a model for medical education worldwide. This fascinating retrospective is a story of personal courage in the face of great adversity, a life that was, as Prywes writes, "sustained by faith and hope: faith in humanity and hope for a better world".
"The life recorded here is unique, and yet reflects the most dramatic generation in the history of the Jewish people. The writing is delicate, humoristic and tragic, and always compelling." — Amos Oz
About the Author
Moshe Prywes is Editor-in-Chief of Israel Journal of Medical Sciences. He was formerly Dean of Hebrew University Medical School and President of Ben-Gurion University, Israel.