Jews and Diaspora Nationalism: Writings on Jewish Peoplehood in Europe and the United States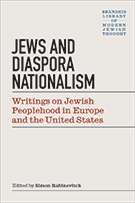 An anthology of Jewish diaspora nationalist thought across the ideological spectrum
The question of how to preserve, construct or transform Jewish peoplehood consumed Jewish intellectuals in the late nineteenth and early twentieth centuries. Despite a rich array of writing from Jewish nationalists, liberals, and socialists about the vitality of Jewish existence in the Diaspora, the key works have never been collected in a single volume and few reliable English translations exist.
This anthology brings together a variety of thinkers who offered competing visions of peoplehood within the established and developing Jewish diaspora centers of Europe and America. Writing in Yiddish, Hebrew, French and English, these Jewish intellectuals sought to recast Jewish existence in national terms, whether it be within multiethnic empires, liberal democracies, or socialist forms of government.
Volume editor Simon Rabinovitch provides an introductory essay, as well as short introductions and annotations to each document that contextualize and make accessible this wealth of primary sources for scholars and students.
"The idea that Jews are a people with the same rights and responsibilities as other nations gave birth to Zionism in the 19th century and the State of Israel in the 20th. But that is only one part of a larger history of Jewish thinking about how Jews might live a a national life wherever they found themselves. This well-chosen collection of essays introduces readers to the birth of this ideal in Eastern Europe, its fraught encounter with the other new ideological power in 20th century Jewish life—Jewish socialism, and its adaptation to the challenges of Western democracies. It is an essential addition to the American Jewish library."—Kenneth B. Moss, Felix Posen Associate Professor of Modern Jewish History, Johns Hopkins University
"This excellent reader takes on an important but often neglected theme in modern Jewish history: the efflorescence of theories of Jewish ethnic nationalism from the later 19th century until after WWII… The writings included in this volume are almost all by secular intellectuals involved in the fin-de-siecle political turmoil in Eastern Europe, plus several Jewish figures who conceived of an American "cultural pluralism" that would make room for a suitably modernized Jewish cultural tradition… Although the volume concerns ideologies passionately held at the time they were written, the editor's tone and approach is above partisanship… Recommended." —Choice
"This is a valuable collection of primary source essays devoted to the theme of Jewish peoplehood outside the state of Israel… Editor Simon Rabinovitch is to be commended for his imaginative selection of these little-known essays, for commissioning the translation of the ones not written in English, and for his erudite elucidation of their often obscure contexts and references." —Association of Jewish Libraries Reviews
About the Author
Simon Rabinovitch is Peter T. Paul Assistant Professor, Department of History, Boston University. His published articles examine Jewish politics in revolutionary Russia, Jewish nationalist thought, and Jewish folkloristics and ethnography.