State of Israel, Diaspora and Jewish Continuity: Essays on the "Ever-Dying People"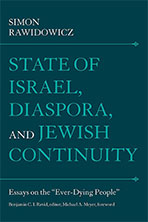 Philosophically rich and wide-ranging essays on Jewish history and culture.
This readable, insightful and thought-provoking collection of essays presents an original and innovative ideology that stirringly affirms the unity of the Jewish people. Rawidowicz's rich themes include the relationship between the State of Israel and the Diaspora; Jewish "difference" and its repercussions; Jewish learning; and Jewish continuity in the post-Holocaust world.
In his foreword to the paper edition, Michael A. Meyer writes, "Forty years after his death, [Rawidowicz's] sober analyses, his realism with regard to both the State of Israel and the Diaspora, and his striving to find unities among dichotomies that divide the Jewish people — all of these make his images and ideas still worthy of our reflection."
About the Authors
Simon Rawidowicz was the first chairman of the Department of Near Eastern and Judaic Studies at Brandeis University and the Philip W. Lown Professor of Jewish Philosophy and Hebrew Literature. A prolific writer, he founded two publishing companies and established the World Union for Hebrew Culture.

His son, Benjamin C.I. Ravid, is the Jennie and Mayer Weisman Professor of History at Brandeis University.

Michael A. Meyer is the Adolph S. Ochs Professor of Jewish History at Hebrew Union College-Jewish Institute of Religion.