Glorious, Accursed Europe: An Essay on Jewish Ambivalence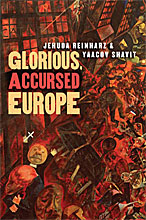 An exhaustive study of how Jews imagined the idea of Europe and how it existed in their collective memory from the Enlightenment to the present
This volume offers a fascinating look at the complex relationship between Jews and Europe during the past 200 years, and how the European Jewish and non-Jewish intelligentsia interpreted the modern Jewish experience, primarily in Germany, Russia, and Central and Eastern Europe. Beginning with premodern European attitudes toward Jews, Reinharz and Shavit move quickly to "the glorious nineteenth century," a period in which Jewish dreams of true assimilation came up against modern antisemitism. Later chapters explore the fin-de-siècle "crisis of modernity"; the myth of the modern European Jew; expectations and fears in the interwar period; differences between European nations in their attitude toward Jews; the views of Zionists and early settlers of Palestine and Israel toward the Europe left behind; and views of contemporary Israeli intellectuals toward Europe, including its new Muslim population- the latest incarnation of the Jewish Question in Europe.
About the Authors
Jehudah Reinharz is the Richard Koret Professor of Modern Jewish History and President of Brandeis University.

Yaacov Shavit is a professor in the Department of Jewish History, Tel Aviv University.