The Road To September 1939: Polish Jews, Zionists, and the Yishuv on the Eve of World War II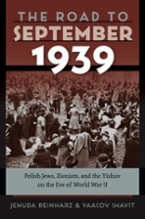 How the Zionist movement and the Yishuv actively sought to help Polish and other European Jews in the 1930s
In European and Holocaust historiography, it is generally believed that neither the Zionist movement nor the Yishuv, acting primarily out of self-interest, energetically attempted to help European Jews escape the Nazi threat.
Drawing on the memoirs, letters and institutional reports of Chaim Weizmann, Ze'ev Jabotinsky, David Ben-Gurion and many others, this volume sheds new light on a troubled period in Jewish history. Reinharz and Shavit trace Jewish responses to developments in Eastern and Central Europe to show that — contrary to recent scholarship and popular belief— Zionists in the Yishuv worked tirelessly on the international stage on behalf of their co-religionists in Europe.
Focusing particularly on Poland, while explicating conditions in Germany and Czechoslovakia as well, the authors examine the complicated political issues that arose not just among Jews themselves, but within national governments in Britain, Europe and America. Piercing to the heart of conversations about how or whether to save Jews in an increasingly hostile Europe, this volume provides a nuanced and thoughtful assessment of what could and could not be achieved in the years just prior to World War II and the Holocaust.