Chaim Weizmann: The Making of a Zionist Leader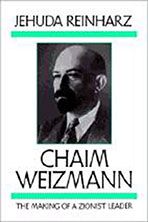 The first volume of Jehuda Reinharz's definitive biography of Chaim Weizmann, Chaim Weizmann: The Making of a Zionist Leader, met with widespread acclaim and won five major prizes. President Chaim Herzog of Israel praised it for being "rich in fascinating detail, and never losing sight of the great issues involved." Howard Sachar, writing in The Washington Post Book World, called it "magisterial." And John Gross of The New York Times hailed it as an "admirable new life of Weizmann--easily the most authoritative so far." Now, in Chaim Weizmann: The Making of a Statesman, Reinharz provides the long-awaited second volume. This massively researched, deftly written narrative follows Weizmann's life from the beginning of the First World War through some of his greatest triumphs--the Balfour Declaration, the founding of the Hebrew University of Jerusalem, and the British Mandate for Palestine. Like the first volume, The Making of a Statesman combines intimate detail with incisive analysis. Reinharz untangles the internal politics of the World Zionist Organization as he charts Weizmann's rise to prominence. We see Weizmann struggling with fellow Zionists over his pro-British policies and his increasingly authoritarian leadership. We see him as a persuader and diplomat, a charming figure who could win influence in elite British circles without downplaying his Jewish identity or heritage. Reinharz offers fresh insights into Weizmann's brilliance as a chemist. No other historian has ever explained Weizmann's scientific accomplishments and their ties to his Zionist diplomacy. Reinharz follows the difficult negotiations that produced the triumphant Balfour Declaration. He carries the story through Weizmann's work in Palestine to found a vibrant Jewish community. Weizmann's largely unsuccessful efforts to open a friendly dialogue with the Arabs are also fully explored. Chaim Weizmann was a towering figure of twentieth-century Zionism and the first president of the State of Israel. In every way, this monumental biography is worthy of this great statesman.
"An academic tour de force… It must surely become the definitive biography of a man who was arguably the foremost representative of the Jewish people in the 20th century." —American Historical Review
About the Author
Jehuda Reinharz is President Emeritus and Richard Koret Professor of Modern Jewish History, and Director of the Tauber Institute.