Holocaust Literature: a History and Guide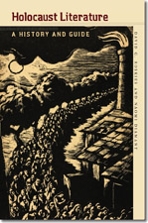 A comprehensive assessment of Holocaust literature, from World War II to the present day
What is Holocaust literature? When does it begin and how is it changing? Is there an essential core of diaries, eyewitness accounts of the concentration camps, tales of individual survival in hiding? Is it the same everywhere: in the West as in the East, in Australia as in the Americas, in poetry as in prose? Is this literature sacred and sui generis, or can it be studied in the light of other literatures? What of the perpetrators and bystanders, the hidden children, the children of Holocaust survivors: Do they speak with the same authority? What works of Holocaust literature will be read a hundred years from now—and why?
Here, for the first time and told from beginning to end, is an historical survey of Holocaust literature in all genres, countries and major languages. Beginning in wartime, it proceeds from the literature of mobilization and mourning in the Free World to the vast and varied literature produced in the Nazi-occupied ghettos, the bunkers and places of hiding, the transit and concentrations camps. Within weeks of the liberation, in displaced persons camps, a new memorial and testamentary literature begins to take shape. Moving from Europe to Israel, the U.S. and beyond, the authors situate the writings by real and proxy witnesses within three distinct postwar periods: a period of "communal memory," still internal and internecine; a period of "provisional memory" in the '60s and '70s that witnesses the birth of a self-conscious Holocaust genre; to the period of "authorized memory" in which we live today, following the collapse of the Soviet Union (1989-91) and the opening of the U.S. Holocaust Museum (1993).
Twenty book covers — first editions in their original languages — and an eminently readable guide to the "first hundred books" together show the multilingual scope, historical depth, the moral and artistic range of this extraordinary body of writing.
"The author's comprehensive research and analysis put the individual works and the body of Holocaust literature into both a historical and literary context. . . . An essential acquisition for Holocaust Centers and large Holocaust collections, the book is a valuable resource for research and book selection and is recommended for all Jewish libraries." —Association of Jewish Libraries Reviews
About the Authors
David G. Roskies is the Sol and Evelyn Henkind Chair in Yiddish Literature and Culture and Professor of Jewish Literature at The Jewish Theological Seminary. A prolific author, editor, and scholar, he has published nine books and received numerous awards. In 1981, Dr. Roskies cofounded with Dr. Alan Mintz Prooftexts: A Journal of Jewish Literary History, and served for seventeen years as editor in chief of the New Yiddish Library series, published by Yale University Press.

Naomi Diamant is Director, Dean's Office Affairs, Stern School of Business, New York University.