Aharon Appelfeld: From Individual Lament to Tribal Eternity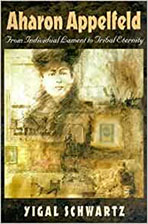 A compelling study of the entire oeuvre of a widely published Israeli writer, now available in English
Aharon Appelfeld stands among the most prominent Israeli writers and is the most frequently published Israeli writer in the United States. His works have received numerous prestigious literary awards in Israel as well as international critical acclaim.
Yet there is a paucity of good critical writing about his impressive body of work. Yigal Schwartz's compelling study, based in part on interviews with Appelfeld himself, admirably fills this gap. Schwartz organizes his book around three of Appelfeld's major themes: the recovery of childhood and memory, the creation of place and the religious stance of the Holocaust writer. He develops a new perspective not only on Appelfeld's work, but on Holocaust literature itself. He sees Appelfeld as a Holocaust writer whose underlying concerns go beyond his experiences as a Holocaust survivor to include larger issues of Jewish identity in the modern period.
About the Author
Yigal Schwartz is director of the Research Center for Jewish and Israeli Literature and Culture at Ben-Gurion University of the Negev, and author of many articles and books on modern Hebrew literature and culture. He has edited more than 100 books by well-known as well as young and promising Israeli writers. His forthcoming book is "Love, Ideology, and the Land of Israel."