Style and Seduction: Jewish Patrons, Architecture, and Design in Fin de Siècle Vienna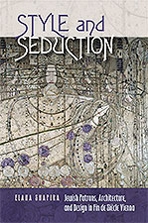 Explores the central role of Jewish patrons as shapers of Viennese modernism
A recent surge of interest in Jewish patronage during the golden years of Vienna has led to the question, would modernism in Vienna have developed in the same fashion had Jewish patrons not been involved? This book uniquely treats Jewish identification within Viennese modernism as a matter of Jews active fashioning of a new language to convey their aims of emancipation along with their claims of cultural authority.
In this provocative reexamination of the roots of Viennese modernism, Elana Shapira analyzes the central role of Jewish businessmen, professionals and writers in the evolution of the city's architecture and design from the 1860s to the 1910s. According to Shapira, these patrons negotiated their relationship with their non-Jewish surroundings and clarified their position within Viennese society by inscribing Jewish elements into the buildings, interiors, furniture and design objects that they financed, produced and co-designed.
In the first book to investigate the cultural contributions of the banker Eduard Todesco, the steel tycoon Karl Wittgenstein, the textile industrialist Fritz Waerndorfer, the author Peter Altenberg, the tailor Leopold Goldman and many others, Shapira reconsiders theories identifying the crisis of Jewish assimilation as a primary creative stimulus for the Jewish contribution to Viennese modernism. Instead, she argues that creative tensions between Jews and non-Jews—patrons and designers who cooperated and arranged well-choreographed social encounters with one another—offer more convincing explanations for the formation of a new semantics of modern Viennese architecture and design than do theories based on assimilation.
This thoroughly researched and richly illustrated book will interest scholars and students of Jewish studies, Vienna and Viennese culture, and modernism.