The Zionist Ideology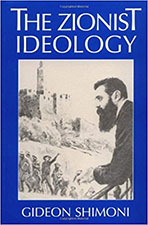 The definitive study of the origins and evolution of Jewish nationalist ideology. Winner of the Arnold Wiznitzer Prize, Hebrew University.
This superb and highly nuanced study traces the development and ramifications of the ideology of Zionism from its roots in Europe to its full flowering in the establishment of the State of Israel. Gideon Shimoni begins by outlining the social origins of Zionism, including its debt to European nationalism and its subsequent emergence in the 1880s, precipitated by the pogroms in the Russian Empire. He then describes the various streams of Zionist thought, and concludes by examining both Zionism's connection with a secular Jewish identity and the nature of the Jewish claim to Eretz Israel.
Throughout this comprehensive survey, Shimoni illuminates Zionism's common thread: the underlying axiom "that the Jews are a single, distinctive entity possessing national, not just religious, attributes."
"Offers the most complete and detailed study to date of the history of Zionist ideology, from its roots through the establishment of the state of Israel… Indispensable for students of Zionism and modern Jewish identity, and of great interest as well to anyone interested in the emergence of the European nationalisms of the late 19th and early 20th centuries." —Choice
About the Author
Gideon Shimoni is the Shlomo Argov Chair in Israel-Diaspora Relations at the Hebrew University of Jerusalem, where he is associate professor in the Department of Contemporary Jewry. His books in English and Hebrew on Zionism include "Jews and Zionism: The South African Experience, 1910-1967" (1980).