Glikl: Memoirs 1691-1719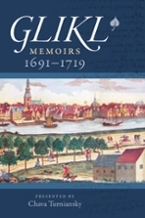 "My dear children, I write this for you in case your dear children or grandchildren come to you one of these days, knowing nothing of their family. For this reason I have set this down for you here in brief, so that you might know what kind of people you come from."
These words from the memoirs Glikl bas Leyb wrote in Yiddish between 1691 and 1719 shed light on the life of a devout and worldly woman. Writing initially to seek solace in the long nights of her widowhood, Glikl continued to record the joys and tribulations of her family and community in an account unique for its impressive literary talents and strong invocation of self. Through intensely personal recollections, Glikl weaves stories and traditional tales that express her thoughts and beliefs. While influenced by popular Yiddish moral literature, Glikl's frequent use of first person and the significance she assigns her own life experience set the work apart.
Informed by fidelity to the original Yiddish text, this authoritative new translation is fully annotated to explicate Glikl's life and times, offering readers a rich context for appreciating this classic work.
"This edition is also presented with an outstanding and fascinating introduction by Chava Turniansky, professor emerita of Yiddish literature at the Hebrew University of Jerusalem and an Israel Prize Laureate. Turniansky also provided the extensive annotations that confirm what Glikl claims about events and people about whom she writes. I cannot recommend this new edition highly enough. Not only is the translation more colorful and accessible to modern readers, but the inclusion of all of Glikl's stories helps one better appreciate the full scope of her literary achievement." - Judy Gruen, "The Life and Times of Glikl bas Leyb: a 17th-Century Woman for the Ages", AISH
"Glikl Hamel's 'Memoirs' open up the life of an early modern Jewish woman in Germany and France in fascinating detail—children, the ups and downs of family fortune, trade, prayer, story-telling and more. Chava Turniansky has brought her immense Yiddish learning to this splendid edition and Sara Friedman's translation does justice to Glikl's lively prose. Kudos for this gift to European history." —Natalie Zemon Davis, University of Toronto, author of "Women on the Margins: Three Seventeenth-Century Lives"
"One of the most riveting literary works of the seventeenth century, Glikl's "Memoirs" is a unique human document that records Jewish history through the eyes of a learned, astute Jewish woman. This translation of Chava Turniansky's magisterial edition is an occasion for celebration, as the complete edition has never before been available in its full glory in English." —Elisheva Carlebach, Salo Wittmayer Baron Professor of Jewish History, Culture and Society, Columbia University
"There is much to reward the reader… (in) Glikl's extraordinary memoirs."— Times Literary Supplement
"This vivid translation, richly annotated and accompanied by a masterly introduction, presents the reader for the first time with the complete English version of an extremely rare early-modern 'ego document' authored by a Jewish woman. Glikl's memoirs, comprising detailed accounts of the ups and downs in her life, her keen observations on the lives of others, her worldly preoccupations, her folk wisdom and pietistic ambitions, into all of which she skillfully weaves any number of instructive morality tales, are by now world-famous as a literary gem and a precious historical document, but they have so far been accessible only in heavily edited, abridged recensions and translations into various languages. The present volume is based on Israel-prize-laureate Chava Turniansky's magisterial edition and Hebrew translation of the Yiddish text, faithfully restored to the full scope of their original form." —Ada Rapoport-Albert, University College London
"Realizing how much fuller an experience this new book would provide, I rushed to get Glikl Memoirs: 1691-1719, translated by Sara Friedman and published by Brandeis University Press in 2019. This new edition not only includes all of Glikl's writing, but also a fascinating introduction by Chava Turniansky, professor emerita of Yiddish literature at the Hebrew University of Jerusalem and an Israel Prize laureate. Turniansky also provided the extensive annotations that give historical confirmation and context for the events and people Glikl writes about. The new translation is also livelier, providing fuller expression to Glikl's vibrant personality." —Judy Gruen, Jewish Action Magazine
About the Author
Chava Turniansky is professor emerita in the Department of Yiddish at the Hebrew University of Jerusalem. Her fields of research include the history of Yiddish literature and Ashkenazi culture, especially in the Early Modern Period. She is a member of the Israel Academy of Sciences and Humanities, and an Israel Prize Laureate. Her critical edition and Hebrew translation of Glikl's memoirs was awarded the Bialik Prize in Jewish Studies.