Staff-Faculty Accessibility Group
Who We Are
The Staff-Faculty Accessibility at Brandeis group includes staff and faculty who identify as disabled along with peers who support them.
Focused on accessibility-related issues that arise at work and the workplace, the Staff-Faculty Accessibility Group may help develop resources related to accessibility and disability-at-work, organize disability-related events, and engage in other activities as members determine, while also providing support and advocacy where needed.
Events
We partnered with the Rose Art Museum to host an event focused on disability as creativity. In the artist's studio, in the workplace, at home, and in public: everywhere.
On March 8, Gannit Ankori, the director of the Rose Museum, gave a public online lecture on Frida Kahlo as a disabled artist. Kahlo is often discussed in other ways due to her wide-ranging resonance, but her disabilities were also part of her life and work.
Phantom Limbs: Frida Kahlo, disability and art

March 8 | 12:30 PM | Online, with ASL interpretation

In this program, Dr. Gannit Ankori, Henry and Lois Foster Director and Chief Curator of the Rose Museum at Brandeis University, details how the life and work of Frida Kahlo are a potent rejection of ableist discourse and affirm an alternative way of being.

Co-sponsored by the Staff-Faculty Accessibility Group and the Rose Art Museum, with additional support from the Brandeis Office of Diversity, Equity, & Inclusion and the Brandeis University Staff Advisory Committee.

See photographs of Frida Kahlo's house in the sidebar.
From the Archives
What may have been the first event at Brandeis to call attention to the demand for disability rights was held in 1983. Based on archival holdings, it is likely that the play "You Can't Turn Off the Stars," performed by a theater company composed of both disabled and non-disabled actors, was performed on campus on what was called Disability Awareness Day. The events seem to have been organized by Professor Irv Zola, renowned disability studies scholar who taught in the Sociology Department at Brandeis and was the first editor-in-chief of Disability Studies Quarterly.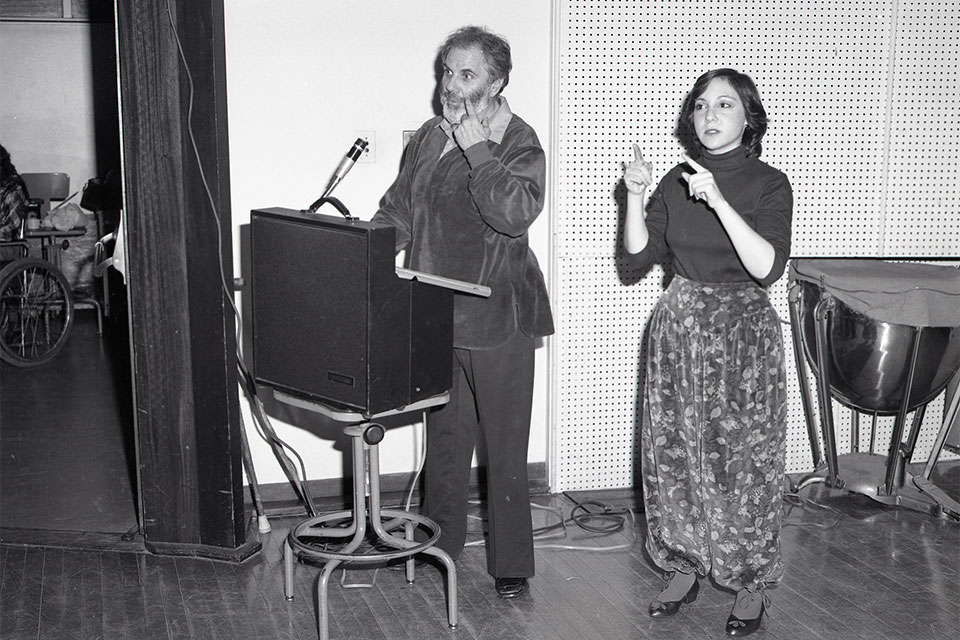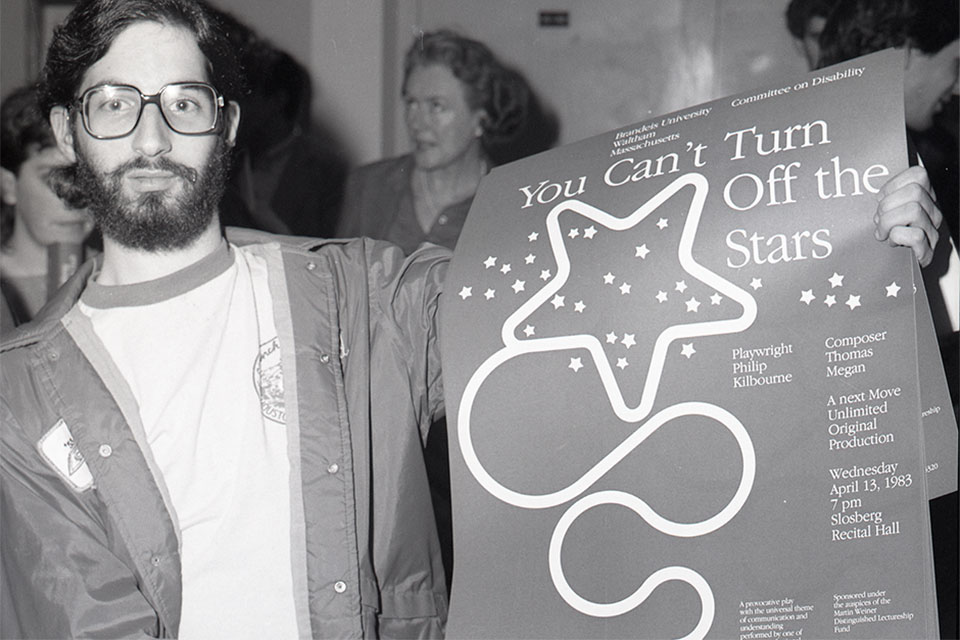 Photo Credit: Courtesy of the Robert D. Farber University Archives & Special Collections Department, Brandeis University.
The first photograph shows Irv Zola, who is at a podium, with a member of the theater company nearby; the theater-company member may be signing in ASL. The second photograph shows a man holding a poster for the play.
How to Contact Us
Email: staff-faculty-disability-group@brandeis.edu
Get Involved
To become a group member, please attend an upcoming meeting or contact us at the email address above.
Brandeis Resources Related to Disability and Accessibility at Work and the Workplace
One of the Accessibility Group's main activities is to help develop accessibility resources related to work and the workplace. The following are examples of what should be a growing list:
Campus Resources for Staff and Faculty
A non-exhaustive list of resources that may be helpful:
Resources for Students
If you are looking for accessibility resources for students, several of the resources listed above may be helpful. Also see: