Faces of GPS: Meet Vice President Carmen Aguilar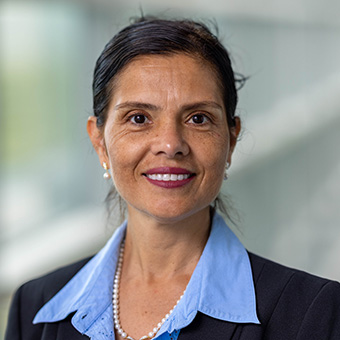 Welcome to Carmen Aguilar, who has joined the Rabb School of Continuing Studies as vice president. Hear about what drew Carmen to Brandeis, as well as her vision for the future of GPS.
What your life has been like since starting as Vice President of the Rabb School of Continuing Studies in August?
These first few months on the job have been both rewarding and promising. I have met fantastic members across the institution and am continuing to learn about the University's culture, opportunities, processes, policies, and structures. I am eager to have the opportunity to start meeting students, alumni, donors, partners, and community members.
What attracted you to Brandeis?
I was drawn to Brandeis for its reputation and recognition, as well as its respect from peers, industry leaders, students, alumni, faculty, and staff. It is my hope to be a part of this institution's entrepreneurial and innovative spirit and contribute to building new and unique opportunities for students, such as the new Brandeis Online, which you will be hearing about soon.
What is your vision for Brandeis GPS under your leadership?
My vision for Brandeis GPS is to meet our students' educational and professional development needs by providing online high-quality, cutting-edge, industry-relevant, flexible, and affordable programs.
What is something that you would like the Brandeis GPS community to know about you?
I would like the Brandeis GPS community to know that I am a first-generation college student and did all my studies in Mexico. I have been in higher education for over 26 years, with 23 of those years being in the United States. Secondly, I enjoy learning and meeting new people. I am looking forward to hearing from our students, faculty, and community members. Lastly, please feel free to contact me at carmenaguilar@brandeis.edu or come to my open office hours on Mondays and Thursdays from 4-5 p.m. EDT. 
---
To learn more about the Brandeis GPS team, please visit our staff page.