Achieving goals in more ways than one
When Gregory Irwin completed his undergraduate degree at Brandeis University in December 2019, he was entering a world full of uncertainty. The job market in 2020 was challenging, and when the COVID-19 pandemic hit in late February, Gregory's career prospects became limited.
However, instead of allowing the pandemic to put his life on hold, Gregory used it as an opportunity to shoot for two goals at once: maximizing his soccer career and earning a master's degree.
Gregory played varsity soccer as an undergrad at Brandeis, and he still had an extra year of eligibility by the time he graduated. When the pandemic hit, Gregory realized that pursuing an online master's degree could help him to make the most out of his time. He could gain the education and skills necessary to make himself a more marketable job applicant while also achieving his dream of playing professional soccer abroad.
As someone who thoroughly enjoyed his time at Brandeis, Gregory did not really consider degree programs at other universities. However, he did spend a lot of time deciding which graduate program at Brandeis to pursue.
"When I was weighing the options between some of the other schools at Brandeis, GPS just fit really well with what I was looking for," Gregory said in an Oct. 19 interview with GPS. "Digital Innovation for Fintech gave me a little bit more of a malleable degree, as well as being really flexible as a program that was already set to be online … If we were going to be online, I wanted something that was made to be very much online."
According to Gregory, GPS's experience with providing online learning experiences meant that he didn't encounter any of the "hiccups" that some of his friends did when pursuing master's degrees during the pandemic. His GPS advisor made the course registration process seamless, and he found that his instructors were easily accessible as long as you "put in that little bit of effort."
"I was someone who sat in the front, would go to office hours and things like that," Gregory admitted when asked about the transition from traditional to online learning. "When you're online, it's up to you to connect with your instructor, get assignments in on time. I had my own standards as to what I wanted to get out of the work, and I had different ideas that I wanted to be able to explore and bounce off instructors. So just that little bit of effort really made a big difference in my experience."
Aside from offering Gregory the flexibility to earn a master's degree while also pursuing a career as a professional athlete in Israel, the Digital Innovation for Fintech program at GPS taught him the skills that help him in his current job as a consultant at Capco.
"[My GPS degree] gave me a traditional finance background with a little bit of a modern twist," Gregory said. "[Knowing] what data is doing to the industry, how rapid things are going, and how much machine learning can go into processes" has really helped Gregory to succeed in his current role. Much of Gregory's job also involves data analysis and Python coding — two skills that are essential to success in his current position.
Another element of GPS that Gregory particularly appreciated was its orientation towards the professional world. His GPS instructors, classmates, and course materials all helped to familiarize him with the industry that he was preparing to enter.
"You already have a unique experience being at Brandeis, [considering] where professors come from," Gregory told GPS, "[But] I think this program or the overall degree allowed you to be even more blown away. You're dealing with not necessarily just professors, but you're dealing with people who are in the industry full-time and [instructing] as a supplement … So you really feel like you are meeting [industry] standards." Gregory says he also learned a lot from his classmates, who were "people from all walks of life."
However, out of all of Gregory's learning experiences at GPS, the most rewarding was his capstone project. Inspired by his time as a young person studying and playing soccer in Israel, Gregory sought to develop a B2B/B2C app that would help ease anxiety about spending money abroad.
Gregory spoke about his capstone project with excitement: "The idea was that you're at a restaurant abroad. You have a friend from the UK, you have a friend from France, you have a friend from Australia, right? None of you know how much to pay each other back. You're not familiar with the currency being used, and you don't want to go to an ATM and deal with conversion stuff. How can we reduce this confusion with a really seamless app?"
While Gregory has recently discovered that there is a company which already accomplishes an idea similar to this one, the impact of his capstone project remains nonetheless. "It was a good investigative report on kind of a niche thing that I faced — a niche thing I'm sure a lot of young people face as they do their first travel and meet friends from all over the world."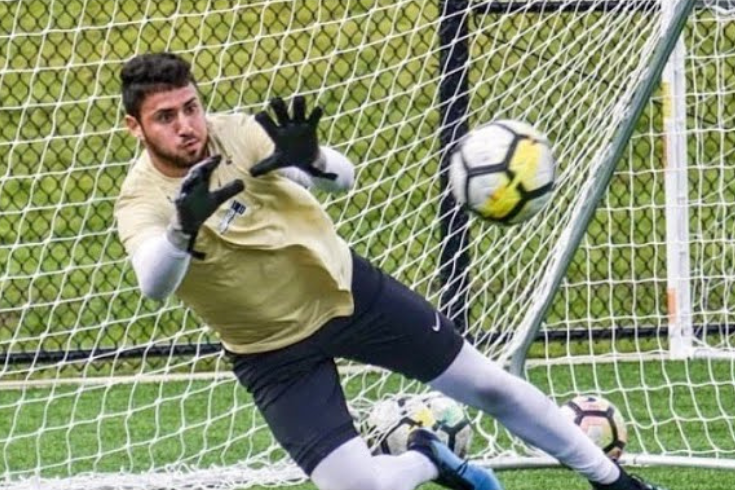 Overall, Gregory recalls his experience at GPS fondly: "I think it was really unique, and it felt very wholesome that I wasn't splitting an allegiance to something that I wanted to get done. I wanted to get this master's degree done while also being able to pursue a soccer career that probably wouldn't have been afforded to me at that particular time."
Gregory urges all Brandeis undergrads — and other prospective GPS students — weighing their graduate school options not to discount the benefits of online degree programs. "I have a very fond place in my heart for Brandeis. I think it affords you incredible opportunities. And I would say you don't need to fit all the specific check marks in your experience based on what other people have for their track marks. Brandeis offers you a lot of great graduate programs, and GPS is part of that. … I'm having success in my own career right now [because of GPS], so I would say that it is an amazing experience to have."
Gregory emphasizes that if any prospective student wants to speak to an alumni, his line is always open. You can connect with Gregory on LinkedIn to learn more about his GPS experience. 
---
For more information on the online master's degrees at Brandeis GPS, please visit our website.