A conversation on Pride Month with alumnus Chris Kasprak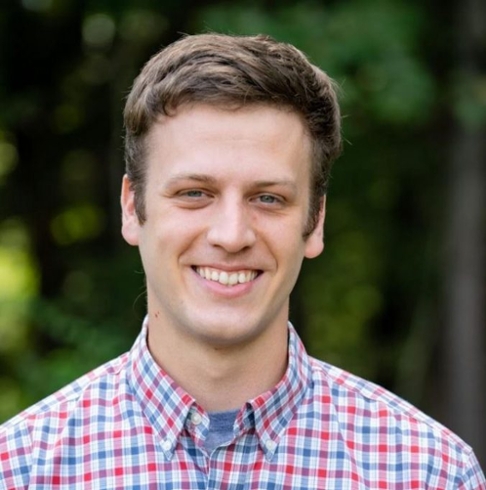 We spoke with Chris Kasprak, Digital Marketing and Design MS '21, about what Pride means to him. Hear from Chris about how he plans to celebrate, and the importance of uplifting and advocating for all members of the LGBTQIA+ community.
What does Pride Month mean to you?
For me, I think a lot about the importance of visibility when I think of Pride Month. When I was first coming out, I had this idea in my head that once I had told my close friends and family, that that was it—I'm out! The reality is that the coming out process never really ends.
I think people who are 'completely out' still frequently find themselves in situations where it's easier to not talk about their sexuality, to not be their full selves. And pride each year is a reminder that it's always better to be your full self, and to actively seek communities where you can be that. It's really empowering to have this month where there's almost this expectation that you'll be super visible and proud about who you are.
What does it mean to embrace LGBTQIA+ pride?
There's definitely no singular way to embrace LGBTQIA+ pride, but I think it's important for people in the LGBTQIA+ community to take time to celebrate who we are—to really feel pride in our identity and within our community. When I was growing up, I didn't really know any gay people, and I didn't really see myself represented in popular culture. And the stories I did see weren't particularly positive or celebratory. So I think it's really important for the community to have this moment of celebration and levity, where things aren't so serious.
At the same time, there's a lot of scary stuff going on for people in the LGBTQIA+ community, particularly the trans community. And while it's nice that pride has spread beyond traditional LGBTQIA+ spaces, I'm hopeful that allies who are celebrating pride will use this month as a time to speak out against the myriad laws and harmful rhetoric targeting the trans, drag, and gay communities that we've seen in so many state legislatures over the past few years.
How are you planning to celebrate Pride this year?
My wedding anniversary happens to be in June (this year is our fifth anniversary!), so that's always another nice part of Pride month! We recently bought a house in Bath, Maine, and the town is throwing its very first pride festival this year, so I'm excited to celebrate with our local community. I'll also be supporting queer-owned businesses and shows, as well as donating money to queer community groups. I'll probably binge-watch Heartstopper (a great queer Netflix show) for the 1000th time, as well.
Who are some of your LGBTQIA+ role models?
This is actually a lot harder for me to answer than I thought it would be. I honestly can't think of a single LGBTQIA+ role model I had when I was growing up. When I got to college, I joined my college's queer group, and our faculty advisor, Jennifer Finney Boylan, was amazing. I still remember the letter she sent all of the students in the group the morning after Maine (by a razor-thin margin) failed to legalize gay marriage in 2009. It was simultaneously somber, hopeful, and a powerful call-to-action, and her words have really stuck with me to this day.