Contact Us
The International and Global Studies (IGS) Program is located in the Rabb Graduate Center, Room 360. Get directions to our offices and the Brandeis campus.
Students, stay up to date with IGS by joining our email listserv. 
Join the listserv by going to 

groups

.

google

.com (make sure you're using your Brandeis account) and search for IGSProgram-Group.  Click the arrow that points to a box to "ask to join" the group. If you have any difficulties adding yourself, please contact our Administrator for assistance, Jazz Dottin.
Mailing Address
International and Global Studies Program
MS 055
Brandeis University
415 South Street
Waltham, MA 02453
781-736-2615
Staff
Jazz Dottin
Program Administrator
Undergraduate Departmental Representatives
Hello! I am an international student from Germany and current senior triple majoring in IGS, sociology and HSSP. At Brandeis, I currently work as an Admissions Interview Fellow and research assistant for the Sociology Department. Besides being a IGS UDR, I am also the Lead UDR at large. Within IGS, I am especially interested in Global Health networks, rights of indigenous communities as well as immigration rights.
Please come talk to me if you want to hear more about why I love IGS, politics, music, llamas or if you have any questions about the department or the UDR program!
 您好!Greetings!I am Zhou Liu, and many of my friends and professors refer to me as Eric. I am a junior majoring in international and global studies. I grew up in Beijing and came to the United States for college. At Brandeis, I work for Professor Chandler Rosenberger as a research assistant. I also serve as the special advisor to the Chinese Cultural Connection Club.
For my research assistant job, I assist Professor Rosenberger on various topics about global governance, especially on the topic of Chinese nationalism and how it influences the development of China and the international community. I am especially interested in how the development of my culture and nation would alter and influence the track of global development. Currently, I am assisting Professor Rosenberger on a project that explores the role of Chinese traditional culture in contemporary Chinese policy-making process. Outside of Brandeis, I am a certified soccer referee at both the Chinese Football Association and United States Soccer Federation.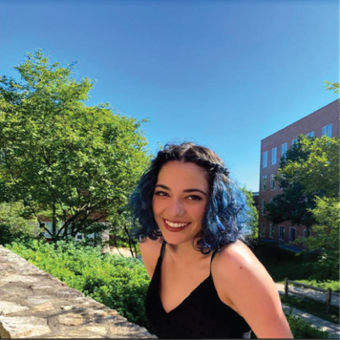 I'm a current senior majoring in IGS with a triple minor in anthropology, history and politics. I recently returned from my time studying abroad in Stockholm, Sweden, where I was a class representative (please ask me about planning for your study abroad). Over the summer, I interned for WATCH CDC in Waltham, and Crossing Pride, an organization that works in trauma healing with queer and trans refugees. At Brandeis, I am an orientation leader, Kindness Day enthusiast, and METCO tutor. I am also the BUGS tutor for IGS8A! So please reach out to me with any questions.
Within IGS, I am specifically interested in studying diplomacy, development and refugee assistance and resettlement. I would be delighted to talk to prospective IGS students about the department's impact on how I understand the world, and how dearly I love what I have learned. Please feel free to reach out to me with any questions, I'd love to chat.