The Arab Jewish Music of My Ancestors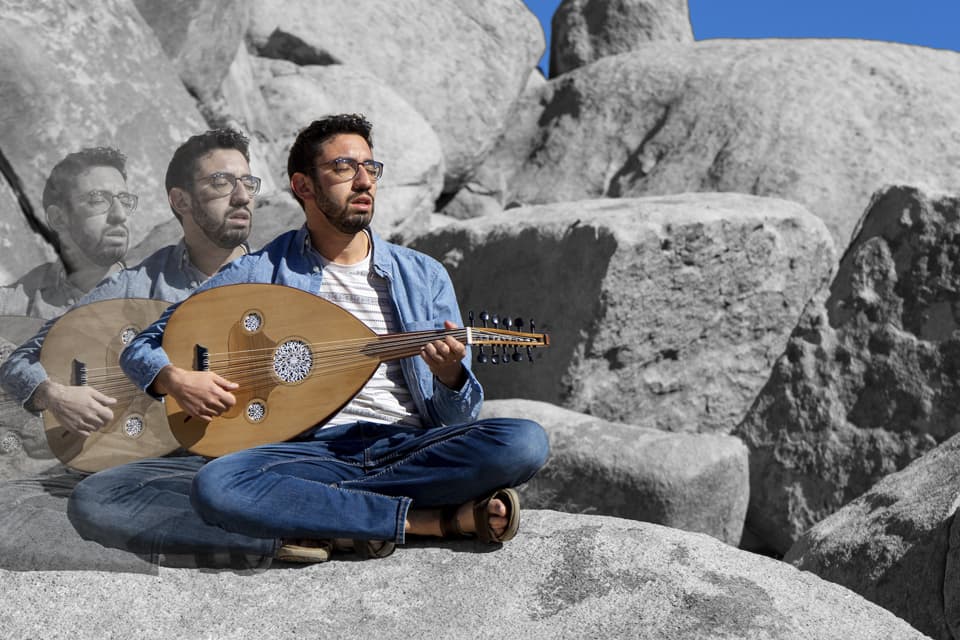 Photo Credit: Courtesy Yoni Battat
By Lawrence Goodman and Susie Seligson
Until Yoni Battat '13 was a teenager, Jewish music meant klezmer.
In his synagogue and at his Jewish school outside New Haven, Connecticut, he heard and played the Eastern European-style folk music.
Then at 16, while on a trip to Israel with his grandfather, Battat, an aspiring violinist, took a music lesson with an Iraqi Jew. He learned about maqam, the Arabic microtonal musical system, and for the first time in his life, held an oud, a lute-type instrument played throughout the Middle East and North Africa.
"It blew my mind that Arab music had notes that didn't even exist in the Western tradition," Battat said. "From there on in, I decided I wanted to play maqam."
Today, Arab music is central to his identity as a musician and a Jew. Battat is of Iraqi-Jewish descent on his father's side. Playing the music of his ancestors has allowed him to reclaim the heritage that mainstream American Jewish culture has often ignored or sometimes spurned.
On his album, "Fragments," to be released in the spring, Battat plays oud, violin and viola as part of a traditional Arabic ensemble that also features qanun (similar to a zither) and ney (an end-blown flute). The songs he composed and sings deal with his complex Jewish identity.
Some songs, like "Vapor," are doleful, full of mourning for a past that Battat feels he can never recover, while "What Would You Say?" is frantic and fun, an imagined conversation with an ancestor who is teaching him how to cook Arab-Jewish dishes in the kitchen.
Battat is part of a younger generation of Mizrahi Jews in both the United States and Israel who openly identify as Arab Jews. "There's nothing that makes my ancestors not Arab," he said. "Yes, Judaism was their religion, but culturally, their identity is Arab."
Battat said he grew up straddling two different versions of Judaism.
At home, his father, who grew up in Israel, played pop music by Mizrahi Jews, Jews of Middle Eastern and North African descent.
The family ate traditional Iraqi-Jewish dishes like kubbeh adom (dumpling soup), kitchri (rice and lentils) and baba b'tamar (date cookies). His father sprinkled daily conversation with phrases common among Arabic-speaking Jews like "khosh" (great) and "ashtidak," which means "bless your hands" and is addressed to someone who prepares your food.
Outside of the home, though, Judaism was all about bagels (originally from Poland), "Fiddler on the Roof" (about Jewish life in Russia) and religious services conducted using Eastern European melodies and traditions.
This Ashkenazi-centric Judaism, or "Ashkenormativity" as it's now called, "always felt strange and uncomfortable," Battat said. "A lot of my culture and identity was erased."
At Brandeis, where Battat met his wife, Leah Carnow '12, Battat studied Arabic music and played oud in an Arab musical ensemble. He also took classes in Arabic. "It's the language that my family spoke for thousands of years," he said. He spent a year in Jerusalem playing with the Hibba Orchestra, which specializes in modern Mizrahi compositions.
"Little by little, I realized how much of my heritage I'd missed out on as a kid," he said.
Battat began work on "Fragments" in late 2020, funded by the Community Creative Fellowship, a new initiative from Combined Jewish Philanthropies of Greater Boston and the Jewish Arts Collaborative.
He gathered source material and inspiration by holding small group meetings over Zoom with Jews of differing backgrounds in the Boston area and posing such questions as, "What do you wish you knew about your ancestors?" and "If an ancestor saw your life today, what would he or she say?"
Battat said he thought of the meetings as "a safe space for Jews of color." What emerged from the roughly 90-minute discussions was a shared feeling of being cut off from one's heritage and a deep longing for connection to the past.
But Battat also found that playing his music during the conversations provided a sense of healing. As he performed on his oud, he asked the participants to fill in the blanks to a lyric: "From the fragments of ______, I am finding ______."
"From the fragments of forgetting, I am finding my truth.," one person responded.
"From the fragments of time, I am finding peace," went another.
Battat, who lives in Newton, is now on a national tour with the Tony Award-winning musical "The Band's Visit," about an Egyptian band stranded in an Israeli town. He performs and acts onstage as one of the Egyptians. "It's an awesome opportunity to bring Arabic-style music to audiences," he said.
Battat has long played in a klezmer band, Two Shekel Swing, which cut a 2019 EP called "Pocket Change." His roots on his mother's side go back to Poland and he learned klezmer music growing up.
But he said he recently decided to focus almost entirely on Arabic music. His larger goal is making mainstream Judaism more inclusive, diverse and welcoming of Mizrahi Jews and Jews of color.
"Although Ashkenazi music is a part of me," he said, "I feel I need to make up for lost time and represent Arabic music in the American landscape.