What's it Like to be a Student at Brandeis Hillel?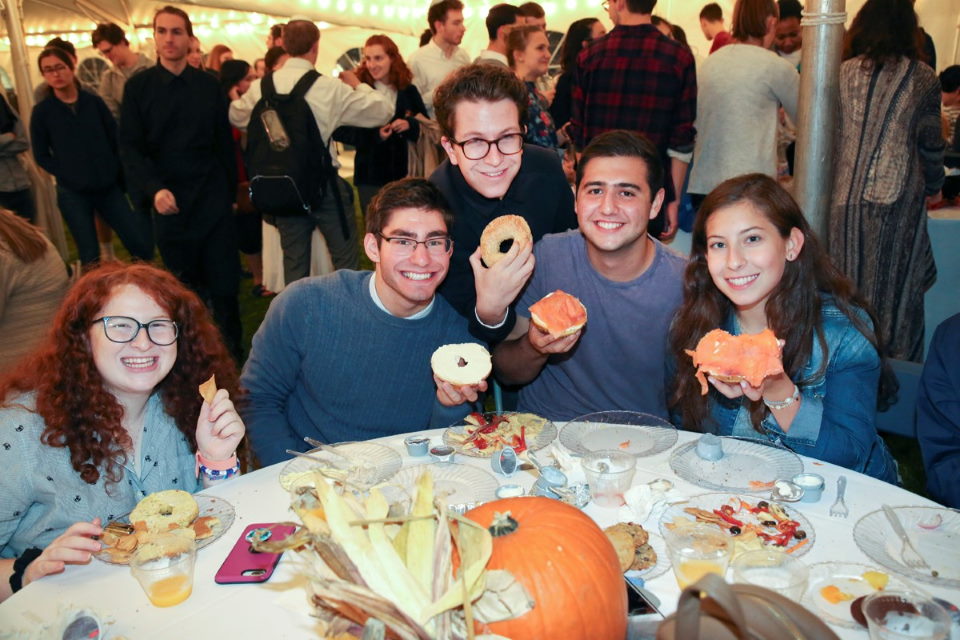 Photo Credit: Mike Lovett
By Penny Schwartz, P'13
For Brandeis Hillel Rabbi Seth Winberg, it's all about Shabbat. 
"It's an opportunity for students to take a break from all the academic coursework and to be with other students who care about Judaism," said Winberg, Hillel's executive director and the university's senior chaplain. 
"It's sitting at a table over dinner with your friends, but in the context of feeling like, 'Wow, there's a real energy and enthusiasm for Jewish life.'"
Brandeis Hillel was founded in 1948, the same year as the university opened. Last year, more than 1,000 students participated in Hillel events and offerings.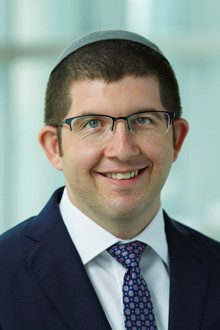 Winberg
Winberg said that the same student energy you see on Shabbat appears at other Hillel activities, including:
Bagel brunches, mezuzah making and ice cream socials for new students.
The annual Israel Week festival.
A "Cake Wars" baking competition and other events to raise awareness about cancers and genetic diseases impacting the Jewish community.
A national retreat for students affiliated with the Conservative movement.
The Jewish Learning Fellowship (JLF): A 10-week discussion seminar for students looking to deepen their understanding of Judaism.
Regular prayer services for every Jewish denomination.
"We want Jewish students to leave Brandeis with more Jewish friends and mentors and to experience the Jewish calendar," he said. "We're making sure that there's a vibrant and positive social and cultural experience for students at Brandeis." 
TJE spoke with Winberg about Hillel's programs and impact.
What's Shabbat like at Brandeis?
I hope students would tell you it is relaxing! 
How do students participate in Shabbat?
Services and dinner are student-led. Usually, the d'var Torah (a brief talk about the weekly Torah reading) is given by a student. At Brandeis, Shabbat is a full day of learning, meals and singing from Friday evening until Saturday sunset.
What are some of the educational programs you offer?
Pretty much every day of the school year, there's an opportunity to sit down and learn something Jewish outside the classroom. Students from all backgrounds and levels of knowledge participate. 
How do Hillel's students get involved in social justice?
There's no question that lots of Jewish students are involved in lots of different causes. Many students are motivated by their Jewish values. We also try to help them think about how they can explain their activism to their peers.
What kinds of programs do you offer about Israel?
We have several trips to Israel. Two of them are Birthright trips for Jewish students who have never visited Israel on an organized tour. They experience Israel's rich and ancient history, its vibrant social life and cultural institutions. 
We also have a "Perspectives" trip for student leaders of different backgrounds. They gain a deeper understanding of the complexities of the Israeli-Palestinian conflict.
Many students also visit Israel on various programs during winter break and in the summer.
Are there other Israel-related activities?
We want to keep conversations about Israel on campus open and respectful. At a recent panel, students spoke about their personal relationships with Israel. At Brandeis, we explore what it means to be Jewish, both in terms of Judaism and in terms of Israel. It's not a school where people are afraid to express their Jewish identity in public. 
How do students partake in interfaith work on campus?

Hillel partners with the Center for Spiritual Life, where there are Jewish, Protestant, Muslim, Catholic and Hindu chaplains.

Jewish students recently attended a dinner and conversation for leaders of different communities on campus. Within 48 hours, the group came back to us and asked, 'How do we do this again?' 
In my experience, when you bring students from different communities together a few times, they'll tell you what they want to do together to improve the experience for everybody at Brandeis. Then, we'll be there to help them.