Event Calendar
All MCH events for 2022-2023 are subject to health standards, precautions, and protocols as determined by Brandeis University and the State of Massachusetts.
Spring 2023
Public Scholarship at Brandeis: New Directions
February 10, 2023
2:20-3:50PM
Schwartz 103
Speakers: Professor Émilie Diouf (English), Professor Elizabeth Ferry (Anthropology), Professor Sara Shostak (Sociology), and Gowthaman Ranganathan (Anthropology), with Angel Queentus.
Co-sponsored by COMPACT and the Department of Anthropology.
February 3, 2023, 2-3:30pm EST
Professor Sophia Hsu, Lehman College (CUNY)
"White Orientations in Late Victorian Slum Fiction"
March 3, 2023, 2-3:30pm EST
Professor Cassander Smith, University of Alabama
"Teaching to Learn: The Stakes of Anti-Racist Pedagogy for Literary Studies"
March 24, 2023, 2-3:30pm EST
Professor Kyle Grady, University of California, Irvine
"'Better to the Commonwealth': Merchant, Mixedness, and Demographic Revision"
April 28, 2023, 2-3:30pm EST
Professor Manu Chander, Rutgers University
"Medii Homines: Toward a Critical Ontology of Brownness"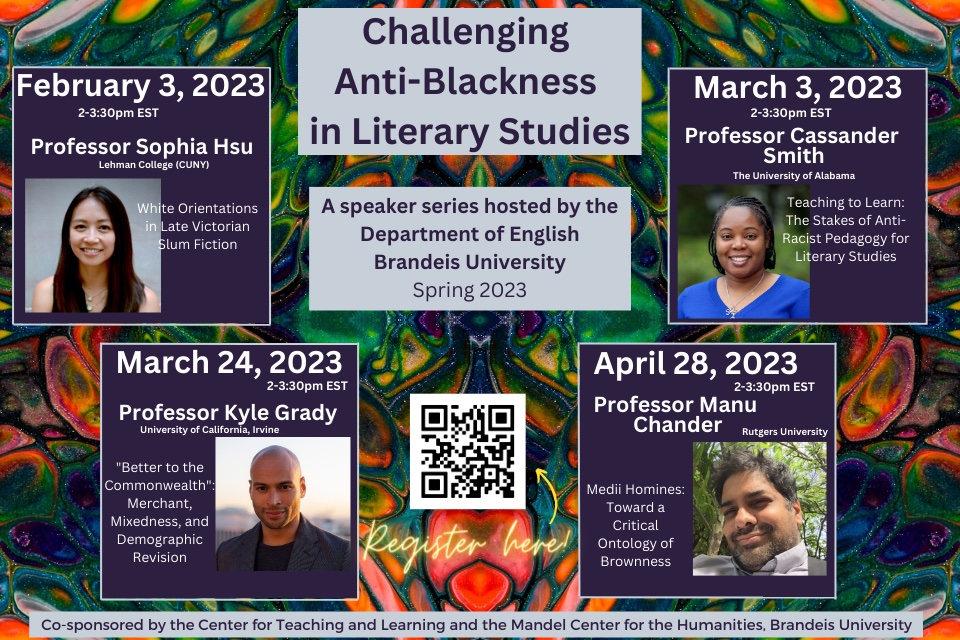 Dark Fictions of Blood: A Conversation about Blackness and Vampires
March 6, 2023
Dark Fictions of Blood: A Conversation about Blackness and Vampires with Tananarive Due, Brandon Massey, and Lisa Marie Wood
Moderated by Professor Brandon Callender
12-1:30pm
Mud: Ecologies of Racial Meaning, a lecture by Professor C. Riley Snorton
April 21, 2023
1-2:30pm
Moderated by Professor V. Chaudhry
Olin-Sang 101