Writing Grants

Mandel Center for the Humanities: Writing Programs
The Mandel Center for the Humanities sponsors two writing programs for members of the Brandeis Community. 
Writing Retreats in the Humanities : These retreats build community amongst faculty and students while providing focused time for work and feedback.
Summer Writing Accountability Program : Co-sponsored with GSAS, this program offers doctoral students an intense 10-week program to carve out time for their writing.
We wrote all day- meeting at meals to discuss our writing - it was amazing!!!! - Ziva Hassenfeld, Education Studies
Writing Retreats in the Humanities
The Mandel Center for the Humanities is pleased to offer funding for Writing Retreats designed to give Brandeis faculty members and graduate students in the humanities, arts and humanistic social sciences time and space to focus on dissertation or other writing projects, as well as foster horizontal community. Retreats are designed for daily focused writing as well as other optional activities such as draft workshopping, peer review, and/or discussion of writing practice, time management and developing a writing calendar. The retreat can take place at an external site or on campus in the form of a catered study hall that either meets for three to five days in a row or is spread out across a series. It should is normally attended by five to ten participants.
Writing Retreat Organizers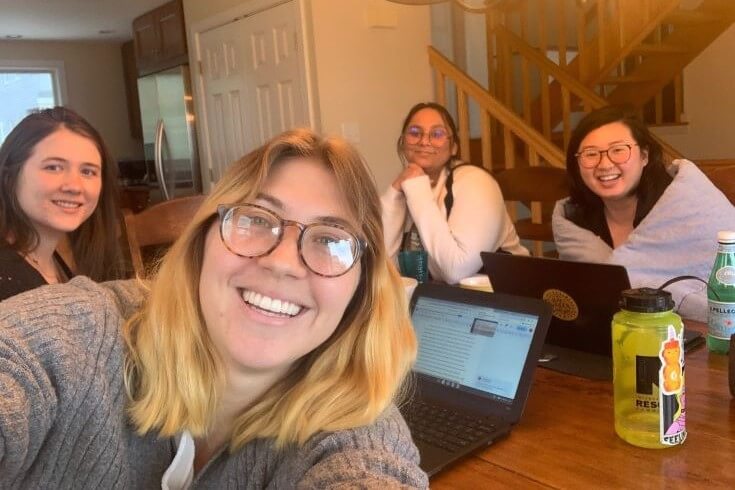 Anthropology MA students Nayonika Chatterjee, Nhi Le, Julie Scesney, Mariah Morse, at a writing retreat for second year students in April 2023
This year the Mandel Center supported five writing retreats organized by: 
Professor Elizabeth Ferry (Anthropology)
Professor Harleen Singh (South Asian Literature)
Nayonika Chatterjee (Anthropology)
Sanchita Dasgupta (Sociology)
Anna Valcour (Musicology)

Anthropology Writing Retreat
"The purpose of this writing retreat was to give the cohort of 2nd year anthropology MA students the opportunity to work on their final theses drafts. The retreat took place in Marion, MA for the duration of three days (April 21-24, 2023) where the students were given time and space for writing, editing, and peer review. The schedule for the retreat included 3 hours for daily focused writing, 3 hours of draft workshopping and peer review, and recreational group activities spread out throughout the day. Every participant was able to workshop their draft and/or clarify previous comments at least once. We would like to thank Mandel Center for Humanities for giving us this incredible opportunity to work on our final theses and collaborate with peers." - Nayonika Chatterjee
Participants: Nayonika Chatterjee, Nhi Le, Julie Scesney, Mariah Morse
Summer Writing Accountability Program
The Mandel Center for the Humanities and GSAS are excited to be able to fund a 10-week writing accountability group for Brandeis doctoral students in the humanities, humanistic social sciences and arts who are currently writing their dissertations, to take place in summer 2023. Each participant will receive a $2,000 lump sum stipend (no reimbursement submissions necessary) to help carve out time and space for their writing. To receive the payment, students must commit to biweekly accountability meetings on Zoom for peer support and mentorship and to discuss writing strategies, time management and other issues. This is an individual application and is due by April 18, 2023.