Funding Opportunities from the Mandel Center for the Humanities
Rolling Deadline
We welcome proposals for new reading groups from faculty and graduate students in the humanities, humanistic social sciences, and creative arts on a topic, theme, theoretical debate or author of shared interest. Reading groups generally meet at least four times a year and combine discussions of shared readings with visits by guest speakers, film screenings or other events. Topics that are public facing or that consider the potential social impact of the humanities and humanistic social sciences beyond the academy are particularly encouraged. Funds up to $1,000 can be used for refreshments, speaker fees, books, or other expenses. An additional $500 is available for groups to offer stipends to graduate student organizers/participants. Contact Ulka Anjaria with any questions.
Rolling Deadline
Brandeis faculty are invited to apply for up to $250 to co-sponsor an on-campus or virtual lecture, class visit or other event. Applications for events that engage a public humanities speaker or topic, center questions of race, anti-Blackness and equity, and/or reach a broader community beyond the organizer's own course or department are particularly encouraged.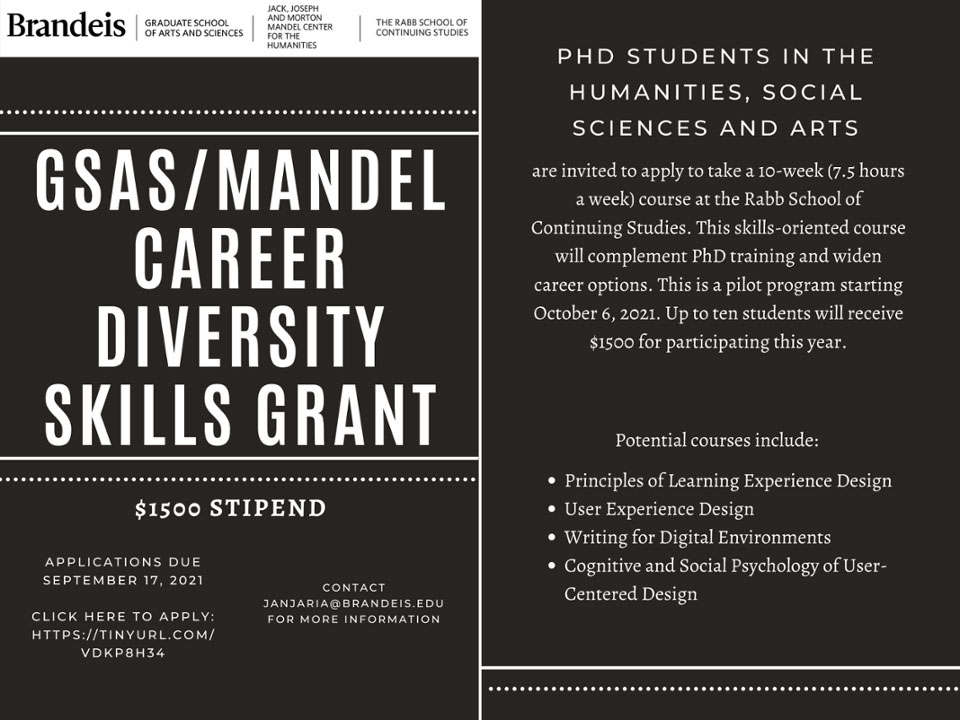 GSAS/Mandel Career Diversity Skills Grant for PhD Students
The deadline has passed for this opportunity.
PhD students in the humanities, social sciences and arts are invited to apply to take a 10-week (7.5 hours a week) course at the Rabb School of Continuing Studies. This skills-oriented course will complement PhD training and widen career options. This is a pilot program starting on October 6, 2021. Up to ten students will receive $1500 for participating this year.
Other Funding Opportunities