Hebrew Infusion: Language and Community at American Jewish Summer Camps — A Conversation
How has the Hebrew language become an integral component of American Jewish summer camps?

What role does Hebrew play in building Jewish community?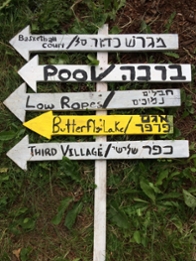 This webinar featured an engaging conversation on Hebrew, camp and American Jewish life with "Hebrew Infusion" co-authors and National Jewish Book Award winners: Sarah Bunin Benor, Jonathan Krasner, Sharon Avni, in conversation with Riv-Ellen Prell (University of Minnesota), Shaul Kelner (Vanderbilt University) and moderated by Jon Levisohn (Brandeis University) based on the work from the Mandel Center Hebrew at North American Jewish Overnight Summer Camps project
---
Sarah Bunin Benor is professor of contemporary Jewish studies at Hebrew Union College and courtesy professor of linguistics at the University of Southern California. Her books include "Becoming Frum: How Newcomers Learn the Language and Culture of Orthodox Judaism," winner of the Sami Rohr Choice Award for Jewish Literature.
Jonathan Krasner is the Jack, Joseph and Morton Mandel Associate Professor of Jewish Education Research at Brandeis University. He is the author of "The Benderly Boys and American Jewish Education," winner of the National Jewish Book Award in American Jewish Studies.
Sharon Avni is professor of literacy and linguistics at Borough of Manhattan Community College, City University of NY, and a research associate at the Research Institute for the Study of Language in Urban Society at the CUNY Graduate Center.