James Haber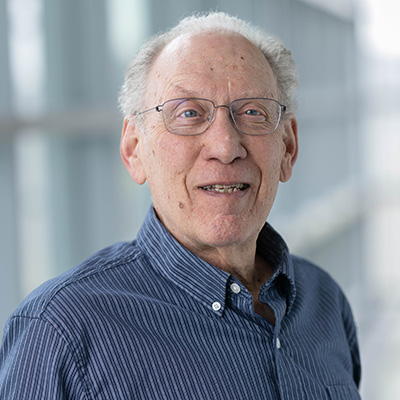 Abraham and Etta Goodman Professor of Biology, and Director, Rosenstiel Basic Medical Sciences Research Center
Research Description
Repair of broken chromosomes and triggering of the DNA damage response
Broken chromosomes must be repaired if a cell is to survive; consequently cells have evolved a variety of mechanisms to repair double-strand breaks (DSBs). Both homologous recombination, in which the ends of the broken DNA seek out intact templates with the same sequence, and nonhomologous end-joining pathways are found in Saccharomyces as they are in humans. In addition cells have evolved a damage-sensing checkpoint system whereby the cells delay entry into mitosis until the break has been repaired.
Analysis of homologous recombination.
Recombination between homologous sequences is a fundamentally important process both in meiosis and in mitotic cells. We are interested in understanding at the molecular level how recombination occurs and what roles are played by the many proteins involved in DNA recombination, repair and replication. Using synchronized cells undergoing recombination that is initiated at a specific site on a chromosome by an inducible endonuclease, we use physical monitoring techniques (Southern blots, PCR analysis) to follow the sequence of molecular events that occur in real time. We are interested in determining what are the specific biochemical roles played by the many proteins implicated in DNA recombination, repair and replication. This "in vivo biochemistry" approach has enabled us to demonstrate that there are in fact several independent, competing pathways of homologous recombination, each with its own genetic requirements.
We have focused a lot of attention on yeast mating-type gene switching (MAT switching) as an example of DSB repair that we can study in great detail. Here a DSB at the MAT locus is created by a site specific HO endonuclease, which we can induce synchronously in a large population of cells. The DSB is repaired from one of two heterochromatic donors (HML and HMR). We have identified the proteins necessary to carry out the initial steps in strand invasion and the beginning of new DNA synthesis, which is significantly different from the normal process of replication. We have shown that the invasion of DNA strands into a donor template region requires the action of the chromatin remodeling protein Rad54 that enables the recombination machinery to gain access to "closed" regions of DNA. Recently we used a modification of this system to study the mutation rate associated with DSB repair. We find that there is a 1000-fold increase in mutation rate and that about half the mutations have a distinctive "signature" suggesting that the DNA polymerase frequently dissociates and re-anneals with its template.
MAT switching is an example of a repair process called gene conversion. This is the process we have studied most intensively, but we are also interested in an alternative process known as break-induced replication (BIR), where only one end of a chromosome break locates a template sequence and assembles a complete replication fork and can copy sequences to the end of a chromosome, producing a nonreciprocal translocation. We have shown that there are differences between this repair-induced replication fork and the normal replication process, but there is much more work to do.
We are also interested in gene targeting methods and in figuring out why these types of gene replacement and modification are quite inefficient, even in yeast. Finally we are interested in comparing how recombination occurs in mitosis and in meiosis. To this end we have expressed the site-specific HO endonuclease in meiotic cells so that we can compare recombination events at the same loci where we have used HO to stimulate recombination in mitotic cells.
Donor preference
We have been fascinated by the process of yeast mating-type gene switching, in which cells replace about 700 bp of Ya or Y-specific DNA sequences at the MAT locus by recombining with one of two donor loci, called HMLDescription: image3 and HMRa. The two donor loci are maintained in a chromatin configuration that prevents them from being transcribed or being cleaved by the HO endonuclease that cuts the same sequence at MAT to initiate switching. In addition to determining how this process occurs and how various mutations affect it, we are particularly interested in the phenomenon of donor preference, whereby MATa cells choose the donor on the left while MAT elects to recombine with the donor on the right, even if we replace HML by HMR; it is the position on the chromosome that dictates donor choice. We have shown that this regulation involves the action of a small Recombination Enhancer (RE) sequence that enables a donor on the left chromosome arm to recombine preferentially in MATa cells. This element is turned off in MAT cells, so the HMR donor on the right is preferred. Recently we have shown that RE binds multiple copies of a transcription factor, Fkh1. Further work has shown that only a part of Fkh1 – the FHA domain that binds a particular phosphorylated threonine – is required. We have recently shown that RE directly interacts with the site of a DSB, and that in so doing it pulls HML close to the break. Now we need to figure out what is the specific target of FHA domain.
Nonhomologous End-Joining and Repair.
In addition to repair of a double-strand chromosomal break by homologous recombination mechanisms, we have also demonstrated that yeast — like mammalian cells — also employ several nonhomologous repair pathways. These different pathways have distinct cell cycle and genetic requirements.
We are also interested in the addition of new telomere sequences to stabilize the end of a broken chromosome. We recently showed that when we remove two enzymes that normally chew away the ends of a DSB, about half of the cells acquire a new telomere at the broken end. We now would like to monitor the kinetics of telomere addition and to learn more about the proteins required for this important process.
Cell cycle regulation in response to DNA damage.
We also study the ways that a cell "knows" that there is DNA damage and how it then arrests cell growth until that damage is repaired. The control of the DNA damage "check point" is not fully understood. What is the actual signal that tells the cell it has a broken or damaged chromosome, and what is the signal that perpetuates cell cycle arrest? How do cells know when to resume growth when damage is repaired? We are analyzing mutants of yeast that fail to respond normally to these checkpoint signals.
We have been studying the phenomenon of adaptation, where cells that have an unrepaired (and unrepairable) DSB will eventually escape from the G2/M DNA damage arrest checkpoint and resume growth, despite the continued presence of the broken chromosome. We have identified a number of adaptation-defective mutations where cells remain permanently arrested. Some of these mutations are also defective in resuming cell division even after DNA damage is repaired. Some of these mutants prevent the cell from turning off the checkpoint (for example defects in two phosphatases that have to revers the phosphorylations imposed by checkpoint protein kinases). Some mutants appear to enhance end-resection and generate more signal. But we do not yet understand how many other adaptation mutants that we have found fit into this scheme. One interesting class appears to enhance the cytoplasmic degradation of normally nuclear proteins by autophagy.