German City, Jewish Memory: The Story of Worms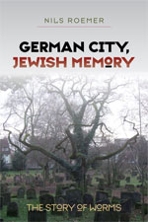 A remarkable, in-depth study of Jewish history, culture and memory in a historic and contemporary German city
German and Jewish ways of life have been interwoven in Worms, Germany for over a thousand years. Despite radical changes brought about by expulsion of Jews, wartime devastation, social advancement, cultural and religious renewal and the Jewish community's destruction during the Holocaust, the Jewish sites of Worms display a remarkable degree of continuity, which has contributed to the development of distinct urban Jewish cultures, memories and identities.
Tracing the recollection and invention of local Jewish historical traditions in religious commemorations, historical writings, museums and historical monuments, and the transformation from "sites" to "sights" in the form of tourism from the Middle Ages to the present, Roemer's rich study of Worms offers a blueprint for historians interested in developing similar studies of cities over the longue durée.
"Nils Roemer's new book brings together theoretical questions that pertain to local history, history and memory and Jewish-Christian relations in medieval, early modern and modern Europe. It opens up an exciting new way of telling the story of one city, providing thoughtful insights on how conceptions of time, place and community changed over a period of a thousand years. This book will be enjoyed by those who are interested in medieval and modern history alike." —Elisheva Baumgarten, Bar-Ilan University
"This is a wonderful book, imaginatively researched, highly informative and daring. In describing the storied Jewish community of Worms from its earliest advent to the present, Roemer has tackled a millennium of history and has demonstrated, more convincingly than any book I know, the continuities of Jewish memory. Controversially, he also shows how the construction of Jewish memory borrowed from Christian memorial practices and reshaped them." —Helmut Walser Smith, Vanderbilt University
About the Author
Nils Roemer is associate professor of Holocaust studies at the University of Texas, Dallas.