About the Theater Arts Program
Developing a new generation of theater artists
Brandeis Department of Theater Arts is committed to developing a new generation of theater artists. We believe in uniting artistic excellence with intellectual inquiry to prepare students for the changing role of theater in our society. At Brandeis, we teach our students not only how to begin a career in the arts, we also help them to develop their artistry with the idealism of a global perspective.
Led by a gifted faculty of scholars, theater artists and practitioners, Brandeis provides undergraduate students with innovative performance-related opportunities in the context of the realities of professional theater. The results are exceptional productions reflecting the diversity, innovation and excitement of contemporary theater as well as a unique vision of the theater of tomorrow.
Brandeis University has been visited by the finest artists of their time including Arthur Miller, Martha Graham, Edward Albee, Mikhail Baryshnikov, Barbra Streisand, Whoopi Goldberg and Steven Spielberg. The acting program has hosted such artists as Olympia Dukakis, Bill Irwin, Clinton Turner Davis, Marvin Hamlisch, Mercedes Ruehl and Woodie King, Jr.
Legendary theater luminaries Sir John Gieguld, Alfred Lunt and Lynn Fontanne, Lillian Hellman, George Balanchine and Richard Rodgers dedicated our historic Spingold Theater Center in 1965. It houses three theaters of diverse size and programming: the 748-seat proscenium mainstage, the 161-seat thrust Laurie Theater, and the 50-seat Merrick Theater. Spingold productions are directed by distinguished professionals, and the plays are chosen to provide meaningful integration between the classroom and the stage.
Arts Spotlight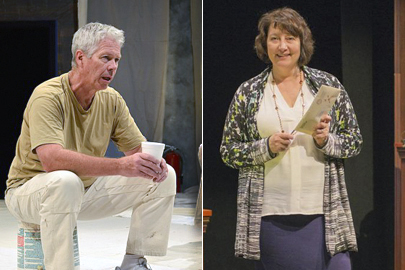 Brandeis University Theater Arts faculty and alumni tallied 10 nominations for 2016 Elliot Norton Awards, the highest honor in theater in the Boston area.