2016-17 Events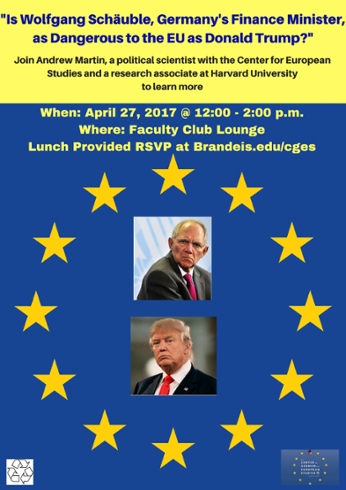 "Is Wolfgang Schäuble, Germany's Finance Minister, as Dangerous to the EU as Donald Trump?" with Andrew Martin
April 27, 2017
Andrew Martin is a political scientist with the Center for European Studies and a research associate at Harvard University.
The defining feature of German economic policy is a rule that government budgets must be balanced on an annual basis within very narrow limits. This balanced budget objective is captured in the expression "schwarze Null" or black zero. It is not only inscribed in Germany's constitution but also, at Germany's insistence, in the rules governing fiscal policy in the European Union's member states. It has been increasingly criticized, not only by international economic bodies like the IMF and OECD, but also European institutions like the European Central Bank and European Commission, and even some German politicians and economists, albeit a minority. According to these critics, its operation in both Germany and throughout the EU has severely retarded Europe's recovery from the financial crisis and inflicted great economic and social costs on large portions of Europe's population.
I think these critics are right. But if so, why does Germany continue to insist on adherence to the rule? I'll explore the two most widely advanced answers to the question after briefly describing the rule and how it operates in the context of the euro area's unique institutional structure.
One of the answers points to the dominance of ordoliberal ideas in German economic thought. The other points to the importance of the export manufacturing sector's interests in German policy. A third answer stresses the moral virtue assigned to parsimony in German culture, where Schuld is the German word for both debt and guilt. While this is a staple of German political discourse, it does not seem as plausible an explanation of German economic policy as economic ideas or economic interests, or both, so I'll focus on those two explanations.
Andrew Martin is an affiliate of the Center for European Studies and Faculty of Arts and Sciences,  and a research associate at Harvard University. A political scientist, he specializes in the comparative politics of economic policy, with a focus on macroeconomic policy, social policy and labor. Much of his work has been on Sweden and, more recently, the European Union, including volumes co-edited with Brandeis Emeritus Professor George Ross. His most recent publication is "European Social Models from Crisis to Crisis: Employment and Inequality in the Era of Moneary Integration," co-edited with Jon Erik Dølvik. Among his contributions to the book are a chapter titled "Eurozone Economic Governance" and a co-authored chapter on the "Transformation of the German Social Model." He received his doctorate at Columbia and taught there before holding research and teaching positions at the Joint Economic Committee of the US Congress, MIT, UMass (Amherst), Boston, Brandeis, Carleton (Ottawa) and Harvard Universities.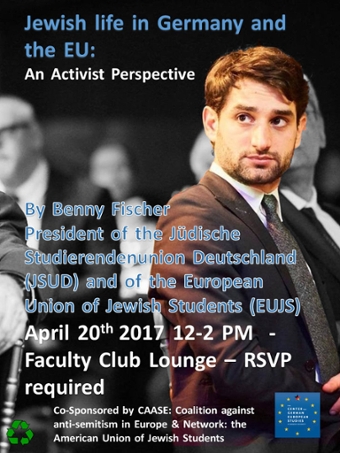 "Jewish Life in Germany and European Union: an activist perspective" with Benny Fischer
April 20, 2017
Benny Fischer serves as the president of the European Union of Jewish Students (EUJS) and is a former president of Jüdische Studierendenunion Deutschland (JSUD). He organizes against antisemitism, antigypsyism and Islamophobia. He has co-sponsored a Jewish call to action in response to the ongoing refugee crisis. In his EUJS role, he has spoken on Jewish student concerns at the European Union and the United Nations.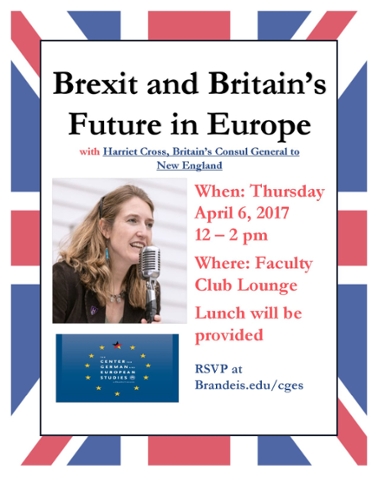 "Brexit and Britain's Future in Europe"
with Harriet Cross, Britain's Consul General to New England
Harriet's most recent posting was as Deputy Head of Mission at the British Embassy in Sana'a, though due to the conflict in Yemen, she spent much time in Saudi Arabia. In her diplomatic career, Harriet has served as second secretary at the British Embassy in Morocco, and as first secretary at the UK Mission to the UN in New York. She has also worked in the Foreign and Commonwealth Office in London (covering EU relations and human rights policy). During her career, Harriet has taken time out from diplomacy to work as an international policy advisor for the UK's National Crime Squad; and in the International Relations Department at the University of York. Harriet received a first class honors degree from the University of Warwick in Politics with French.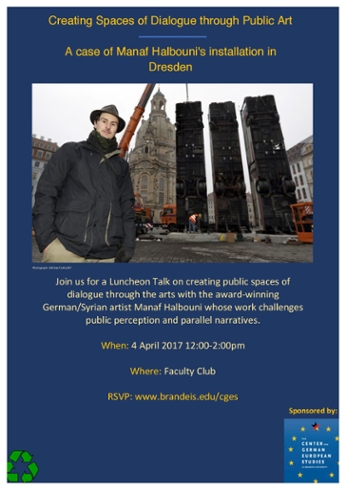 April 4, 2017
Art has always been intertwined with political expression, but can art in public spaces provoke even more thought and dialogue?
Artist Manaf Halbouni has displayed his powerful pieces of art in public spaces in order to push those inhabiting these spaces on a daily basis to think outside of their bubble. His recent work in Dresden has provoked some controversy and certainly many conversations.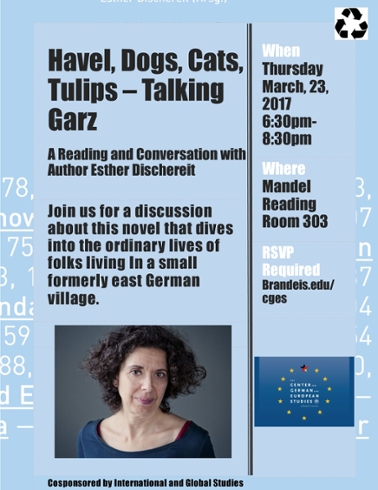 A Reading and Conversation with Esther Dischereit:  "Havel, Dogs, Cats, Tulips — Talking Garz"
March 23, 2017
We, eight young writers, traveled to the small village of Garz, an hour-and-a-half drive northwest of Berlin on the river Havel. We talked to more than 60 people of different ages and professions, and wrote down what we heard — about the LPG (Agricultural Association, the former GDR), the fish in the freezer, Russian women and Polish people, life right after World War II, during the GDR and after 1989 when the Wall came down.
"Talking Garz" presents a vivid picture of the villagers, of how they got along at different times and of how they make their living today.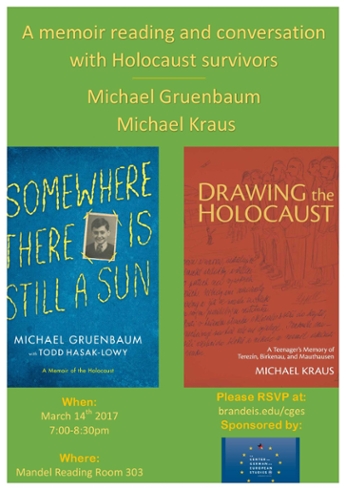 A Memoir Reading and Conversation with Holocaust Survivors Michael Gruenbaum and Michael Kraus
March 16, 2017
Michael Gruenbaum and Michael Kraus both survived the Holocaust as children and both published their accounts of that experience in English and in German. In his book "Somewhere There is Still a Sun," Michael Gruenbaum talks about his experiences as a teenager during the Holocaust in Czechoslovakia (1939-1945), including his internment in the Theresienstadt concentration camp. Michael Kraus first wrote down his account of being in the concentration and death camps right after the war when he was 15, but did not publish it until recently. The book "Drawing the Holocaust: A Teenager's Memory of Terezin, Birkenau, and Mauthausen" is now available in English.
"Writing the Unwitnessable Past into the Present" with Julia Kolchinsky Dasbach
March 7, 2017
Visiting poet, Julia Kolchinsky Dasbach, gave a lecture on writing trauma and bearing witness to history, and then opened it up to a discussion on her writing process.
Adorno infamously said, "To write poetry after Auschwitz is barbaric," so what should poets do? How do we write about an unwitnessable and unwitnessed traumatic past? What can contemporary poetry tell us about this past? How can it bring history into the conversation in the present moment, and serve as a necessary response to the animosity espoused by the current administration and its contribution to the influx of hate crimes and antisemitism within the US and abroad?
Julia Kolchinsky Dasbach discussed how her poems hover around trauma and absence, ranging from ancestral histories to her experience of immigration, and her travels around the death sites in Poland as a descendent of a U.S.S.R. Holocaust survivor.
An Evening of Poetry with Julia Kolchinsky
March 6, 2017
We hosted an evening of poetry read by esteemed poet Julia Kolchinsky Dasbach. Julia is a finalist in the 2015 Narrative 30 Below Contest, the author of "The Bear Who Ate the Stars," and winner of the 2014 Uppercut Chapbook Award. She holds a master of fine arts from the University of Oregon and is working toward a doctorate at the University of Pennsylvania's comparative literature program where her research focuses on contemporary American poetry related to the Holocaust. As a Jewish refugee from Ukraine, she is exploring the lyric rendering of trauma by Russian emigrants in contemporary American poetry.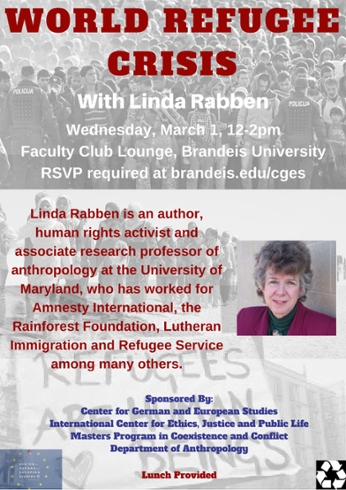 "The Worldwide Refugee Crisis" with Linda Rabben
March 1, 2017
Linda Rabben is an author, human rights activist and associate research professor of anthropology at the University of Maryland. She has a long experience with Brazil and has worked for Amnesty International, the Rainforest Foundation, Lutheran Immigration and Refugee Service, and other NGOs on human rights, migration, environmental and international development issues. Since the late 1990s she has published eight books about human rights, including "Fierce Legion of Friends: A History of Human Rights Campaigns and Campaigners." Her new book, "Sanctuary and Asylum: A Social and Political History," was published in September 2016 by the University of Washington Press.
January 17, 2017
Brandeis University is proud to host "The White Rose," an inspiring exhibition depicting the student resistance against Hitler in Munich during 1942-43. The traveling exhibit was created by The White Rose Foundation and is being offered in collaboration with the Consul General of Germany to New England.
Students and faculty of Brandeis University as well as the greater Boston community are invited to experience the exhibition and learn about "Leaflets of the White Rose," a series of student-created papers calling for passive resistance and the immediate termination of the war; the individuals of the White Rose movement, their paths to resistance, actions and persecution by the Nazi regime.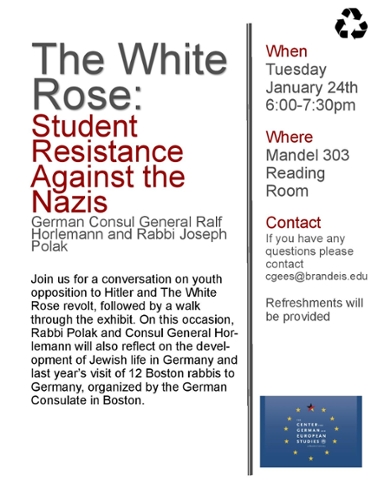 A Conversation with German Consul General Ralf Horlemann and Rabbi Joseph Polak About "The White Rose" and Boston Rabbis' trip to Germany
January 24, 2017
Rabbi Joseph Polak and German Consul General Ralf Horlemann joined us for a conversation about youth opposition to Hitler and The White Rose revolt, followed by a walk through the exhibit. Rabbi Polak and Consul General Horlemann also reflected on the development of Jewish life in Germany and last year's visit to Germany by 12 Boston rabbis, organized by the German Consulate in Boston.
Cosponsored by CAASE: the Coalition Against Antisemitism in Europe
January 27, 2017
This is a student only workshop as a part of DEIS Impact.
Are you a social activist? Are you an artist? None of these? Great, then join us! This activist lab uses interactive approaches to help social activists explore how art can be used for social justice work. The lab specifically focuses on how we can fight polarization in European and American society in regards to refugees. The concrete plans coming out of this workshop will inspire a new project called the Aleppo project, which will work with refugees in Berlin. While the lab is be held at Brandeis University, you will have the opportunity to work with experts from Germany and The Netherlands, as well as Syrian refugees.
"H.G. Adler as Modernist Historiographer in North America" with Professor Julia Cree
December 7, 2016
A survivor of Theresienstadt, Auschwitz and Buchenwald, H.G. Adler was one of a small number of German-speaking Jews to write extensively about his experience, producing a vast and complex Gesamtkunstwerk. He remained little known in North America until the translation of "The Journey" in 2009, the first in a trilogy of novels. This talk discussed the history of Adler's reception in North America as a modernist historiographer, where the integration of the biographical, the historical and the literary becomes not just a question of the genre of a work (is the trilogy modernist allegory or grounded in the historical?) but also a quality of its history of publication and reception.
Julia Creet is an associate professor of English at York University in Toronto where she teaches memory studies, literary nonfiction and satire. She is the editor (with Sara Horowitz and Amira Dan) of "H.G. Adler: Life, Literature, Legacy" (Northwestern UP, 2016), winner of the Jewish Thought and Culture Award from the Canadian Jewish Literary Awards, and editor (with Andreas Kitzmann) of "Memory and Migration: Multidisciplinary Approaches to Memory Studies" (University of Toronto Press 2011). She is also the director and producer of "MUM: A Story of Silence" (38 min 2008), a documentary about a Holocaust survivor who tried to forget, and "Data Mining the Deceased: Ancestry and the Business of Family" (56 mins 2016, HD), a documentary about the industry of family history, which will be broadcast on TVO in the spring of 2017.
Panel Discussion: "After Brexit and Trump: What's Next? Lessons from History"
December 5, 2016
As the world grapples with the Brexit and Trump phenomena and anticipates possible further populist surprises in Europe in 2017, we invite you to hear from faculty experts about the lessons that could be drawn from history, both in Europe and in the United States.
Panelists
Eva Marlene Hausteiner, currently John F. Kennedy Memorial Fellow, Center for European Studies, Harvard University

Paul Jankowski, Raymond Ginger Professor of History, Brandeis University

Ryan LaRochelle, Lecturer in Politics, Brandeis University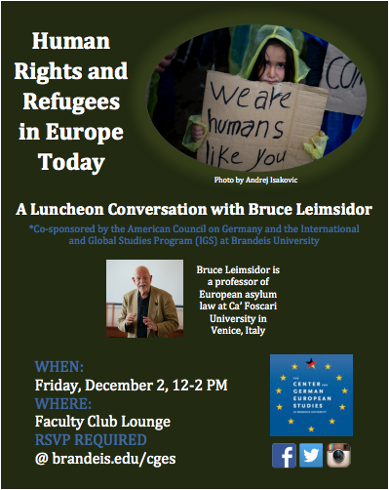 "Human Rights and Refugees in Europe Today" with Bruce Leimsidor
December 2, 2016
For the past few years, Europe, and more specifically Germany, has been struggling with a migration crisis that has shaken the foundations of the European Union, endangering a union that had brought an unprecedented period of peace and prosperity to the region, for which it was awarded the Nobel Peace Prize in 2012. The current crisis has put to serious question principles of tolerance and human rights that, since World War II, have been thought to constitute essential European values. Even elements of international, European and national law have, in response to the crisis, received new and highly controversial interpretations.
While many of the problems occasioned by this migration have been caused by the size and nature of the migration itself, an equal responsibility must be placed on how European institutions have responded to its challenges. While xenophobic parties have exploited the crisis, even institutions and governments relatively positive toward the migration have limited ability to represent and manage the influx, at times turning the noblest of intentions into perplexing conundrums. This presentation explored both the complexities and possible resolutions to the crisis.
Bruce Leimsidor currently teaches European asylum law at Ca' Foscari University, Venice. He has been concurrently counselor for asylum affairs in the Venice municipality's program for asylum seekers. Prior to his positions in Venice, he was a senior resettlement expert at UNHCR's central resource center in Nairobi, Kenya, covering east and central Africa. He has also served as director of the U.S. State Department's Overseas Processing Entity (OPE) in Vienna, Austria, the central office covering U.S. refugee admissions through Central Europe, and was the director of the Central European office of the Hebrew Immigrant Aid Society (HIAS). He has taught at the American University in Paris, Oberlin College, Occidental College and Indiana University. He is a graduate of Swarthmore College and holds an advanced degree from Princeton University.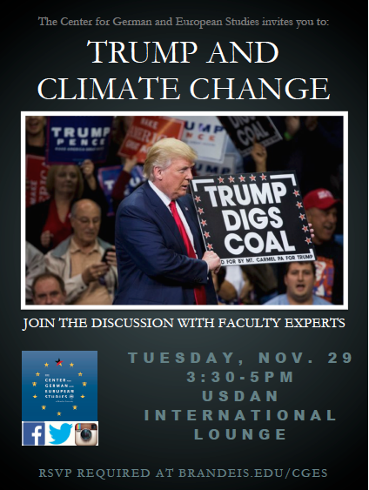 Panel Discussion: "Trump and Climate Change"
November 29, 2016
In the Marrakech Action Proclamation, over 190 countries from around the world reconfirmed their commitment to solidarity in the fight against climate change, calling for "the highest political commitment to combat climate change as a matter of urgent priority." At the same time, the United States, one of the world's biggest polluters per capita, elected a climate denier as president. President-elect Donald J.Trump rejects the scientific evidence on climate change (see sample relevant tweets). He has called climate change a "hoax perpetrated by the Chinese" and vowed to dismantle the Paris Agreement within his first 100 days in office. One of his first appointments has been that of climate denier Myron Ebell to head the transition at the EPA.
Panelists
Charles Chester, Lecturer in Environmental Studies at Brandeis University and Adjunct Assistant Professor of International Environmental Policy at the Fletcher School of Tufts University
Abbie Goldberg, '18, student activist with Brandeis Climate Justice
Warren Leon, Adjunct Professor, Brandeis International Business School
Henrik Selin, Associate Professor of International Relations at the Pardee School of Global Studies at Boston University
Moderator
Sabine von Mering, Director, CGES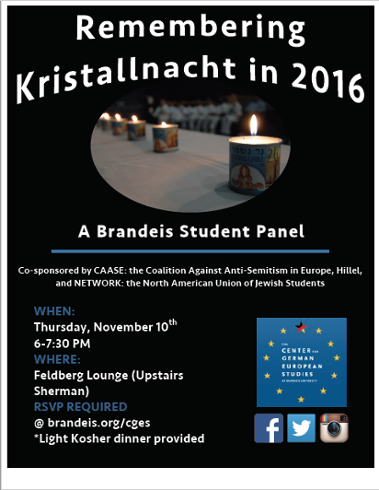 "Remembering Kristallnacht in 2016" Brandeis student panel
November 10, 2016
On November 9, 1938 the Nazis orchestrated systematic arson attacks on Jewish synagogues all over Germany and vandalized thousands of Jewish homes and businesses. The following day, tens of thousands of Jewish men were marched through the streets and taken to concentration camps. Several hundred people died. It is remembered as the beginning of the Holocaust in Germany.
How do we commemorate Kristallnacht, the Night of Broken Glass? We are the last generation that has the privilege of knowing Holocaust survivors, and are left struggling to preserve their lived experience.
How does the Brandeis community carry the shared memory of the Holocaust?
We invite students from all backgrounds to share our space of Holocaust remembrance and reflect on Holocaust remembrance in different cultures and communities. Though this event will primarily be a discussion, we welcome written pieces, poetry and other expressive forms.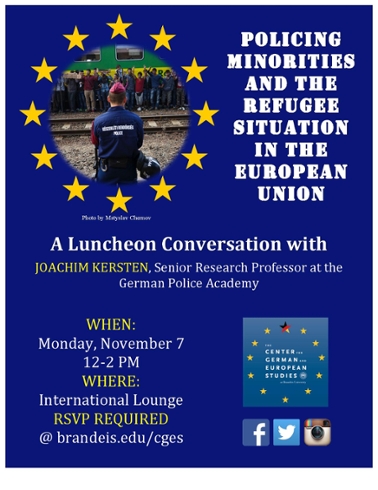 "Policing of Minorities and the Refugee Situation in the European Union" A Luncheon Conversation with Joachim Kersten
November 7, 2016
This presentation looked at the difficult issue of minority policing in the European Union. Recent EU research findings indicate the necessity of independent police oversight. The ongoing refugee crisis has substantially complicated the issues. In particular, the New Year's Eve attacks by cliques of young Maghreb 'refugees' in Cologne and elsewhere has affected the political climate and furthered voters' move to right-wing populist'protest' parties.
Joachim Kersten is senior research professor at the Hochschule der Polizei [Police Academy] in Muenster, Germany. He completed his doctorate in sociology at the University of Tuebingen, Germany, and his Habilitation at the University of Konstanz. His most recent publications include the co-edited volume "Strengthening Democratic Processes: Police Oversight Through Restorative Justice in Austria, Hungary and Germany" (2015).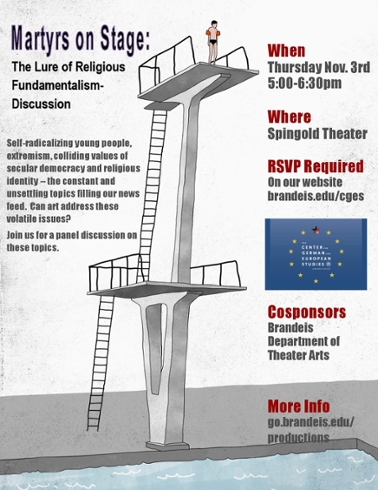 PanelDiscussion: "Martyrs on Stage: The Lure of Religious Fundamentalism"
November 3, 2016
Self-radicalizing young people, extremism, colliding values of secular democracy and religious identity — the constant and unsettling topics filling our news feed. Can art address these volatile issues? How is our society responding to the challenges? Upcoming Department of Theater Arts production of Marius von Mayenburg's provocative new play "Martyr" looks at a German teenager's embrace of Christian fundamentalism.
Panelists
Clémentine Fauré-Bellaïche is a former student at the École normale supérieure (Ulm) and an agrégée de lettres modernes. She holds a doctorate in French literature from Yale University. She is assistant professor in French and Francophone studies at Brandeis University where she specializes in 20th- and 21st-century French literature. She is currently writing a book tentatively entitled "L'Air Protestant: André Gide, Jean-Paul Sartre, Roland Barthes and the Religion of Literary Modernism."
Cynthia Cohen is director of the Program in Peacebuilding and the Arts, and acting director of the Ethics Center for the 2016-17 academic year. She holds a doctorate in education from the University of New Hampshire and a master's degree in city planning from the Massachusetts Institute of Technology. In addition, Dr. Cohen has worked as a dialogue facilitator with communities in the Middle East, Sri Lanka, Central America and the United States. Prior to her tenure at Brandeis, she directed a community-based, anti-racist oral history center in the Boston area. She directed the Brandeis University/Theatre Without Borders collaboration "Acting Together," co-edited the "Acting Together on the World Stage Anthology" and co-created the related documentary and toolkit. She directs ReCAST, Inc., a non-profit organization partnering with Brandeis and New Village Press on the dissemination of Acting Together resources. Cohen has written extensively on the aesthetic and ethical dimensions of peacebuilding, including the chapters "Creative Approaches to Reconciliation" and "Engaging with the Arts to Promote Coexistence," and an online book "Working With Integrity: A Guidebook for Peacebuilders Asking Ethical Questions."
Alexander Görlach is best known as the founder, publisher and editor-in-chief of the debate magazine The European. Founded in 2009, it aims to debate current and pressing issues from all societal angles. Prior to that, Alex worked for German Television (ZDF) where he served also in the studios in New York and London. Alex also wrote for several national newspapers and served as head of the online department of the political magazine Cicero. His op-eds appeared in American, Italian, French, Danish, Greek and Austrian media outlets. Alex holds two doctorates: one in comparative religion; the other one in linguistics. In both studies, he examined the political and societal consequences of the encounter of Western and Muslim cultures. His studies brought him to Al Azhar University in Cairo, the Faculty of Theology in Ankara and the Pontifical University Gregoriana in Rome.
Alexander Goerlach is currently serving as visiting scholar at the Center for European Studies at Harvard. Previously, he was at the Divinity School at Harvard University to pursue this academic path. He is working the role of religious identities as the core for understanding many contemporary global conflicts. He also served as a J.F. Kennedy Fellow at at Harvard, giving a series of lectures on debates in Germany and their influence on Europe. Alex had serval teaching assignments, including at Freie Universität Berlin.
David Siddhartha Patel is senior research fellow at the Crown Center for Middle East Studies at Brandeis University. Prior to joining the center, Patel was an assistant professor in the Department of Government at Cornell University. He received his bachelor's degree from Duke University in economics and political science and his doctorate from Stanford University in political science. Patel's research focuses on social order, religious authority and identity in the contemporary Middle East. He conducted independent field research in post-Saddam Iraq on the role of mosques and clerical networks in generating order after state collapse. He has also conducted comparative research on the transnational spread of protests during the so-called Arab Spring and on changes in the support base of Islamist movements. He studied Arabic in Lebanon, Yemen, Morocco and Jordan. Patel's book titled "Islam, Information and Social Order: The Strategic Role of Religion in Muslim Societies" is being prepared for publication by Cornell University Press.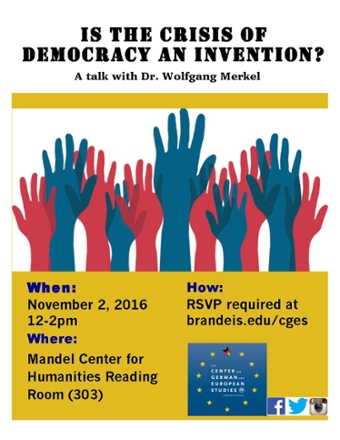 "Is the Crisis of Democracy an Invention?" with Prof. Wolfgang Merkel
November 2, 2016
The rise of right-wing extremist political parties over the past few years and this year's Brexit decision as well as the tea party and Trump phenomena in the U.S. have given rise to the question of whether our Western democracies are in crisis. However, as significant as these developments may be they fall short of a fundamental crisis-of-democracy if the question is asked systematically. In analyzing the three fundamental democratic levels of participation, representation and governance, Wolfgang Merkel (Berlin Science Center and Humboldt University) aims at providing a more comprehensive answer to the state of our democracies at the beginning of the 21st century.
Prof. Dr. Wolfgang Merkel is director of the "Democracy and Democratization" research program at the Social Science Research Centre Berlin (WZB) and professor of political science at the Humboldt University, Berlin. He is a member of a number of key bodies, including the Berlin-Brandenburg Academy of Sciences and Humanities. He is also a non-party member of the Basic Values Commission of the Executive Committee of the German Social Democratic Party (SPD).
His most recent publications include "Demokratie und Krise. Zum Schwierigen Verhältnis Zwischen Theorie und Empirie" (ed., 2015) [Democracy and Crisis. About the Difficult Relationship Between Theory and Empiricism]; "Handbuch Transformationsforschung" (2015, together with Raj Kollmorgen and Hans-Jürgen Wagener) forthcoming as "Handbook of Transformation with OUP"); "The Future of Representative Democracy, CUP" (2011, together with Sonia Alonso and John Keane); "Systemtransformation" (2010); "Social Democracy in Power. The Capacity to Reform" (2008), which has been translated into German, Chinese and Vietnamese; the 2-volume "Defekte Demokratie" (2003, 2006); and more than 200 journal articles on such subjects as democracy and democratization, 21st-century dictatorships, political parties, comparative public policy, the future of social democracy, welfare states and social justice.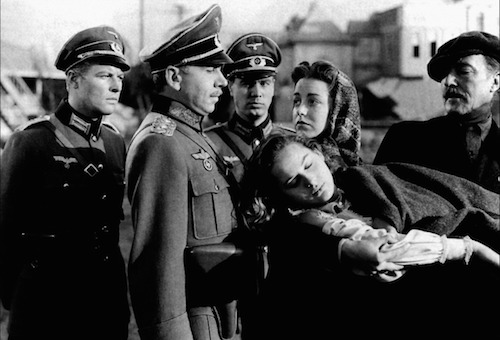 November 1, 2016
Film Screening and Q&A with Brandeis Prof. Thomas Doherty
Join us for a rare screening in 35mm of a one-of-a-kind film: The only Hollywood film made during World War II to depict the events later known as the Holocaust.
Released in January 1944, the film projects forward to a postwar reckoning in which a United Nations tribunal conducts a trial for a Nazi war criminal (Alexander Knox, in his screen debut), who is charged with the round up, deportation and murder of a group of Polish Jews. His twisted path is traced in flashback from 1919 onward. Directed by Hungarian émigré Andre de Toth, shot by ace cinematographer Lee Garmes and scripted by future member of the Blacklisted Hollywood Ten, Lester Cole, the film also stars Marsha Hunt, Henry Travers and Richard Crane. (Columbia Pictures. 85 min. b&w)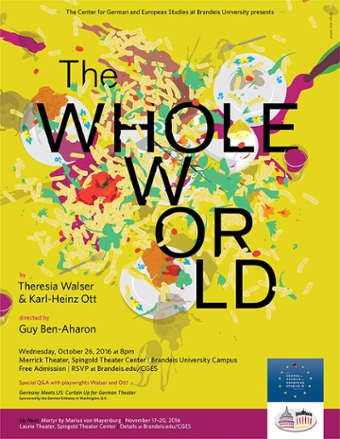 "Die Ganze Welt" —The Whole World
October 26, 2016
Read by renowned Boston-area actors: Tom Kee,* Maureen Keiller,* Craig Mathers* and Deborah Martin,* followed by a discussion with German dramatists.
"God of Carnage" meets Beckett — from the playwright who brought you "A Little Calm Before the Storm" and "I'm Just Like, I Love Apples," award winning playwright Theresia Walser pairs up with her writing and real-life partner, Karl-Heinz Ott, to bring you this hilarious and absurd dark comedy which redefines kitchen drama by literally turning everything in this kitchen upside down.
*Actors' Equity Association Member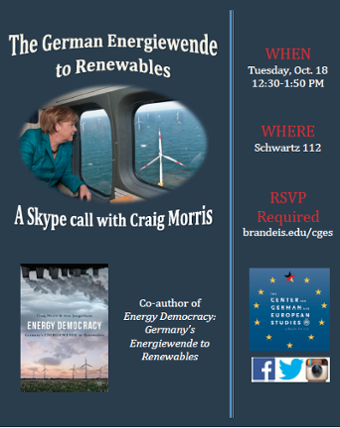 October 18, 2016
While politicians in the U.S. are still debating whether climate change is actually happening, German citizens convinced their politicians to pass laws that would allow them to make their own energy, even when it hurt utility companies to do so. From the origins of the Energiewende movement to the shut down of nuclear power plants, Germany has witnessed a dramatic increase in people power: community control over solar and wind farms, efficiency, local heat supply, walkable cities…
In their new book about this "power shift," Craig Morris and Arne Jungjohann explain what made it possible.
Born in the United States, Craig Morris has been living in Germany since 1992. In 2002, he founded Petite Planète, a translation and documentation service focusing on IT and renewables. He is the author of the book "Energy Switch" (2006), along with numerous articles on energy technologies and policies in both English and German. He writes every workday at Renewables International, and he is a frequent contributor to the Energiewende Blog. He is the co-author (with Arne Jungjohann) of "Energy Democracy: Germany's Energiewende to Renewables" (2016).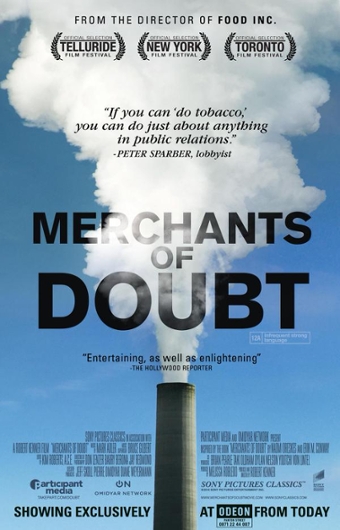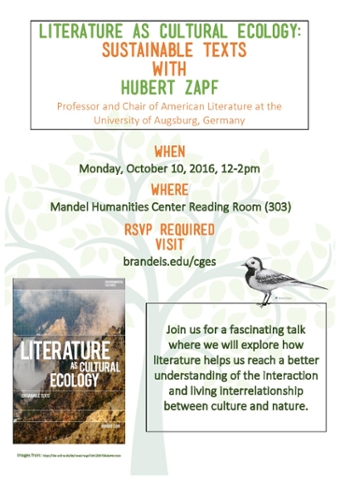 "Literature as Cultural Ecology" with Hubert Zapf
October 10, 2016
"Cultural ecology" is a new direction in recent ecocriticism and the environmental humanities which is grounded, on the one hand, in a general theory of cultural ecology as a field of transdisciplinary studies that has gained considerable visibility in recent ecological thought. On the other hand, it adapts, translates and integrates these insights from various disciplines into a more specific theory of literature itself as a medium of cultural ecology. Between an anthropocentric cultural studies perspective, in which nature is dematerialized into a discursive human construct, and a radical ecocentrism, in which cultural processes are basically subsumed under naturalist assumptions, cultural ecology looks at the interaction and living interrelationship between culture and nature without reducing one to the other. Literature is seen as a cultural form in which this living interrelationship is explored in specifically productive ways, providing a site of critical self-reflection of modern civilization, as well as a source of creative cultural self-renewal.
This is not merely a question of thematic orientation or content, but of the aesthetic processes staged in imaginative texts, which in this sense can be described as functioning like an ecological force within the larger system of cultural discourses. Literature is described as a transformative force of language and discourse, which combines civilizational critique with cultural self-renewal in ways that turn literary texts into forms of sustainable textuality.
Hubert Zapf is professor and chair of American Literature at the University of Augsburg, Germany. His main areas of research are cultural ecology, English and American literature, literary and cultural history and theory. He is co-editor of "Anglia: Journal of English Philology," of the Anglia book series, of the "Handbooks of English and American Studies " (DeGruyter), and of the book series "Text und Theorie" (Königshausen & Neumann). His publications include "Kurze Geschichte der angloamerikanischen Literaturtheorie," UTB, 2nd ed. 1996; "Literatur als kulturelle Ökologie," Niemeyer, 2002; "Amerikanische Literaturgeschichte" (ed.), Metzler, 3rd ed. 2010; "American Studies Today: New Research Agendas" (co-ed.), Winter, 2014; "Literature and Science" (ed.), Special i    ssue of Anglia 2015; "Handbook of Ecocriticism and Cultural Ecology" (ed.), De Gruyter, 2016; "Literature as Cultural Ecology: Sustainable Texts," Bloomsbury, 2016; "Zones of Focused Ambiguity in Siri Hustvedt's Works: Interdisciplinary Perspectives" (co-ed.), De Gruyter, 2016; "Ecological Thought in Europe and Germany," "Cambridge Global History of Literature and Environment," Cambridge University Press, forthcoming.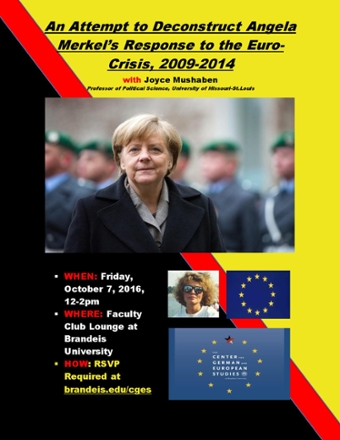 "An Attempt to Deconstruct Angela Merkel's Response to the Euro-Crisis, 2009-2014" Joyce Marie Mushaben
October 7, 2016
At the outset of the 2008 global financial crisis, Germany's first female chancellor invoked the iconic figure of the Swabian housewife to justify her demand that deeply indebted EU member states accept austerity packages forcing them to "live within their means." Although women drive many national economies via their roles as primary consumers, household managers and wage-earners, they have been curiously absent from supranational negotiations determining the parameters of Euro stabilization packages and austerity programs over the last seven years. What began as a Wall nStreet fiasco quickly morphed into a European banking crisis, followed by mounting sovereign debt across the common-currency states and an existential threat to the Euro itself. Each phase found Merkel adhering tenaciously to an austerity-driven response that not only contradicted Germany's historical experiences with economic restructuring, but also her personal tendency to respond flexibly to major crises, ranging from the Fukushima melt-down to the influx of millions of Middle Eastern and North African refugees since 2014.
This talk will explore contextual factors that shaped Merkel's atypical insistence on "ordoliberal" rules that not only undermined the historical Franco-German alliance driving European integration, but also produced other gendered paradoxes that have exacerbated the EU's so-called "democratic deficit." It argues that her usual ability to "learn faster than other people think" was impeded, in large part, by her need to hold together the diverging party-political coalitions governing each stage of the crisis.
Joyce Marie Mushaben is a Curators' Professor of Comparative Politics and former director of the Institute for Women's and Gender Studies (2002-2005). Fluent in German, her teaching centers on comparative public policy, the European Union, women's leadership, citizenship, immigration, mega-cities and sustainability issues. Her research covers new social movements, youth protest, German unification and identities, gender, ethnicity and welfare issues, EU migration and integration studies. Her books/monographs include "Identity without a Hinterland? Continuity and Change in National Consciousness in the German Democratic Republic, 1949-1989" (1993); "From Post-War to Post-Wall Generations: Changing Attitudes towards the National Question and NATO in the Federal Republic of Germany (1998)," "The Changing Faces of Citizenship: Integration and Mobilization among Ethnic Minorities in Germany (2008)," and "Gendering the European Union: New Responses to Old Democratic Deficits" (co-edited with Gabriele Abels, 2012). Her latest book focuses on"Becoming Madam Chancellor: Angela Merkel and the Berlin Republic" (forthcoming 2016).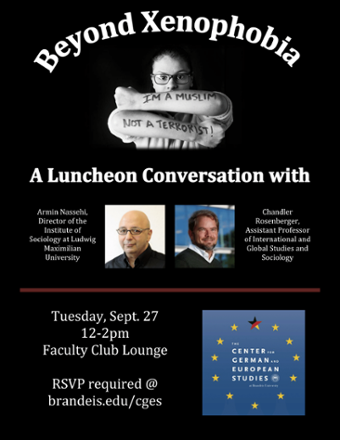 "Beyond Xenophobia" with Armin Nassehi
September 27, 2016
As we watch developments in the EU and U.S. unfold, the unsettling feeling that our societies are unraveling is unavoidable. Social theorist Armin Nassehi is professor at Ludwig Maximilian University in Munich and editor of Kursbuch, one of Germany's leading intellectual magazines. An outspoken intellectual in the German media and cited as "among the most thoughtful intellectual voices in Germany today" (New York Review of Books), Nassehi analyzes the current populist tendencies. Whether it's elite bashing or xenophobic voices, he tries to make sense of the underlying causes while suggesting an urgent need to develop new narratives as a basis for building stronger democratic systems.
Armin Nassehi has been editor of the magazine Kursbuch since 2012. Since 2014 he has been serving as director of the Institute of Sociology at Ludwig Maximilian University in Munich, where he has chaired the Department of Sociology since 1998. Among his most recent works are "Die letzte Stunde der Wahrheit" (Truth's Final Hour, 2015) and "Gesellschaft der Gegenwarten: Studien zur Theorie der modernen Gesellschaft II" (A Society of Presents: Studies on the Theory of Contemporary Society II, 2011).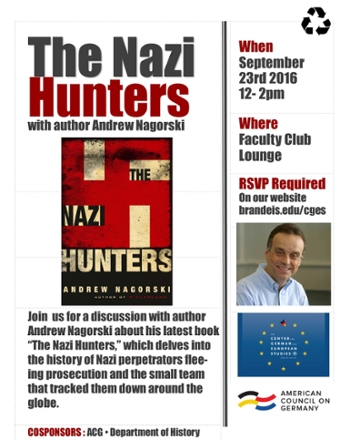 "The Nazi Hunters" with Author Andrew Nagorski
September 23, 2016
Author Andrew Nagorski joined us for a discussion about his latest book "The Nazi Hunters," which delves into the history of Nazi perpetrators fleeing prosecution and the small team that tracked them down around the globe. Nagorski spent three decades as a foreign correspondent and editor of Newsweek. He has been the vice president and director of public policy at the EastWest Institute, an international affairs think tank.
September 22, 2016
A conversation with Wolfgang Bauer, moderated by Professor Carina Ray (AAAS)
In April 2014, militants associated with the Boko Haram terrorist group attacked the village of Chibok in Northeast Nigeria and kidnapped 276 female students from the local boarding school. People reacted with horror around the world. With the hashtag #Bring Back Our Girls, Michelle Obama, Malala Yousafzai and others expressed their dismay. The kidnapping is no isolated case. Thousands of women and children are held by the terrorist organization to this day. In July 2015, German investigative journalist Wolfgang Bauer spent two weeks interviewing girls who were able to escape. His book will be coming out in English in February: "Stolen Girls: Survivors of Boko Haram Tell Their Story." 
Wolfgang Bauer is an investigative journalist who works for the German weekly Die Zeit. For his reportage he has been awarded the Katholischer Medienpreis and the Prix Bayeux-Calvados des Correspondents de Guerre, as well as other distinctions. His most recent work, "Über das Meer. Mit Syrern auf der Flucht nach Europa" (English edition: "Crossing the Sea: With Syrians on the Exodus to Europe") was published by Suhrkamp Verlag. The book has been translated into Czech, English and French, supported in part by the Goethe-Institut. An Arabic translation is in preparation.
Carina Ray is associate professor of African and African-American Studies at Brandeis University. She is a historian of Africa and the Black Atlantic world with primary research and teaching interests in race and sexuality; comparative colonialisms and nationalisms; migration and maritime histories; and the relationship between race, ethnicity and political power. Her current research explores the development of indigenous ideas about blackness and the black body in precolonial and colonial Ghana within local, regional and transnational networks of exchange and knowledge production. Her most recent book "Crossing the Color Line: Race, Sex and the Contested Politics of Colonialism in Ghana" was published by Ohio University Press in 2015.
Co-sponsored with the Goethe-Institut Boston and the Schuster Institute for Investigative Journalism.
Related Event at the Goethe Institut: A discussion of the Fate of Syrian Refugees with Wolfgang Bauer and Florence Graves, (director of the Schuster Institute for Investigative Journalism at Brandeis University)  in the evening.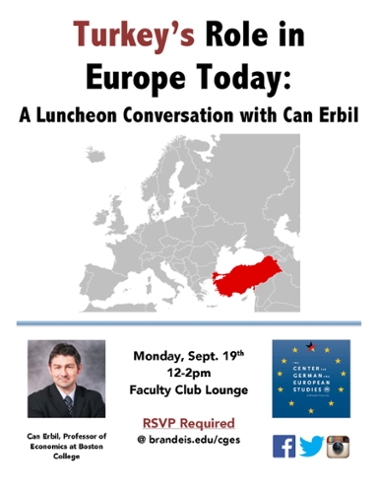 "Turkey's Role in Europe Today": A Luncheon Conversation with Can Erbil
September 19, 2016
In March 2016, German Chancellor Angela Merkel and her EU partners agreed to make a deal with Turkey: The EU would pay 6 billion euros and eventually offer Turks visa-free travel. In exchange, Turkey would prevent Syrian refugees from crossing the Mediterranean Sea to Greece. But Turkey, already home to over three million Syrian refugees, is itself increasingly the target of terrorist attacks and domestic unrest. As a result, the EU has been dragging its feet and Turkey is threatening to cancel the deal. German-Turkish relations were further strained after the German Bundestag passed a resolution qualifying the 1915 massacre of Armenians as a genocide, something the Turkish government has yet to claim responsibility for.