The Basics of Bioinformatics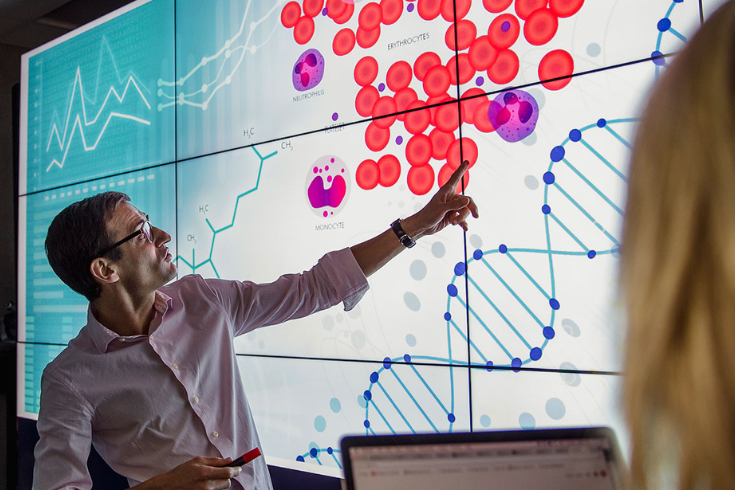 The MS in Bioinformatics is one of Brandeis GPS's fastest growing programs. With a new fast-track option, you can earn your degree in just 15 months. But what is bioinformatics? Who should study bioinformatics? And what career opportunities are available to those with a bioinformatics degree? The following article will break down the basics of bioinformatics and give insight into this emerging field.
What is bioinformatics?
Bioinformatics is a fascinating field at the forefront of medical and pharmaceutical innovation. Using computer technology and other analytical tools, bioinformaticians are able to extract insights from huge amounts of biological data. By analyzing genome sequence data and creating databases and tools to make genomic data more accessible, bioinformatics practitioners are giving scientists and clinicians a better understanding of the relationship between health and disease. Discoveries in the field of bioinformatics have led to the development of new treatments, such as chemotherapy, and the acceleration of vaccinations, such as the COVID-19 vaccine. Insight gained from bioinformatics has also paved the way for personalized medicine, which has the potential to dramatically improve health outcomes in the future.
What kind of background is needed to study bioinformatics?
Bioinformatics is a discipline that combines aspects of computer science, mathematics, physics, and biology. As much of bioinformatics deals with molecular data, individuals interested in pursuing a bioinformatics degree should have completed undergraduate-level coursework in molecular biology or biochemistry. Coursework in statistics, probability or biostatistics is also required. Individuals applying to Brandeis GPS must also meet general admissions requirements to be eligible for the Bioinformatics program.
What bioinformatics careers are available?
An MS in Bioinformatics opens the door to career opportunities in various settings, including biomedical firms, pharmaceutical companies, hospitals, research institutions, and more. Bioinformatics practitioners may take on a variety of job titles, such as bioinformatics scientist, engineer, computer specialist, analyst, or consultant. Each of these roles entail slightly different responsibilities, but all require a strong understanding of mathematical, statistical and computational methods and the latest bioinformatics tools.
Job outlooks vary slightly depending on a bioinformatician's specialization and industry of choice. Bureau of Labor Statistics data reveals that job growth for all occupations that may include bioinformaticians – such as statisticians, data scientists, and computer scientists – is higher than average across occupations. The demand for individuals who can understand and apply insights from genetic data is especially high as more COVID-19 variants emerge and more vaccines are needed.
Why should I study bioinformatics at Brandeis GPS?
Unlike other bioinformatics programs, courses at Brandeis GPS are designed specifically for the Bioinformatics program. The curriculum is influenced by the real-world expertise of our faculty and advisory board members, who are active professionals at the top of their field. Faculty member Dr. Richard Allen, for example, is a Senior Principal Scientist at Pfizer, where he works to apply mathematical and quantitative techniques to address critical uncertainties in the drug discovery and development process. With GPS's small classes, you'll have the opportunity to make connections with instructors like Dr. Allen, all while experiencing the convenience of online learning. Our part-time and fast-track options also mean you can choose to pursue your education at the pace that works best for you. With an MS in Bioinformatics from Brandeis GPS, you'll have the analytical skills and practical knowledge necessary to excel in a field that's revolutionizing diagnostics and treatments.
---
For more information about the Brandeis GPS master's in Bioinformatics, please visit the program webpage.