Using data visualization to make a difference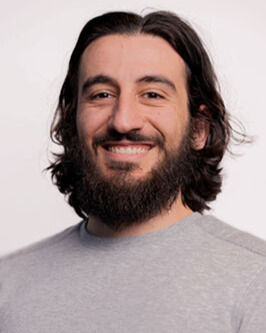 Eric Moyal MS '22 is using skills from his GPS degree in a journey to make insulin affordable to all.
When Eric Moyal, MS '22 was an undergraduate business major at Brandeis, he thought he'd be going into sports management. However, after completing his first master's in International Economics and Finance and taking on an expanding role in the fundraising department at Brandeis, the future he envisioned began to change shape.
Although he did not know it at the time, the decision to pursue a MS in Strategic Analytics from Brandeis GPS would help prepare Eric to make an impact as the founder and executive director of Project Insulin, a nonprofit organization dedicated to the goal of making insulin affordable to all.
"[At the time], I was an employee at Brandeis looking to continue and further my education," Eric told GPS. "Analytics has always been a field that I was really interested in, and as a fundraiser at the University, we didn't really use data to tell stories at all. So I thought that the master's degree in Strategic Analytics would be a great opportunity for me to learn how to find good data and then tell a good story with it."
Eric found that his instructors were always easy to connect with. He was especially grateful for the direction of instructors Dr. Anne Shebanow, who introduced him to strategic analytics, and Stephanie Wallace, who taught a course on predictive analytics and machine learning.
The skills Eric learned in the predictive analytics course helped him move from one-on-one fundraising to crowdfunding and large direct marketing campaigns: "I created a predictive model to see … what variables lead donors to donate again in future years. Like, was it how many events they went to the previous year? How many social media posts that they interacted with? … It was really cool to see what factors move the needle on the individual level for mass campaigns."
However, perhaps even more useful were the skills Eric learned from instructor Ross Morrone, who teaches RSAN 130 — Data Visualization for Strategic Analytics and RSAN 140 — Marketing and Customer Analytics. These courses were especially relevant to Eric because they focused on storytelling with data — a skill that he was particularly interested in developing as a fundraiser.
Now, Eric uses the storytelling, analytical, and project management skills he learned at GPS in his role as the executive director of Project Insulin — a nonprofit aiming to develop and distribute generic insulin in order to combat the current inaccessibility of insulin in America.
As a young organization, much of Project Insulin's current work involves raising awareness about its goals and the problems that it is trying to address. In order to accomplish this, Eric and the volunteers he manages must tell stories with data.
"It's important to know what is good and bad research and how to turn that research into digestible points," Eric told GPS, "At the end of the day, you can have the most beautiful data sets and the most beautiful analysis, but if you can't articulate it to the people you're trying to talk to … it defeats the point."
In his day-to-day work, Eric also directly uses skills that he learned in his customer analytics course with Ross Morrone. "[A company] gave us their analytics, and we actually spent the whole semester writing reports for them," he explained to GPS. "But it was cool seeing that kind of data in real-time because now, I do that. I have that kind of data to look at [for Project Insulin], and I can use it to understand why people are coming to our website, why they are leaving our website, things like that."
Founding and directing Project Insulin has been a huge undertaking for Eric. His team has spent two years accumulating data to understand the drug development process, figure out who the key players are, and determine what the whole process would cost. Currently, they are creating a model to visualize this data for potential donors and the general public.
However, all of the work that Eric and his team have poured into this process so far will be worth it if they are able to accomplish their goal. Every day, people who require insulin to survive must choose to ration their medication and put their health at risk simply due to how unaffordable the drug is. According to Eric, if Project Insulin is successful, "we'd be saving the US billions on its annual insulin spending. And there's clearly a need."
Project Insulin is always looking for volunteers. Visit the Project Insulin website or email Eric at emoyal@projectinsulin.org to learn how you can make a difference during National Diabetes Awareness Month.
---
To learn more about the MS in Strategic Analytics or any other Brandeis GPS programs, please visit our website.