Student Spotlight: Michelle Ysrael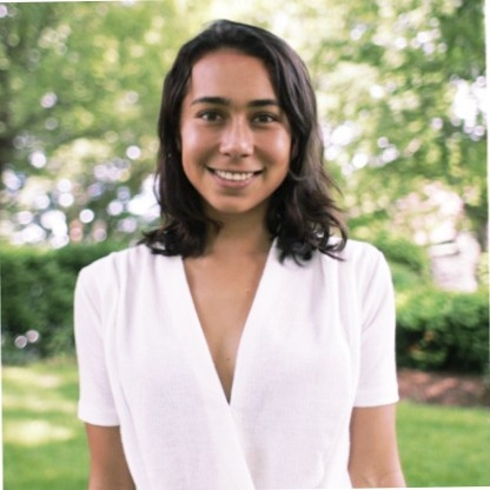 Meet Michelle Ysrael '23
Los Angeles, CA
Veterinary Technician at VCA Animal Hospitals
MS in Bioinformatics
In her free time, Michelle likes to surf and read. She also likes to spend time with her cat, Lily, and her corgi, Cannoli.
Get to know Michelle Ysrael!
Why did you choose Brandeis GPS?
I was really impressed with the range of courses offered in the Bioinformatics program that provided the biological and mathematical background needed to understand how computational analysis can be applied towards scientific and clinical research. I was also looking to complete my degree in about a year, and this program offered a way to do that alongside a part-time work schedule.
What inspired you to choose your field of study?
I have been working as a veterinary technician since graduating from college to gain clinical experience, and wanted to expand my knowledge to be able to work in other areas of the veterinary field, including research and technology and drug development. I wanted to gain a toolset that would allow me to bridge the gap between bench science and clinical application, and felt that bioinformatics was the field most involved in this translational research. I also felt learning how to work with data would be a valuable skill to have in any career direction I took, and being able to learn how to do this through a biology-driven lens sounded interesting.
How have you enjoyed your experience at Brandeis thus far?
The transition to remote learning was daunting at first, but since learning how to make and stick to my study schedules and utilize the resources available through Brandeis I have felt much more confident in my ability to work independently. I have also learned how to efficiently use Google — there is a skill to it (lol). The required discussion posts have stimulated interesting discussions and helped me learn more about my peers and their lines of work and interests.
What has been your favorite class to-date?
I really enjoyed my last class, RBIF 112: Mathematical Modeling for Bioinformatics, because it was an extension to a previous class where we learned the basics of R programming and statistical analysis. In this class, we got to apply what we learned and use the tools we acquired to access publicly available datasets, process and transform data for statistical analysis, apply classification methods for data exploration, and build models for the investigation of biological systems and processes. The class was set up to allow us to find our own particular coding style and methods of data exploration.
What are your hopes and aspirations for the rest of your time at Brandeis?
I hope to further develop my coding abilities and be able to more critically read and interpret scientific studies.
What are your plans for after graduation?
There are a lot of different applications for bioinformatics, which is exciting to me. I plan on eventually applying my knowledge towards animal research and wildlife management, and have been looking at jobs that span clinical research to environmental consulting, where I hope to aid in making data translational and accessible.
What advice would you give to upcoming students?
Don't be afraid to reach out to your peers! Setting up Slack groups has been so important in the remote learning process. Also go to office hours and talk to your professors, they are very knowledgeable and want to see you succeed!
---
For more information on the MS in Bioinformatics or any other GPS programs, visit our website.