Leading the Charge for Republican Jews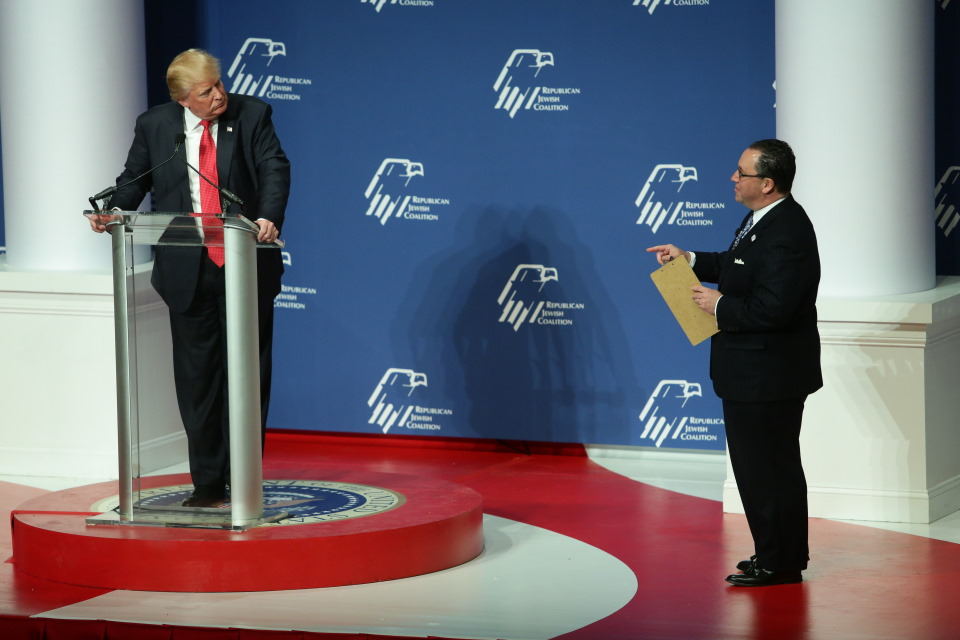 Photo Credit: Gil Lavi/RJC
By Joseph Dorman
It's not an easy time to be head of the Republican Jewish Coalition (RJC).
Republican congresswoman Marjorie Taylor Greene is being condemned for downplaying the horrors of the Holocaust after comparing President Biden to Hitler. In Pennsylvania, the party's gubernatorial candidate Doug Mastriano is promoting Christian power.

And then there's former President Trump, who recently posted on his social media site, Truth Social, that American Jews need to "get their act together" and appreciate him the way Israeli Jews do "before it's too late."

Undaunted by the controversies, Matthew Brooks '87 said being the RJC's executive director remains his "dream job."

"By definition and action, the RJC is at the intersection of Jewish life and the Republican Party, which are two things that are incredibly important to me," he said.

Brooks, who has held his post since 1990, also believes it's Republicans, not Democrats, who best serve the interests of American Jews.
"A strong America with a vibrant economy, energy independence, secure borders, and law and order is good not only for the country but also for the Jewish community," he said.
In the run-up to the midterm elections, his organization was walking a fine line. The group refuses to support Mastriano and has worked hard to defeat Greene. The RJC has "zero tolerance for antisemitism," he said. And he said that the Democrats have problems with left-wing anti-Zionism on college campuses.
At the same time, he won't go so far as to criticize the former president. He pointed out that Trump moved the American embassy to Jerusalem and produced the 2020 Abraham Accords that normalized relations between Israel, the United Arab Emirates, and Bahrain.
Traditionally, Jews have not supported conservatives, but Brooks believes the party is making significant progress.
RJC's polling
and an
Associated Press survey
showed that around 30% of Jews supported Trump in 2020, a six-point increase over their support for him in the 2016 presidential election.
"An examination of the presidential election polls shows a clear and unmistakable trendline in which the GOP is gaining support with Jewish voters," Brooks said.
Brooks said his organization is supported by pro-Trump and never-Trumpers, and it's his job to steer his party in policy directions that are important to the Jewish community. For Brooks, who describes himself as a libertarian, that means a strong defense of Israel, a muscular U.S. foreign policy, and fiscal conservatism.
Brooks grew up in a family of politically active Democrats in Philadelphia but turned rightward, along with his parents, with the election of Ronald Reagan in 1980. "When I came of age politically," he said. "it was Ronald Reagan versus Jimmy Carter. Under Carter, it was Iran hostages, long gas lines, and a horrible economy. The juxtaposition between the two choices was very clear."

As a Republican at Brandeis, he described himself as "the campus radical." Heading into the 1984 election, he organized the university's chapter of college Republicans, which began with three people and had some three hundred by the time he graduated. "We would bring in a lot of conservative speakers and try and catalyze a debate on campus," he said.

While a junior, he got a summer internship with the late New York Republican congressman, Jack Kemp. Brooks said he viewed Kemp's support for compassionate conservatism as consistent with the Jewish value of tikkun olam, or repairing the world.
"Getting people off welfare, getting people a job, educating the next generation of children, ending the scourge of crime and drug abuse to keep the streets safe are all tikkun olam," Brooks said.
Kemp, a leading supporter of supply-side economics, differed notably from many of today's fiercely partisan Republicans. "As passionate and partisan as he was on the floor of the House fighting for legislation that he cared about, Kemp had strong relationships with his Democratic colleagues," Brooks said. "There's a time and a place for political battles and campaigns and then, you know, for being social."
Similarly, Brooks said he has formed friendships with his Democratic Jewish colleagues, including
Jeremy Ben-Ami
, head of
J Street
, a liberal pro-Israel advocacy group, and
Mark Mellman
, who runs
Democratic Majority for Israel
. "Although," he said, "I have to always promise Mark I won't say too many nice things about him in public because it will undermine him with his constituency."
In our increasingly angry and politically polarized country, Brooks sees himself as a rarity, a political professional who believes in bipartisanship.
He may disagree with his Democratic colleagues on certain issues, but he does not demonize them. And he understands that Jews need a strong voice on both sides of the political aisle looking out for their interests. For Brooks, it's all part of what he sees as "lifting the Jewish community."