The Little-Known Rabbi Who Helped Turn American Judaism Liberal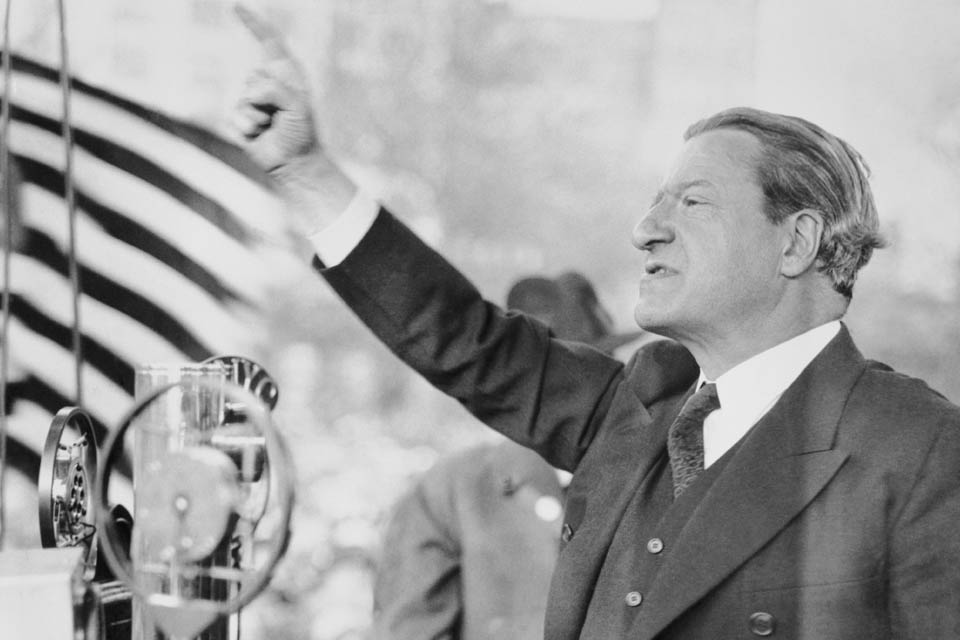 Publicly engaged rabbis and a Judaism committed to social justice and Zionism — these are the legacies of Rabbi Stephen S. Wise.
Though little known now, Wise was one of the most prominent rabbis in the United States in the first half of the 20th century and had a profound influence on shaping the political liberalism practiced by American Jews today.
In her new book, "We Shall Build Anew: Stephen S. Wise, the Jewish Institute of Religion, and the Reinvention of American Liberal Judaism," associate professor of the practice Shirley Idelson credits Wise with imbuing American Judaism, the Reform movement especially, with three core values:
Tikkun olam (repairing the world, though Wise did not use this term).
Zionism and support for the state of Israel.
Klal Yisrael, a belief in the kinship and common destiny of the Jewish people ("all of Israel" in Hebrew).
Wise worked closely with Louis Brandeis to rally American support for Zionism, advocated for women's suffrage and the rights of labor, and helped found the National Association for the Advancement of Colored People (NAACP). In the 1930s, he became one of the earliest and most outspoken American Jewish leaders to demand that the U.S. government confront Hitler and aid the Jews suffering under Nazi tyranny.
In her book, Idelson, the Leon A. Jick Director of the Hornstein Program in Jewish Professional Leadership, focuses on the Jewish Institute of Religion (JIR), a pluralistic seminary Wise founded in 1922 to train a new generation of rabbis. Based in New York, JIR trained nearly 200 rabbis, many outspoken community leaders and political activists, before it merged in 1950 with Hebrew Union College.
TJE spoke with Idelson about Wise's transformative effect on American Judaism and his legacy.
First, can you tell us a little bit about Wise's background?
Born in Hungary in 1874, Wise immigrated with his family and grew up in New York City. The descendant of many generations of rabbis, he decided as a young man to become a rabbi himself.
Unable to find a rabbinical school in the U.S. that reflected his outlook, he traveled to Vienna where Adolph Jellinek, a prominent liberal rabbi, took Wise under his wing and in 1893 gave him private semikhah (ordination).
In 1898, Wise attended the Second World Zionist Congress, where hearing Theodore Herzl speak proved life-changing. From then on, Wise would work tirelessly to support efforts to establish a Jewish homeland in Palestine.
In 1900, Wise accepted the call to a congregation in Portland, Oregon, where he developed a national reputation as a politically progressive rabbi. A few years later, when New York's prestigious Temple Emanu-El invited him to consider becoming their rabbi, Wise made one demand: the freedom to say what he wanted from the pulpit.
Emanu-El's board had long held the right to review the rabbi's sermon before it was preached, and they weren't about to change. Wise refused to back down, garnering national headlines.
In 1907, he started his own congregation in New York, the Free Synagogue, which stood for free dues, free pews (no reserved seating for the richest congregants), and a free pulpit (freedom of speech for the rabbi).
What was Reform Judaism like in the U.S. before Wise?
In the mid-19th century, a handful of German immigrant rabbis brought Reform Judaism to the U.S. The early rabbis preached ethical monotheism, emphasized the rational and scientific, and generally eschewed the idea of Jewish nationhood or Zionism.
My own view is that, as American Jewish immigrants living in a climate of widespread antisemitism, they didn't want anyone questioning their loyalty to the United States.
Also, in response to antisemitism, many German American Jews avoided the headlines. Prominent Reform lay leaders Louis Marshall and Jacob Schiff, for example, provided tremendous aid to Jews worldwide but preferred to work behind the scenes.
This was a very different approach from the Eastern European Jews who came here.
Yes. By the 1920s, over a million Eastern European Jews had come to New York. And you could say these Eastern European Jews, now the dominant presence in American Jewish life, approached Judaism in a much more in-your-face, public way. In doing so, they posed a serious challenge to the German American Jewish leadership.
Whereas Wise welcomed these Eastern European Jews into his Free Synagogue movement?
Yes. He greatly valued pluralism, as part of his commitment to klal yisrael.
What made JIR unique in how it educated and trained rabbinical students?
JIR welcomed all perspectives and encouraged faculty as well as students to express their viewpoints freely. In its pluralistic approach, I consider JIR a precursor to the nondenominational Jewish seminaries we see today, including Hebrew College in nearby Newton.
Additionally, JIR rabbis often focused on Judaism's prophetic teachings around social and economic justice, and many were active in the Zionist movement. A large number served as U.S. military chaplains during World War II.
JIR could have ordained the country's first woman rabbi but didn't. What happened?
From its founding, JIR admitted women, but not as candidates for ordination. In 1923, Irma Lindheim, a prominent American Zionist who had been studying at JIR, requested entry into the rabbinical program. The JIR faculty initially said no, but eventually voted in favor of allowing women into the rabbinical program.
But instead of ordaining Lindheim, Wise and the faculty employed stall tactics, saying they needed more time, better housing, etc. Lindheim left the school in 1925 and became president of Hadassah, the women's Zionist organization. She later settled with her five children on a kibbutz in Palestine.
In 1918, Wise founded the American Jewish Congress, which later actively pressured the Roosevelt administration to take a tougher stance against Hitler.
Yes, and this was another way Wise challenged the American German Jewish elite. Rejecting calls for a quiet approach toward Hitler, Wise sounded the alarm and organized mass demonstrations, including a huge rally at Madison Square Garden after Hitler took power in 1933, despite opposition from prominent Jewish leaders. Indeed, in doing all he could to stop Hitler, he sometimes found himself more allied with the Orthodox Jewish world than the Reform or Conservative movements.
Why do you think Wise matters today?
So many of these issues Wise tackled in his rabbinate remain relevant — women's rights and pluralism within the Jewish community; the need for Jewish voices in support of racial, social and economic justice; the centrality of Israel in Jewish life and the debates around Zionism; and, the rise of virulent antisemitism, racism, and authoritarianism across the globe, which threaten us all.
In creating JIR, Wise sought to train a young generation of leaders capable of making the world better. We need to do the same, today.