The Rabbi Who Brought Progressive Politics and Judaism Together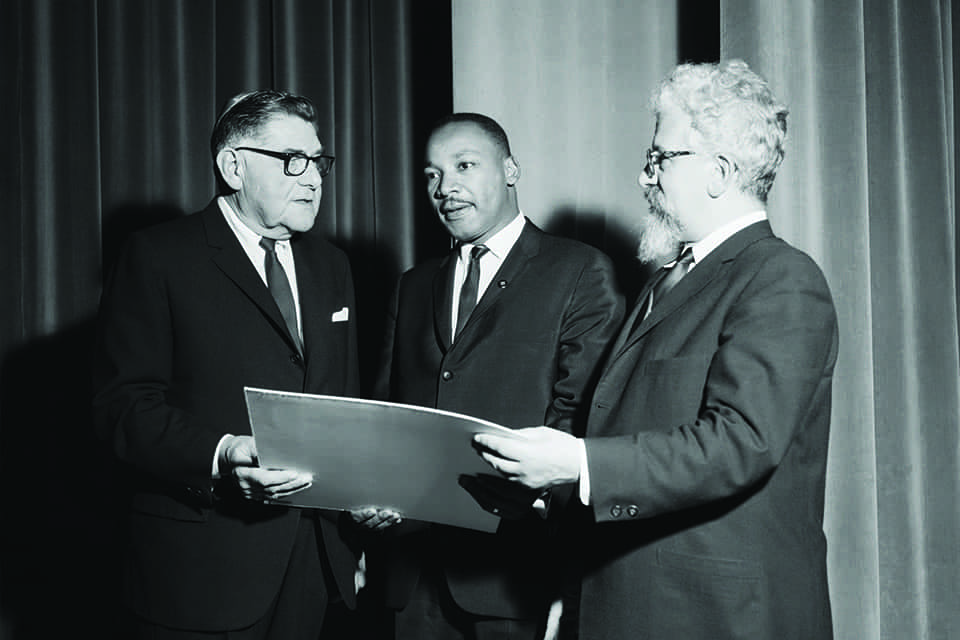 By Joseph Dorman
Whether it was protesting alongside his friend, Rev. Martin Luther King Jr., championing the cause of Soviet Jews or wondering what kind of God could have permitted the Holocaust, Abraham Joshua Heschel was a giant of 20th-century Judaism.
"When people think of the tradition of progressive politics and Judaism coming together, that's Heschel," Princeton University historian Julian Zelizer '91 said.
Zelizer's new book, "Abraham Joshua Heschel: A Life of Radical Amazement," charts Heschel's life from his childhood in Poland to his emergence as a preeminent Jewish thinker and rabbi in the 1950s and 1960s in New York to his leadership in the civil rights movement.
In books such as "The Sabbath," "The Prophets" and "Torah min HaShamayim" ("Torah from Heaven"), Heschel drew upon medieval Jewish philosophy, Kabbalah and Hasidic philosophy to argue that much of the evil in the world stemmed not from God's absence or indifference but because humankind, by turning away from a life of religious piety,  turned its back on God.
Zelizer said these same influences gave rise to his political activism, including his opposition to the Vietnam War and struggle against racism.
When he joined King in the 1965 march from Selma to Montgomery for voting rights, Heschel said he felt like he was "praying with his legs" — an iconic quote showing the inextricable link between his Judaism and political convictions.
Though he has now faded from memory among many Jews, at the time of his death in 1972, Heschel was one of the most prominent Jewish figures in the country,  beloved for his searching brilliance and irresistible warmth and humor.
Zelizer, the Malcolm Stevenson Forbes, Class of 1941 Professor of History and Public Affairs at Princeton, is one of the country's foremost scholars of U.S. history and a regular commentator on CNN and NPR.
TJE spoke to him about his book and Heschel's lasting impact on Jewish thought and American politics.
How did Heschel arrive at that connection between politics and Judaism? 
In the early 1940s, he started to dabble in activism to protect Eastern European Jews from the Nazis. He went to a rally at Madison Square Garden in New York, calling on Americans to do more for refugees, and in 1943, he participated in the "Rabbi's March" in Washington when a delegation of about 400 rabbis marched through the streets and met with legislators to plead for the government to rescue Eastern European Jews.
At the same time, he also worked out this idea of how humans, through piety, spirituality, faith and prayer, can gradually move beyond their egos to hear the voice of God.
He tackled large issues.
In the postwar period, many religious thinkers like Heschel were dealing with existential questions about good and evil and about our place in the world in a way that we don't today. World War II, the atomic bomb and the Holocaust opened these questions for intellectuals. He's part of an interfaith dialogue with people like [Protestant theologians] Reinhold Niebuhr and Paul Tillich who are also in New York. It's an incredible moment to have these conversations about how we understand God after everything we've experienced.
How did Heschel become close with Martin Luther King and other civil rights leaders?
In 1962, he finished work on his book "The Prophets," a revision of his dissertation at the University of Berlin. It was about how the Biblical prophets were able to achieve this state where they could hear God and express God's rage about social injustice and inequality and violence in the world.
And as he watched what was happening with civil rights, he started to see a connection.
And then in January 1963, King invited Heschel to be a speaker at a conference on religion and race in Chicago. Heschel gave this incredibly powerful speech to all these faith leaders. He argued that you can't actually be religious and racist and if you're a religious person who's not a civil rights activist, you're not really a religious person. He says racism is a form of satanism and blasphemy.
King was impressed. They formed a friendship.  And then it culminates in 1965 when he goes to one of the marches in Selma, Alabama, not the first march, but the last one, a few weeks later where religious leaders come as a show of support.  He really starts to see political activism as a central part of his life. 
Can you tell us more about the mutual influence King and Heschel had on one another?
Heschel was really intrigued by the Black church. He saw in it what he didn't see in the suburban Jewish synagogue of the time, an incredible kind of spiritual exuberance and prayer and singing and kind of letting loose that in some ways resembled Hasidism to him. And he sees it as a prophetic tradition — he called King a prophet.
And I think King and Heschel were like-minded. King thought about both philosophical and theological questions as they applied to what he was doing. And here was this figure who thought the same way. And the way Heschel spoke was different from a lot of liberals who weren't religious. 
What's Heschel's legacy?
He believed there was an obligation not to be indifferent. That's an immense legacy. But there's also this other thing, where there was a role for talking about questions about our spirituality and faith and our inner life in a way that makes sense even at the highest levels of intellectual life. We are now living through this pandemic where I think these questions are emerging again.
It was fascinating to learn that Senator Raphael Warnock of Georgia, who heads King's former ministry in Atlanta, used Heschel in a campaign ad.
When Warnock was running for the Senate in Georgia in 2020, he and Senator Jon Ossoff, [who is Jewish], did an ad together about the kind of coalition they hoped to bring to the Senate. An image of Heschel and King together was front and center.
Like Heschel, I think Warnock sees a connection that is integral between everything he preaches and what he's saying on Capitol Hill. And he quotes Heschel's famous line, that when he walked in Selma, he felt he was "praying with his legs." And that quote really embodies everything about how Heschel saw the world.