Winter School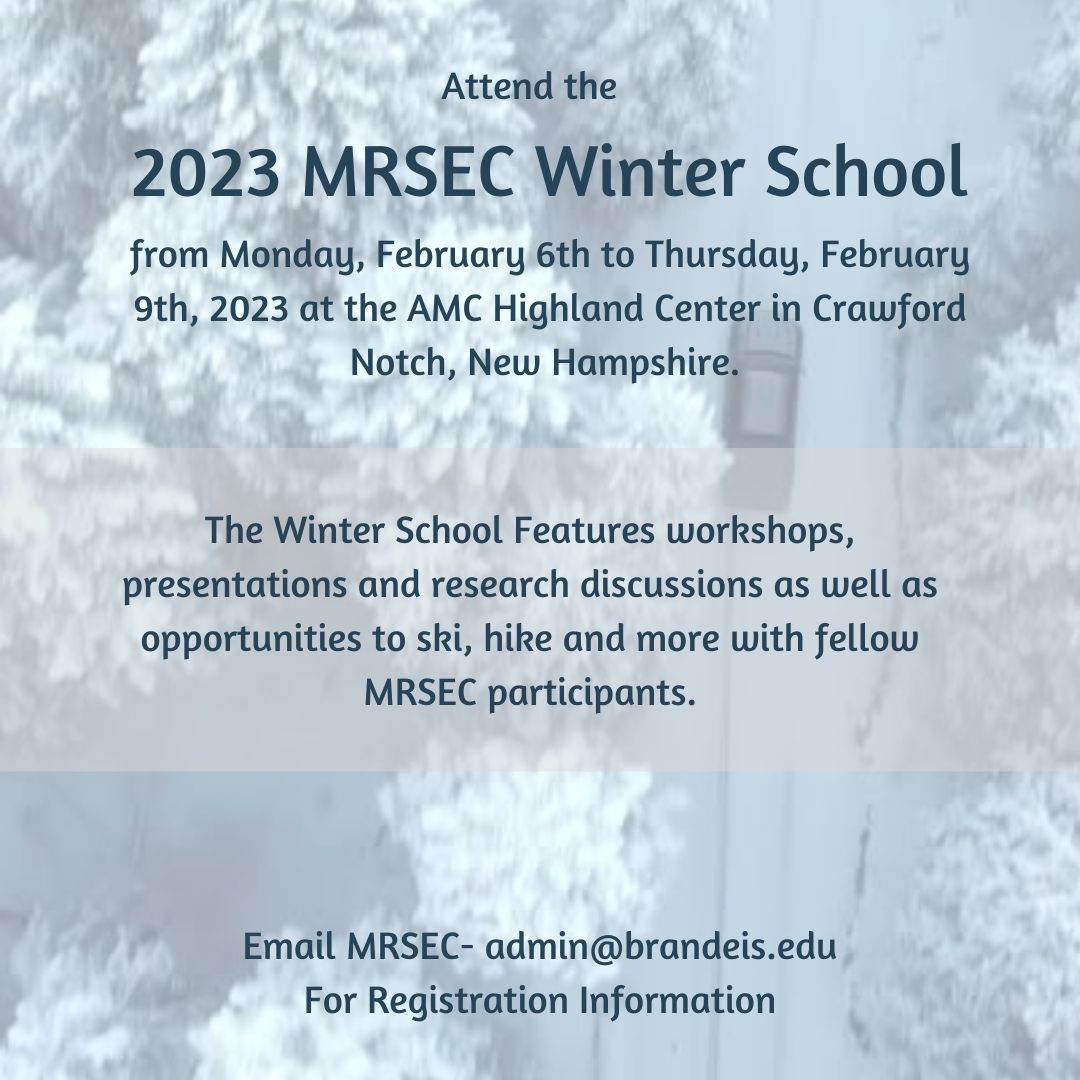 The Winter School is an annual center-wide retreat typically held in Vermont or New Hampshire with workshops, training sessions, and research discussions. It is an opportunity to build center cohesion, network with other members, learn from each other, and take opportunities to explore the beautiful White Mountains. All members are encouraged to attend, and attendees are required to present a poster or hold a talk as the price of admission. Brandeis MRSEC holds an annual t-shirt designing competition for the Winter School as well.
The 2023 Brandeis MRSEC Winter School was held from Monday, February 6th to Thursday, February 9th, 2023 at the
AMC Highland Center
in Crawford Notch, New Hampshire.
Expand All
Monday, February 6, 2023
Morning-3:30pm
Informal science activities
3:30pm-3:55pm

Seth Fraden Opening Remarks

3:55pm-4:20pm

Bibi Najma Microscopic interactions control a structural transition in active mixtures of microtubules and molecular motors

4:20pm-4:55pm

Anthony Trubiano Optimization of non-equilibrium self-assembly protocols using Markov state models

4:55pm-5:15pm

Saptorshi Ghosh Optimal control of bulk nematics : designing textures and flows

5:20pm-5:25pm 

Anahita Zare MRSEC Education, Outreach, & Diversity Update

5:25pm-5:30pm 

Olivia Leland Multicellularization in Haloferax Species

5:30pm-5:35pm 

Zifei Liu Cholesteric order on a cylinder

5:35pm-5:40pm 

Di Liu Introduction and programmed nucleic acid self-assembly

5:40pm-5:45pm 

Hannah Yevick Title TBD and  Ben Rogers Title TBD

6:00pm-7:00pm
Dinner, Event Barn Loft
7:30pm – 7:45pm
Group photo
7:45pm – 10:00pm
Poster Session,  Main Dining Room


Aldric Rosario (Kondev/Goode Lab): Universal length variation of filamentous actin structures in cells Amelie Chardac (Duclos Lab): Investigating morphogenesis via chemomechanical couplings Bennett Sessa (Duclos Lab): Active Capillarity in Liquid-Liquid Phase Separation Chris Amey (Hagan/BAskaran Lab): Model discovery using SINDy on dry active nematics Hunter Seyforth (Rogers Lab): Mysteries in the structure of binary colloidal crystals assembled from DNA-coated colloids Ian Murphy (Rogers Lab): How to Verify DNA-Enzyme Conjugation with Minimal Loss of Enzymatic Activity John Berezney (Dogic/Fraden Lab): Title TBD Layne Frechette (Hagan/Baskaran Lab): Modeling active fluids as correlated noise Michael Wang (Grason Lab): The enemy of my enemy is my friend: emergent cooperativity in a system of anti-aligning, "non-cooperative" active particles Sarvesh Uplap (Hagan/Baskaran Lab): Design principles for transporting vesicles with enclosed active particles Smriti Pradhan (Hagan/Baskaran Lab): Coarse-grained simulations for HBV self-assembly Yutian He (Powers/Pelcovits Lab): Lid-driven Active Matters Zahra Zarei (Fraden Lab): Characterization of a light activated microtubule-based 2D active nematic 




Tuesday, February 7, 2023
Morning-3:30pm
Informal science activities
3:30pm-3:55pm

Gess Kelly Modeling and Simulation of Collective Behavior in Actin-Propelled Beads

3:55pm-4:20pm

Thomas Powers Linear stability of shear flows in active gels

4:20pm-4:55pm

 Mike Norton Programming autonomous active nematics

4:55pm-5:15pm

Thomas Videbæk Strategies for reducing polymorphism in self-limited assemblies of tubules

5 Minute Sound Bites

5:20pm-5:25pm 

 Benjamin Strain Emergent behavior in polymerization driven motile beadste

5:25pm-5:30pm 

Cierra Presson The impact of cell fusion and cell size on cytoskeletal architecture

5:30pm-5:35pm 

Teagan Bate Non-uniform active nematics

5:35pm-5:40pm 

 Michael Hagan Title TBD and Guillaume Duclos Title TBD

5:40pm-5:45pm 

 Aparna Baskaran Going forward in active matter : a gauntlet thrown down to all of the AIs

6:00pm-7:00pm
Dinner, Main Dining Room
8:00pm – 9:00pm
Snowshoeing
9:00pm – 12:00pm
Games, Lobby
Wednesday, February 8, 2023
Morning-3:30pm
Informal science activities
3:30pm-3:55pm

 Wei-Shao Wei Hierarchical assembly is more robust than egalitarian assembly in synthetic capsids

3:55pm-4:20pm

Salman Alam Spontaneous flow transition in confined active nematic droplets

4:20pm-4:55pm

Nicholas Hackney Aggregation, dispersion and condensation in frustrated assembly

4:55pm-5:15pm

Zvonimir Dogic Active membranes driven by end-binding molecular motors

5:20pm-5:25pm 

Annemarie Winters Calcium Signaling in Epithelial Tissues

5:25pm-5:30pm 

Kun-Ta Wu Self-mixing in microtubule-kinesin active fluid from nonuniform to uniform

distribution of activity

5:30pm-5:35pm 

Qianfeng Qiu Optically Controlled Recovery and Recycling of Homogeneous 

Organocatalysts Enabled by Photoswitches

5:35pm-5:40pm 

Myeonggon Park Do collective behaviours promote wound healing of eplthelial 

tissues?

5:40pm-5:45pm 

 Danny Hellstein The Importance Of Trustable Readable Code

5:45pm-6:00pm
 Pranay Sampat Transport of passive objects in an active nematic
6:00pm – 7:00pm
Dinner, Main Dining Room
7:30pm – 10:45pm
Poster Session,  Main Dining Room


Daichi Hayakawa (Rogers Lab): Deterministic triangular tile assemblies via interface design Jeremy Laprade (Duclos Lab): Droplet coarsening in an active fluid Joshua Dickie (Wu Lab): The role of moving boundaries in self-organization of active fluid Kyle Sullivan (Grason Lab): Effects of interparticle bond stretching in geometrically frustrated assemblies Michael Stehnach (Fraden Lab): Making active matter systems run forever with microfluidics Michael Wang (Grason Lab): Harnessing floppy modes in geometrically frustrated assembly Montana Minnis (Hayward Lab): Fabrication and assembly of thin microgel particles with controlled curvature Naren Sundararajan (Hagan/Baskaran Lab): Liquid Liquid Phase Separation enhances assembly of viral capsids Omkar Hegde (Rogers Lab): Self-assembly and phase separation-who wins the competition? Saaransh Singhal (Baskaran/Fai Lab): Interactions of an elastic ring with active nematic fluid Sarah Dennis (Fai Lab): Numerical Methods for Lubrication Problems Wan Luo (Thomas/Pelcovits Lab): Flow states of two-dimensional active gels driven by external shear Yunrui Li (Hong Lab): Machine Learning for Orientation Prediction and its Downstream Tasks Zachary Curtis (Bisson Lab): The Role of the S-layer Lattice in Archaeal Cell Shape Plasticity





A National Science Foundation sponsored Material Research Science and Engineering Center