News and Events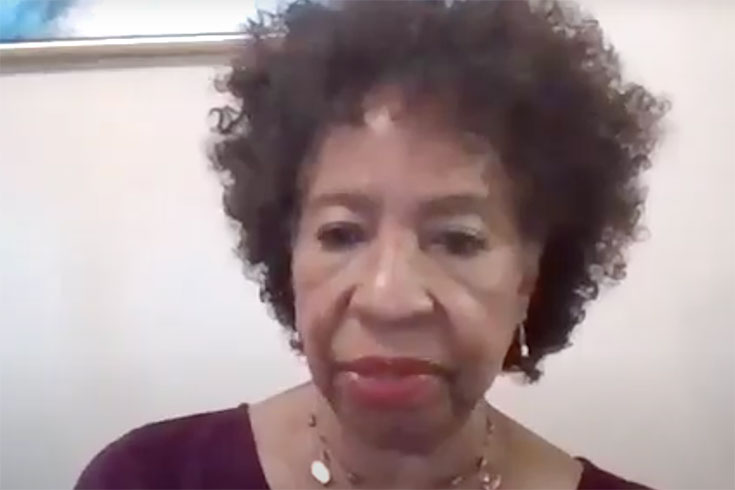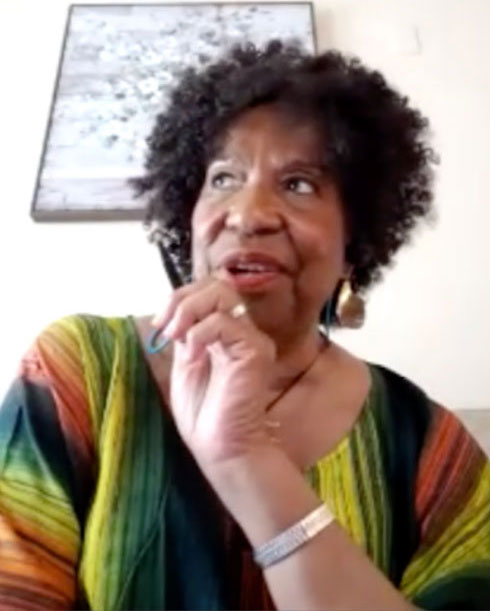 July 2020
Vodcast Songs of Resistance and Hope
In the eight episodes of "Songs of Resistance and Hope," Jane Sapp offers specific songs to the current movement for racial justice.
Sapp believes that songs communicate ideas in ways that can move people to act on their visions for the world. Songs can plant seeds in our collective memory and energize the movements for social justice. They have the ability to give voice to a moral conscience and a moral imagination.
April 2019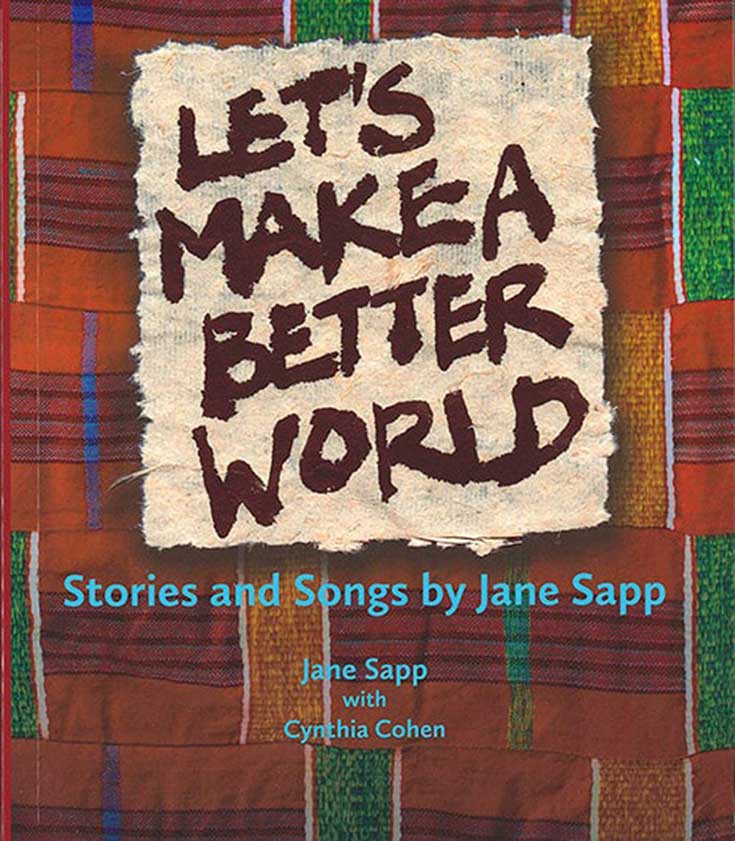 Now Released: Let's Make a Better World: Stories and Songs by Jane Sapp
"Let's Make a Better World: Stories and Songs" by Jane Sapp is a new resource for music educators, chorus leaders, activists and cultural workers, to be released in the coming weeks. In it, the nationally admired cultural worker, musician, educator, and activist, Jane Wilburn Sapp, shares her approach to social transformation and its roots in African-American musical traditions. In the book, Jane tells the story of her childhood, nurtured by the Black community while living in the brutal world of the Jim Crow South. She describes her participation in the Black Power movement and introduces us to her mentors. She shares 25 songs she has written with young people and sung with people of all ages, and tells the stories behind each song and offers suggestions or teachers and chorus leaders. The book also includes scores, and all of the songs can be heard on podcasts where Jane's approach to cultural work is illuminated through conversations with activists, cultural workers, and music educators.
From the introduction, "If You Really Want to Know Me:"
Too often social change work focuses on what communities don't have: there aren't enough economic resources; the education system is not responsive; and racism keeps Black people from reaching their full potential. But I began to wonder what would have if we focus on what we do have rather that our deficient. We have each other, our songs, our stories, our imaginations, our experiences surviving and making ugly beautiful. We know how to make a way out of no way. – Jane Sapp, p. 25
Coming soon! The Jane Sapp songbook features sheet music, lyrics, and the stories behind 25 songs that Jane composed with young people in communities across the country. The podcast series expands on these stories in interviews with Jane and special guests, and also features recordings of the songs. Sign up to receive email updates about the songbook and podcast series. 
September 2019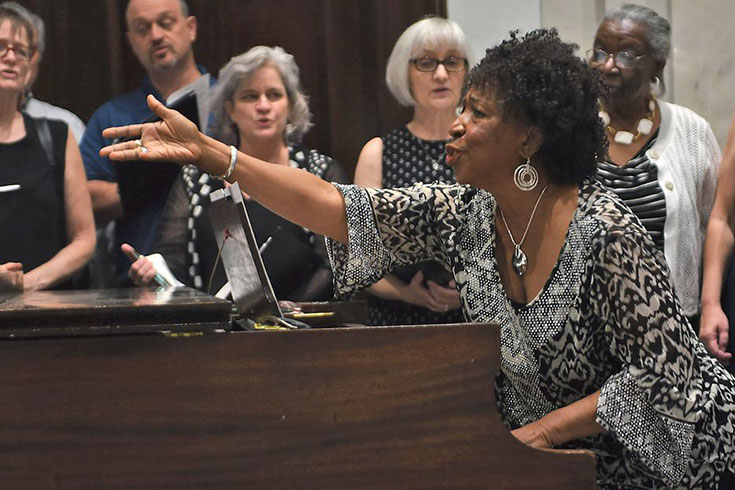 Image credit: Atlanta Journal-Constitution
Video by Ryon Horne/AJC
Interfaith Reconciliation Ceremony in Atlanta featuring Jane Sapp
In September 2019 in DeKalb County, Georgia at an Interfaith Reconciliation Service, Jane performed "with roughly 200 people in attendance pledging to tell the truth about DeKalb's history of racial injustices and to address issues that linger today."
The Atlanta Journal-Constitution reported, "A choir of 35 people crowded around a piano as Jane Sapp played an old Negro spiritual that she gave modern arrangement. The power of the composition built as the choir blended in four-part harmony. 'Ain't you got a right to the tree of life?' Sapp said before the service that the title of the song, which provides the framework for its repetitive lyrics, has always resonated with her. 'It's always been the fundamental question of this country when it comes to race,' she said. 'We must answer that question and act on that question and deliver the answer to that question that, 'Yes, you've got a right.'"
April 2015
Jane Wilburn Sapp in Residence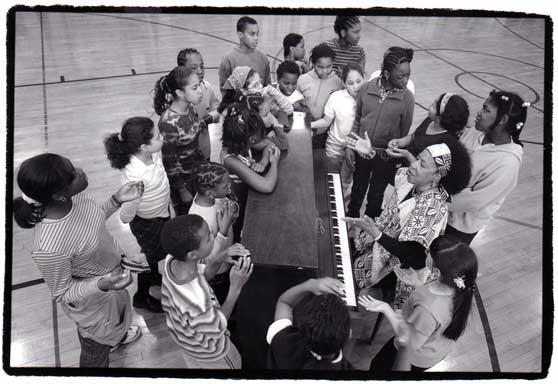 Jane Sapp in Workshop
Photo Credit: Ellen Augarten
A Call to Action: Learning from Jane Sapp's Life, Stories and Songs
Our partner organization, ReCAST, Inc., launched an online fundraising campaign to generate resources that will allow Jane Sapp to document her practice in a book, in performance/presentations that will be recorded and disseminated on an accompanying disc, and in a songbook with transcriptions of some of the powerful songs Jane has written with children. This campaign is an experiment to see if folks of modest means can join together to support a cultural worker whose life has been devoted to strengthening communities by helping us value our cultures and build the kind of trust that allow us to work together across differences in the pursuit of justice. This project is designed to support Jane to share her skills, her wisdom and her work with a generation of emerging leaders: organizers, artists, educators, young people and community workers of all kinds, who are pursuing social justice in relation to the criminal justice system, schools, the environment, economic inequity, immigration reform, gender-based violence, voting rights, labor issues, youth development, and more. 
May 2014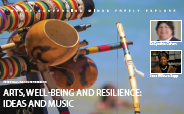 Podcast: International Visiting Research Scholar Public Talk: Arts, Well-being and Resilience: Ideas and Music
Dr. Cynthia Cohen reported on her research into resilience, peacebuilding and the arts, focusing particularly on her collaboration with the distinguished musician, activist, educator and cultural worker Jane Wilburn Sapp. Dr. Cohen was accompanied by Jane who illustrated the power of music's contributions to resilience through her own stories and through songs performed at the piano. Conversation will explore connections between resilience and the practices of cultural work, music-making, healing, and justice-seeking.
The evening was introduced by the premiere of "Invocation," a new song for voice and piano with text by UBC Professor of Law Michelle LeBaron and music by award-winning UBC composition major Matthew Emery, performed by soprano Bahareh Poureslami and Professor Rena Sharon. 
February 2014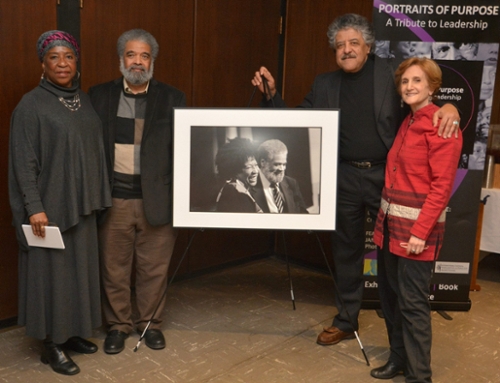 Photo Credit: David Weinstein
Seeking Lives of Purpose: Images, Songs and Stories that Challenge and Inspire
Events featuring cultural worker Jane Wilburn Sapp and photojournalist Don West
Part of 'DEIS Impact 2014: The weeklong "Festival of Social Justice" at Brandeis University
Portraits of Purpose: Focusing on Social Justice Leaders in Boston and the World
Composing Our Lives Together: Song-Writing Workshop with Jane Wilburn Sapp (Watch a video from the workshop)
Ain't You Got a Right to the Tree of Life: Spirituality and the Quest for Justice in the African-American Musical Tradition 
Meet and Greet Artists Don West and Jane Sapp: Reception
January 2014
Spirituality and the Quest for Justice in the African American Musical Tradition
Jane Wilburn Sapp and Cindy Cohen shared work from their multimedia project "A Way Out of No Way: Jane Sapp, Cultural Work and Social Transformation." They examined the roots of African-American musical tradition in West African cultures, in the period of slavery, and in the Black Church. The songs that emerged combined the community's spiritual impulses with its commitment for social justice.
November 2013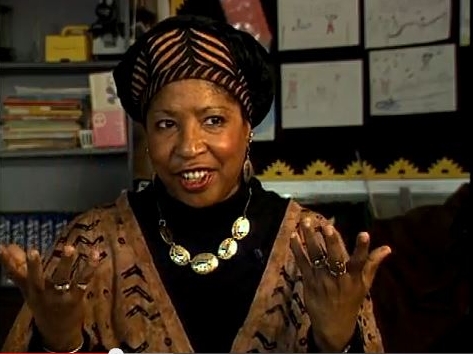 Image from "Someone Sang for me" Documentary on Jane Sapp
"I'm Gonna Sit at the Welcome Table": Resilience, Cultural Work and Development in the African-American Community
Presentation/Performance by Jane Wilburn Sapp, special session of PAX 250 - The Arts of Building Peace open to the Brandeis community
In this performance/presentation, Jane Wilburn Sapp discussed the conditions that gave rise to the need for resilience in the African-American community, including slavery and life under the Jim Crow regime of segregation, and the sources of resilience in the African American family, community, and church. Songs illustrated the power of culture to validate people's experience and nourish their capacity to maintain a sense of dignity in the face of forces determined to humiliate them.
October 2013
Blue Mountain Center Residency
Jane Sapp, Hubert Sapp and Cynthia Cohen focused on the project during a ten-day collaborative residency at Blue Mountain Center. During the residency, they focused on completing original interviews needed for the book and for the development of the performance/presentations.